This month's reviewers (all ten of them!) are members of the Gloucester Computer Club and, in alphabetical order, they are: Stephen Avent (28), Andrew Base (15), Robert Ledbury (22), Mark Manning (15), Nigel Newland (13), Peter Newland (15), Johnathan Norman (15), George Price (35), Mike Skinner (30) and Richard Vernon (15). They all set to work with Spectrum, pen and paper to tell us what's right and what's not so right with the latest new releases.


THE GLOUCESTER COMPUTING CLUB
In a moment we'll get on to the verdicts of our nimble-fingered, boggle-eyed band - to find out which new games are bound for the YS Top 20. But first, some details on the club. It was formed approximately eight months ago by Mr B Ledbury (who happens to be the father of Robert - one of our reviewers) and it's already built up a membership of 35 enthusiasts - ages ranging from 10 years to 'mature'. Meetings are currently held in two rooms at Mr Ledbury's home; one for games evaluation, the other for more serious studies. Membership is free and for more information, contact Mr Ledbury, 8 Linnet Close, Gloucester (telephone 0452 23186).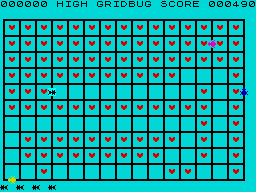 GRID BUG
Add On Electronics / £5.95
You're a little bug, and the aim is to stuff yourself full of strawberries. But take care to avoid the giant spiders because if they catch you, you're dead.
Mark: There's almost nothing to recommend this game except the speed, which is just about right. The graphics are far too small and lacking in any detail, and there's hardly any use of colour.



Mike: This is the worst game I have ever seen! The graphics are unrecognisable, the speed is too fast and it's totally lacking in originality. What's more, the sound alone is enough to make you turn off.



Robert: It's a game that's easy to control, but still challenging. The trouble is every screen is the same, soon makes play boring.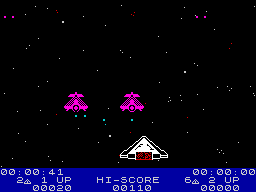 AD ASTRA
Gargoyle Games / £5.95
Your job is to guard and maintain the shipping lanes between the far flung Way Stations that mark the frontiers of Terran colonised space.
Johnathan: Control of this game is easy enough, but success is rather difficult because the play is quite fast. The idea isn't original, but this one takes a different angle.



Nigel: Choice of colour is just about right, and the graphics need no improvement. But the speed is a bit of a killer at times.



Mike: An excellent game, with equally excellent graphics - particularly the perspective view of the space craft and the shots. Although it's a variation on a familiar theme, the game is well- presented, well-executed, and very professional.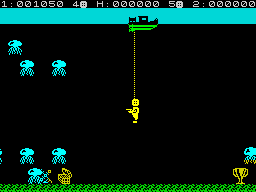 GLUG GLUG
CRL / £5.95
Down on the ocean floor are goodies like gold, jewels and silver, and it's your job to go down there and get them. Naturally. the sea is full of vicious fish so you have to shoot them first, then bring up the treasure.
Mark: One look at the loading screen and you could be forgiven for thinking that this is another Scuba Dive. But you'd be completely wrong. The idea behind this game is very original. It's easy to play, and addictive.



George: The graphics in this game are simple but very good. Although the idea isn't new, the game is still playable and worth buying.



Mike: The diver is really easy to control which makes playing the game a little more enjoyable than it might otherwise have been. The graphics are smooth and realistic.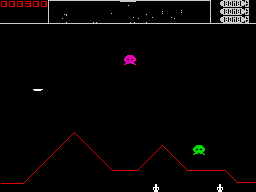 DEFENDA
Interstella Software / £5.95
Landers, mutants, mine layers, pods, swarmers, baiters, humanoids, smart bombs and mines are the hazards you'll meet in this shoot-'em-down arcade extravaganza.
Johnathan: This is probably the best Defender game ever written for the Spectrum. It's really excellent, with graphics that are equal to the arcade version, and a speed that makes it very playable. The quality is stunning.



George: Graphics, speed, colour and so on are all on a par with other similar programs, but with a number of refinements.



Mike: While this is a fairly good version of the familiar Defender-type games it makes little use of sound and is virtually impossible to play without a joystick.




FIRE AND ICE
Electric Software / £4.50
This is what you might call a sensible adventure. Instead of risking your own neck, you send out your loyal disciple Zenlya, to rid the Earth of the twin demons, Fire and Ice.
Johnathan: The program responds quickly as you command your slightly reluctant servant to carry out all sorts of dangerous deeds. The idea is not dissimilar to that of any other adventure.



George: It's just like any other adventure - except this one tends towards the sarcy. The first response I got said "I don't think you're going to be much good at this!" Good if you like adventures.



Mike: Not being a lover of adventure games, I found little in this one to commend it. In fact, I'm not sure what the object is.