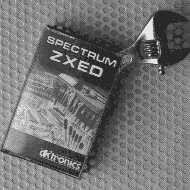 DK'TRONICS ZXED
This toolkit has been on the market for a long time (in computer program terms) and it's one I've used extensively over the last two years. These days, coming with additional options, ZXED is still easy to use and reasonably foolproof. On LOADing, it automatically relocates in memory to suit either 16K or 48K Speccy. It has a short Basic call routine starting at line 9900 and the toolkit functions are invoked by GO TO 9900. I have the following two lines at the beginning of my programs:

1 GO TO 100
2 GO TO 9900

Where line 100 is the true start of my program. Once called, the display will
show a flashing 'T' cursor in the bottom left corner of the screen - all toolkit routines are now obtained by a single key operation. H - HELP will display the routines and their call letters.
ZXED is very 'user friendly' ... call R - RENUMBER and you will be asked 'from line' ... followed by 'to line' ... 'new base' ... and finally 'increment'; there's no need to refer to the manual here! You don't even have to give actual line numbers, providing of course that the portion you wish to RENUMBER falls within the line numbers you have specified. There are a few points to watch out for: 1.) when you MERGE your program with the previously LOADed toolkit, you must not have any lines in the range 9900 to 9916 - ZXED's Basic call routine; 2.) if you wish to APPEND - to add further commands or text to an existing line(s) - you must remember to start with a colon; and 3.) SEQUENCE (Auto line number) will not differentiate between an unused line number and one already assigned.
RENUMBER will only renumber sequentially within a specified block of lines; in other words, if you have blocks of lines starting at 100, 500 and 1000 you can RENUMBER the block at line 100 anywhere up to the start of the next block (anywhere between one and
500). If your new block of lines overwrites existing lines (at say line 500) then ZXED will not implement your command and will print an appropriate error message.
On completion of a successful RENUMBER, all GO TOs, GO SUBs, RESTOREs, LISTs, LLISTs, RUNs, SAVEs and line references are renumbered with the exception of computed GO TOs, GO SUBs, etc, (for example GO TO 330+R) but ZXED will LIST these for your inspection. If you do wish to move an entire block of lines to elsewhere within the program, then MOVE will do this. But you must make a note of all references to line numbers calling into this block from elsewhere in the program and alter them individually. To help you do this you can use FIND. ZXED's FIND is probably one of the best I've come across and on calling it, you are asked to enter the search string (keywords, variables or text). Having done so, all lines with this search string will be LISTed to the screen.
ZXED also gives the option of a reduced package of routines (on the other side of the tape) which take up less memory; here the options are reduced to BYTES (Free Memory), DELETE RENUMBER and SEQUENCE. This facility can be useful if you have a long program which needs some tidying up!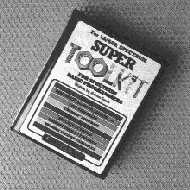 NECTARINE SUPER TOOLKIT
This is quite a newcomer to the market and uses an interrupt mode of operation. In theory, therefore, a routine using this mode can be inserted and performed between the computer's regular cycle of operations. Of course, the computer has to display a screen picture, and it also has to work out the computations that you've set within your program; it can't do these simultaneously and so it carries out the various manoeuvres in strict cyclic order. Interrupting this order and performing another operation can be highly beneficial in certain circumstances, although with this toolkit I'm not so sure.
Nectarine goes to some pains to tell the user not to use Super Toolkit with Interface 1 connected (ie. Microdrives) or with a machine code program using interrupts; despite that, a new version will be available soon on Microdrive
cartridge. The introduction in the instruction manual says "all in all these features (the toolkit routines) add up to make Super Toolkit the most useful, powerful and user friendly suite of utility programs available to Spectrum Basic programmers". I'll let you make up your own minds on that one ... just don't write in if you disagree with it.
The tape provides versions for both the 16K and 48K Spectrums, plus there's a demonstration program. That's sensibly placed after the two toolkit programs, obviating the need to grind through it each time you want to LOAD your toolkit. If you've keyed in LOAD "" (for the demo), don't get worried if your Spectrum appears inert - it's merely ignoring the first two machine code programs on the tape.
To LOAD Super Toolkit (48K version) type 'CLEAR 62838: LOAD "48" CODE' and having got a successful LOAD, enter 'RANDOMIZE USR 62839' to activate the routines. You can then LOAD or enter your program. To call the commands, simply press Enter and the relevant key (for example, Enter and the 'M' for the MEMORY MAP). If you have RUN your program, first enter PRINT, REM or CLS to enable the toolkit.
The routines themselves are somewhat limited in operation: RENUMBER will only renumber the complete program; you can choose the 'start line' and 'step' but not a finish line! The manual says "it looks neater and is easier to debug if the lines are all
numbered in equal steps". I suppose it does look neat but I prefer to keep my programs structured (loosely) in blocks - for instance, all initialisation, DIMs, etc, starting from line 100; important GO SUBs from line 500; the main program starting from line 1000; and DATA from line 8000. Then I always know where to look for specific routines, whereas here one use of Enter and the 'R' key and I'd be lost.
Super Toolkit does not renumber computed lines (GO TO 330+R, etc) which is fair enough as neither do any of the others. But it does not tell you if or where any such lines may be. BLOCK DELETE functions correctly but is a trifle slow. There's no FIND but there is REPLACE KEYWORD, which only works on keywords (PRINT, REM, LIST, and so on). You're asked for the CODE of the old keyword and the CODE for the new - and this you will have to look up in your Spectrum manual (pages 183-188). Although this works well, the routine seems a little limited. The only use for it that comes to mind is that suggested in the instructions - PRINT to LPRINT!
There appears to be a bug in the LIST VARIABLES routine; although it produced a screen display, the keyboard always locked-up after its use. That means the power supply has to be switched off and back on again, to regain control (with the subsequent reLOADing of both the toolkit and the program). The VARIABLE LIST indicates an array with two brackets but doesn't give the dimensions.