This month's joystick jurors are all members of the Stevenage Computer Club, 106 Mobbsbury Way, Stevenage, Herts. They are: Ian Hemmingway, Phil Morse, Frank Pelling, Owen Pugh and Monty Trent.
The club was formed about 18 months ago and currently has a membership of about 45, with members' ages ranging from eight to 70 years. It meets twice a month - at the Stevenage Library and the Leisure Centre. Membership costs £6 per year ... half price for children and OAPs. For more details, phone Frank Pelling on 0438 353659 (evenings and weekends).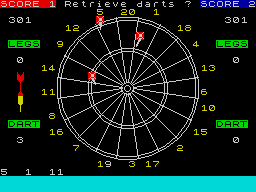 BULLSEYE
Mastertronic / £1.99
The five darts games on this tape comprise 501, Cricket, Round the Board and Noughts and Crosses, all of which can be played on any one of four difficulty levels.
Monty The graphics are below average and the colour is only a little better. But the speed is what really lets this game down; the whole thing is written in Basic. It also has a tendency to 'crash' unaccountably.



Frank This will probably appeal to older gamesters, but might be a bit tedious for youngsters. Graphics, speed and colour are all fairly average and the absence of a crowd-roar for a high score is disappointing.



Ian Darts is a difficult game to transfer on to a computer, and is probably a bad idea anyway. But this could have been improved by a speeding-up and better use of colour.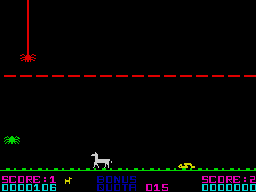 METAGALACTIC LLAMAS
Salamander Software / £6.95
Mutants descend from webs that break when bombarded with well-aimed spit. The creatures then drop to the surface and mutate into Weeviloids.
Frank Both colour and graphics are fairly pleasing, if not spectacular, and the speed seems to match the action quite well. It's easy on the eyes and fingers, but not particularly addictive.



Phil The distracted Llama and the ricocheting spit are both quite novel, and graphically very good There are different speeds for spiders, Weeviloids and the Llama, all of which are adequate.



Ian Everything in this game looks good - well-defined graphics, fast speed, excellent choice of colour and pleasant sound The only problem is it requires almost no effort to succeed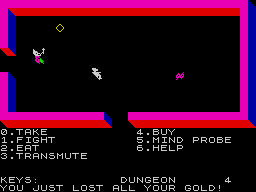 PSI-SPY
Postern / £7.95
In the labyrinth of the wandering planet, there is great wealth and adventure for anyone willing to challenge the active guardians. Collect the five keys of Zar, for without them, exit is impossible.
Ian Excellent graphics with some very fine detail - all made even better by the choice of some vivid colours. It can even be bewildering until you've worked out what's going on.



Phil It looks good, and probably sounds good (it supports the Currah MicroSpeech unit), but it does appear to be needlessly complicated. After a dozen attempts, it's still not really clear what you should be doing.



Frank A photographic mind would be an advantage for memorising all the instructions in this over-complicated game; even so, once understood, it's enjoyable.