Holed up in a luxury suite of the Carlton Tower Hotel, high above London's West End, the creme de la creme of computer scribes (or so they'd like to think) sat down for lunch with Sir Clive Sinclair, plus henchmen Nigel Searle and David Karlin. Reason for the summit? To 'put the story straight' about the QL. Therefore, pulled in at no extra cost was king of the bundled software, David Potter of Psion.
"Reports in the press contained errors which we feel may be our fault - and this concerns us as any error in the British press will be seen around the world", began Sir Clive. The patriotic slant proved something of a tone- setter. "Putting the record straight" then switched to something of a slag-off of IBM, Acorn and Commodore - all of which, he claimed, had been equally (if not more) late with their own products. Warming to his theme, Sir Clive went on to tell us of the ecstatic welcome the QL had received in Japan and the US. Why, he inferred, couldn't the British press get it right!
Arming himself with a slide projector, Nigel Searle then attempted to allay fears that the QL was running behind schedule. He said the 28-day delivery should be okay by the time you read this and that there'll be an extensive revision of the User Guide by August - plus faster turnaround of upgraded QLs. He expects too to be announcing additional manufacturers of the add-ons soon. More interesting news is the fact that the 68000 family could be the one on which Sinclair Research will be basing its products for the next decade - "and it wouldn't surprise me if the 68000 was used into the decade after as well", quoth Searle.
Getting on to Microdrives (wake up all you Spectrum users) Searle asserted the simple market truth that once the demand goes up, then the price will come down. "I can't say when or how much, but it'll be significant". He went on to confirm that, yes, there have been the obvious comparisons with disks, but the techniques employed with Microdrives could eventually give them the technology to produce storage of up to 1M; that, apparently, is still on the drawing board.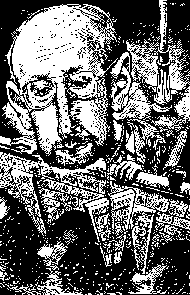 L U N C H W I T H
SIR CLIVE
Psion packages were 'multi- tasking' or 'concurrent'. Once he'd suitably defined the two in a way that showed the QL to be multi-tasking, the point was raised that it would be near impossible for the average punter to be able to do it anyway. David Karlin noted "the facilities are there for the software houses - and I believe that users who require it will learn 68000 machine code language". Hmmm.
Perhaps the whole point of the exercise was that Sinclair Research wanted to say sorry for being so late - certainly the press boys gave them every chance, again and again ... even to the point where, in a harassed moment, Sir Clive was heard to emit the strangled cry, "For God's sake, we're going to do it better". In the continuing barrage, Sir Clive went on, "we're not at all happy that we let people down. It takes a long time to launch a product - it's all a bit of a balancing act which we got slightly wrong. But the way we got it wasn't as bad as the opposition." Again, a loose reference to companies like Amstrad (which, according to Sir Clive, have introduced "an old-fashioned computer").
It was left to Nigel Searle to make Sinclair Research's peace. "I think honestly that it's very easy to have 20:20 hindsight - we could all do it better again. The difficult thing is to design products now which will be good in 1986. Nobody wants flak - and we get it in barrelfuls. We didn't want to be late this time, and we don't want to be late in the future."
That, one would imagine, is the final apology and, thankfully, Searle resisted any reference to 'other' companies; if the other companies don't want to say sorry for their lateness, then that's their bad manners - unless you're NANDing in Boolean, two wrongs still don't make a right. Sinclair Research 'suffers' from having a man at the top who is known throughout the world, and it's always 'nicer' to knock a person than a faceless company. On the other hand, you could argue that Sinclair Research wouldn't be in the position it's in now without the figurehead - a paradox which suggests those with a swings and roundabouts asset should learn to say sorry nicely.
Additional hardware support for the QL will include 128K RAM, 512K RAM, Winchester hard disk unit, modem and terminal emulator, monitor, printer and IEEE 488 interface. However, Searle wouldn't be drawn into the big question of 'when?'. Perhaps the company is going to wait and see what other manufacturers are going to do, and then just fill in the gaps.
Ending the presentation, Nigel Searle pronounced the QL to be a potential 'million seller' - 250,000 this year and 750,000 in 1985.
David Karlin has obviously picked up a few pointers from his boss on how to tackle the 'difficult' questions. Dealing with some of the more pedantic queries from those assembled, on the tricky subject of software bugs Karlin told us "of course, 'silly and convoluted' things will crash the machine - if you get the answer wrong through a 'complicated' expression, then this is not significant ... no Basic ever written is perfect - within that we are perfect".
And talking of getting 'complicated', David Potter managed to get himself in a mighty tangle over whether the