HACKING AWAY
Welcome to our regular column for hacker's hints and tips. Poke some fun into your programs and write to Andrew Pennell, Hacking Away, Your Spectrum, 14 Rathbone Place, London W1P 1DE.

First up this month is one from Denmark, (YS certainly seems to get around!) so thanks to Soren Eilers for his mods on Oceans' Eskimo Eddie. He says he got bored having to do all the intermediary levels of the game, so he's given us a couple of POKEs which let you just get on with the interesting screens. Having listed the header, add POKE 24686,24: POKE 24687,76 before the RANDOMIZE USR statement in line 30 and Bob's your uncle/ auntie!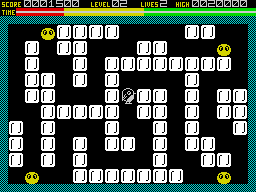 Staying with Ocean games, we've a couple of hackers who've become mighty interested in Hunchback. Fiddling with the header as usual, Brian Warner recommends POKE 26888,0 to give you infinite lives (removing the DEC (HL) as always) and POKE 26903,x: POKE 24760,x to set the number of lives, where 'x' has a maximum value of 19.
Alan Brown also described the 'infinite lives' POKE, and asked if anyone out there had corrected the bug that prevents you from getting a bonus if you manage to rescue Esmerelda for a second time (I can't even rescue her the first time! Ed.). He also says that he's got loads of POKEs to disable the nasties - but that it's too easy to play the game without them ... so tough!
One thing Alan was wondering about was how to hack into A&F's Chuckie Egg - a tricky one this, mainly because you can't MERGE it and it's headerless to boot. Well, I hacked into it a while ago to make it work with my joystick and it's not too hard. The trick is to LOAD the Basic from machine code, then instead of doing a RET, force an error using RST 8. That should be enough for you to be getting on with for now.
To finish up, let's take a look at the one that started it all off - Manic Miner. Although it's getting on a bit now,
there's still a few people out there who don't know the 'easy' way of moving about the rooms. On the original Bug-Byte version, you have to type in the sequence of numbers '6031769' (reputed to be Matthew Smith's old phone number) and, while holding down the '6' key press combinations of keys '1' to '5' to move around. When Matthew moved to Software Projects, however, he changed the code to 'TYPEWRITER' - hence the code word for JSW. Again, once you've typed the code in, you hold down the '6' key and press combinations of keys '1' to '6'. All this comes from A Wiseman, along with the original 'infinite lives' POKE (for the Bug-Byte version only) - namely, POKE 35136,0.
Finally, a blatant demand for information from all of you out there. Please send us anything that looks interesting; from helpful hints to POKEs. Just assemble your disassemblers and get hacking.



POKEING PROCEDURES
Don't panic if all we've given you are the POKEs for a certain game - here's what you have to do to use the little blighters.
First, load the game using the instruction MERGE "", press Enter and start the tape - just as you would when loading normally. When you get the 'OK' message on screen, stop the tape. Now type LIST and make the necessary alterations as instructed. Once done, type RUN, press Enter and start the tape again from where it left off. That's all there is to it!