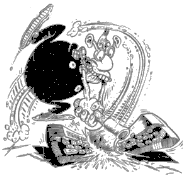 Andrew Pennell peruses the POKEs. Write to him at Hacking Away, Your Spectrum, 14 Rathbone Place, London W1P 1DE.
First up, thanks for the terrific response to my appeal for information - the result has been quite amazing. As usual, the letters divide into two groups - the 'haves', who wish to divulge information, and the 'have nots' who want it.
As promised last month, here's a bit of info about Chuckie Egg which (by the way) is probably the best game A'n'F has ever produced. It's quite old now and doesn't work with the Kempston joystick. Other joysticks (for example, Interface 2) are OK as it uses definable keys; it can, however, be suitably modified. But before that, let's reveal the most important POKE ... for infinite lives. When I originally hacked Chuckie Egg (actually before it was released) I didn't even look for infinite lives - which goes to show how long ago it must have been! Luckily I kept my notes and recently had another go at it, with the help of a letter from Graham Hutton.
The first thing to do is to load the bytes, which is not very straightforward because of the protection method it uses. I don't want to step on anyone's
toes, so I'm not going to supply a special loader; I'll use instead a modified version of the loader in the game. To begin with, enter the multiple line (do a NEW first if you have Interface 1 attached):
MERGE "": POKE 24501,195: GO TO 1
Then play the tape. It'll load as normal, but will return to Basic when finished. At this stage, if any error occurs, the machine will fall over - so be careful what you type. For infinite lives enter:
POKE 42837,0: RANDOMIZE USR 42000
And the game should start. It's not the most efficient way of doing the job, but it does work. Instead of removing a DEC(HL) or DEC(IX+n), it changes a jump instruction, and this has the effect of printing the 'Game Over' message a couple of times during the game ... but don't let that put you off.
Now for the joystick mod. Having reset the Speccy, enter the listing given and save it on tape with LINE 1000 (don't save it to Microdrive or you'll get into all sorts of problems). Then load Chuckie Egg in the way described above and do the POKE on its own if you want it. Next, load the joystick mod and, hey presto - a joystick Chuckie Egg! As before, if any error occurs during the loading of the second listing, the machine will fall over and you'll have to start from scratch.
I also got a letter from someone who wishes to be known as 'ITR', who said that they knew the infinite lives
POKE for Chuckie Egg but wouldn't condescend to tell me what it was - we don't need your type round here! Actually, ITR did come up with some interesting stuff on the way the screens are stored. Apparently they're stored from 46000 to 51372, each taking 672 bytes. The letter went on to supply a neat little program that fills in all the holes at the bottom of the screens:
500 FOR f=46000 TO 51372 STEP 672
51O FOR g=0 TO 31
520 POKE f+g,5
53O NEXT g
540 NEXT f
560 RANDOMIZE USR 42000
Enter this in the same way as the joystick patch, by saving it to tape. In fact, I think these POKEs are better than infinite lives; the game still remains difficult, though easier than the standard version.
I've also received several requests about putting Sabre Wulf on Microdrive - apparently even Ultimate has said it's impossible. Shame on you Ultimate! Considering it costs a tenner, you should be more helpful than that. I never use cassettes except for loading originals before converting them, and switching SW is pretty simple - details on that next month.
Until then, keep hacking and sending your letters in (though please no more JSW POKEs - I've enough letters on that subject to wallpaper my bedroom!).
1000 DATA 39277, 103, 39321, 71, 40311, 71, 40893, 71, 39341, 79, 40254, 79, 40850, 79, 40655, 95, 40713, 40713, 87
1010 RESTORE 1000
1020 FOR i=1 TO 9: READ a,b
1030 POKE a,219: POKE a+1,223: POKE a+2,0: POKE a+3,0: POKE a+4,203: POKE a+5,b
1040 NEXT i
1100 RANDOMIZE USR 42000
The Basic listing providing a joystick mode for Chuckie Egg.
... including the mandatory mistake, of course. The DATA statement has 19 values but the FOR...NEXT only reads 18, probably because the 40713 near the end has been entered twice.