HACKING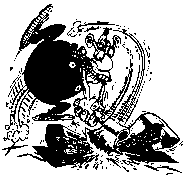 AWAY
All the POKEs and more! Send your hacking hints to Andrew Pennell, Hacking Away, Your Spectrum, 14 Rathbone Place, London W1P 1DE.
First up, thanks for all your letters - keep sending them in!
Where better to start this month's column than with a couple of Ultimate programs. Someone who lives in Rotherham (but forgot to sign their letter) sent in POKE 25373,255 for Jet Pac, which will give near infinite lives. David Hasler provided POKE 26075,0 - which allows the rocket to take off, but you only need one fuel pod instead of the usual six. Nice one, David! Alternatively, try J Huffer's POKE 25020,0 to give you true endless lives. He also
supplied POKE 24984,0 for endless lives on Pssst (and also POKE 24743,0 for Zzoom).
Next, Larry Penrice sent in POKE 26197,0 for Cookie, which stops the bin monster from throwing its rubbish out of the bins. I like this sort of modification in a game - it alters the tactics you use for play, without making it too easy. Andrew Dawson wrote in with POKE 36519,0 for endless lives for Atic Atac, and notes that when you use it the tombstones are reluctant to appear after the first few deaths. He also submitted POKE 36965,0 for a similar effect on Lunar Jetman, though he says it's not much help to him anyway!


ON THE OCEAN WAVE
On the international front, I received a letter from Le Page Said, Brussles containing piles of infinite lives POKEs. And here they are: Silversoft's Freez Bees - POKE 34610,0; Automata's Pi-Balled - POKE 44416,x, where 'x' is any number of lives; and Ocean's Moon Alert- POKE 39754 for endless lives, POKE 42404,x for 'x' lives (up to 14 only) and POKE 42654,195 for immortality!
The letter also admitted that the task of putting Halls of the Things on to Microdrive had
proved too difficult. Well, Crystal's loader is certainly a tricky beast, but I'm sure one of our readers has cracked it!
Getting back to Ocean's Moon Alert, Nicholas Smith sent in POKE 42249,24 to stop the time going down, and POKEs 42585,2 and 52596,2 to keep it scrolling fast in all parts of the screen. He's also included POKEs for Psytron - what you have to do is load the game (except the last part), type BORDER 7, and 'POKE 28625,0: POKE 28626,0' for endless fuel, 'POKE 41098,17: POKE 41099,32: POKE 41100,1: POKE 41101,0' for endless men, and 'POKE 26142,62: POKE 26143,255: POKE 26144,0' for endless oxygen. Nicholas points out that none of his mods work on the final level due to some nifty integrity-checking by the program itself - shame!
Euan Hastings supplied POKE 28277, (for 'x' lives) in PSS's Frank N Stein. He also asks for infinite lives for Monty Mole, as he can only get to the 22nd screen! Well, I know for a fact that Dave Nicholls has cracked this one open, so I'll try and prise the secret out of him in time to report back next issue. OK?
It you've got any POKEs or tips on programs, or need an unusual feature added to a game, drop a line to Andrew Pennell, Hacking Away, Your Spectrum, 14 Rathbone Place, London W1P 1DE. C'mon, don't be shy!