astonishingly good.
The program contains three pages of menu: Page 0 provides facilities to play, repeat, write, edit, and print; Page 1 changes key signatures, time signatures and tempo; and Page 2 catalogues the tunes with their respective titles and length.
The supplied manual comes complete with a keyboard overlay - which does help when you're playing the Spectrum as a musical keyboard. It would have been nice to see a demonstration program (like the one in Spectune), but you pay your money and you takes your choice. For me, though, the advanced musical notation definitely gives this one the edge.

Price: £5.75
Supplier: Bellflower Software, n xxxxxxxx xxxxxx, xxxxxxxxx, xxxxxxxxx.
This program comes neatly packaged with a helpful index card; the instructions have been well-written and are very easy to follow. Unlike some of the other packages in this review, the programmer obviously has some knowledge of music - which I do feel is important!
The screen has been quite well laid out; the only problem here being that it displays only one bar at a time while you're inputting notes. Staying with the process of writing your tune on-screen, the program won't allow you to delete more than one note back - and even then, it has to be in the same bar. This means that if you do make an error, you've got no choice but to start all over again. On playback, it first prints the notes on the screen in non-real time and
then plays them back in real time.
Music Maker allows you to add to the existing melody and store it on to cassette for later use; if you possess a printer, you can also obtain a hard copy and alter the speed of the playback.
Overall, this program's pretty good - but it should have included a suitable editing facility.

Supplier: XORsoft.
Spectune converts the Spectrum keyboard into a two and a half octave musical keyboard that can be made to record, recall, edit, save, merge and print. The instructions explain concisely how to change the length of each note, the tuning mode (which re-tunes any note for interesting scales), selecting key signatures, time signatures, writing and editing, and so on.
Diving straight into the teaching part of the software, a user starting from scratch can learn the basic techniques of playing and writing music in very simple terms. Using an on-screen keyboard, the relevant keys blink in red and an explanation of how music is printed follows. When you've had enough of the demonstration program, you're then ready to load in the main operating program.
You're offered three options from the on-screen menu, the first of which is a learning game to help you sort out exactly where you are on the keyboard. A note's printed up on-screen and you've got to find it on the keyboard within three lives. It's fun and a useful learning aid - something other programmers should take note of. Returning to the main menu, the second
option - edit/write mode - is very easy to use. Having selected a note and specified its length, it's entered into the sequencer. If you change your mind, you can go straight into the editing mode and change any notes by scrolling to the left or right to insert, delete or alter any part of the composition.
The last option on the menu is the play mode. You're now programming music in real time and the sequencer's recording exactly what's played, including your mistakes! But, even if you have entered your tune in real time, the editor still allows you to remove or change any unwanted notes.
Spectune allows up to 26 different tunes in memory at any one time; these can be merged together in any sequence in the final composition. You can also make a hard copy of your tunes on a printer.
Overall, Spectune is a very well- written program, and one that I can recommend. It's a useful educational tool that's fun to use.


OUT OF TUNE?
Here at YS, we have piles of software flung our way by various suppliers - some good, some bad, but all worthy of mention. Trouble is, once the review copy came back from Adrian, we realised that no-one had the slightest idea where XORsoft is based and how much its package, Spectune, retails at. Standing up to its first test, the YS filing system broke down completely - so now it's up to you! If you've heard of XORsoft and can tell us where the company's based, give Trouble- shootin' Pete a ring on nn-nnn nnnn. It's a pretty good package, and deserves a little more than anonymity.

Play, Type and Transpose: Either I've missed something crucial, or there isn't anything in this program that couldn't be explained better on paper. After the program's loaded, you're asked to type in the key you want to play in and the speed you want to play it at. Then, instead of diving into some all-singing, all-dancing music editor, the program stops and asks you to type in the relevant BEEP statements for yourself, providing a 'pitch card' on-screen for reference purposes. Try reading the Spectrum manual and save yourself some cash! 1/5 Peter Shaw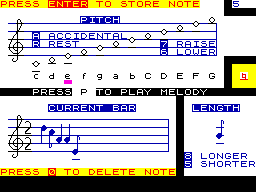 Music Maker: This is a good program, although slightly overshadowed by the standards of Music Typewriter and Spectune. The graphics have been quite well designed and the package is very easy to understand - but if you want to type in tunes of any length, then tedium soon sets in. Although the screens seem very 'busy' to begin with, the control keys are kept to a minimum to stop things getting too confusing. This program would be of most use to the musical novice (unfamiliar with the piano keyboard) who's keen to type sheet music into the Speccy. 3/5 Peter Shaw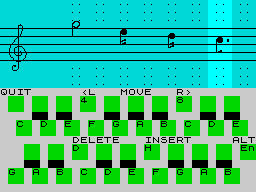 Spectune: OK, so I'd never heard of XORsoft (Who has? Ed.) but that didn't stop this from being my favourite package of the five I play-tested. It was the only one of the programs to let me use the Spectrum's keyboard like a true piano synth (playing each note for as long as you hold the key, and then playing it back in real-time). The program was a little let down by the clumsy use of graphics and the confusing layout of the control keys. 4/5 Peter Shaw