HACKING
AWAY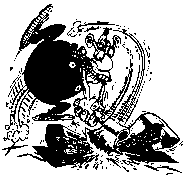 POKE fun into your games! Send your hacking hints to Andrew Pennell, Hacking Away, Your Spectrum, 14 Rathbone Place, London W1P 1DE.
Welcome back, hackers. Straight into a game which really is the pits, Monty Mole. My ol' friend Chris Wood has been tunnelling into it for you. The game loads as a 48K block using up all the Speccy's memory, so entering the POKEs has to be done using a special loader. It's a long listing, so a short explanation's called for. First, it loads Monty Mole lower down in memory than it should be, leaving 1000 bytes in which to put a special loader. This gives Monty infinite lives, moves part of
itself onto the screen, shifts what's left of the game back to its proper place, then runs it - phew, no wonder it's not short!
The data statements in the Basic program can be removed if you don't want a certain feature. Leave in the last line of 3 zeroes, though. Chris has also included a Game Abandon feature, using the G key. As this overwrites part of the scanning routine, the Basic asks which joystick option you want, and disposes of the other.
So, bash in the listing Mole fans and then save it to tape.
Load up the first part of Monty Mole - this will clear the screen - then stop the tape and reset your Spectrum. Next, load in the new loader program, RUN it and if all is well you will get a STOP message so that you can test it before you save it to tape the first time. Then, enter CONTINUE and re-start the original tape without re- winding it. Don't worry about the messy screen as this will clear when it has finished loading. Cue Colonel Bogey and off you go.
From one mighty megahack to another. Piers Pettman has caught Horace fever, sending us not just infinite lives POKEs but infinite POKEs! There are no less than nine to help you combat the alien arachnids in Horace and the Spiders. Off we go then, remembering to add 0 after each of the POKEs: no hills on the first screen - 25142, no spiders either - 28773, ropes are pulled in fast - 29626, jump onto next rope
when you like - 29720, all spiders on the third level die instantly (you don't believe in taking any chances, do you? Ed.) - 30070, hills and more hills for the masochists amongst you - 25218, slow spiders on the third level - 29910, 'infinite' spiders on the third level - 30116, and if you're not too keen on the ropes being pulled on the third level try POKE 29626,52. If you still can't cope after that lot I suggest you forget the spiders and flush yourself down the plughole!
If you fancy a Ski-ing jaunt with Horace but have left your Green Cross Code book at home, try POKE 29009,0 which will clear the road of most of its traffic. You'll still have to keep an eye open for the ambulances.
Andrew Dawson's on the right lines with the POKEs he's sent in for Stop the Express. First you'll have to load the program and de-crypt it by MERGEing the first part, pausing the tape and typing CLEAR 25999 and finally LOAD "" CODE. Next, do POKE 48111,201: RANDOMIZE USR 48096 and you're free to poke around. For endless lives do POKE 34464,183: POKE 34926,183: POKE 35257,0, for unlimited time do POKE 35780,0: POKE 39549,0 and to change the starting carriage number PPOKE 40673,0: 40674,0: POKE 40674,0: POKE 49261,N where N is number 21 carriage [note]. Be careful on this last bit though, as some values will crash it - the game not the train! When you're ready for the off, use RANDOMIZE USR 32768 and it's full steam ahead!
A final quickie from Andrew - if you're having trouble with Arcadia from Imagine (remember them? Ed.) then POKE 25776,0 will make life a little easier.
I know how annoying it can be when you own a game that appears in this column and you just can't get the POKEs to work. A lot of you had that problem with Frank N Stein. Well, it seems there were two versions of the game and Dave Leander's come to the rescue if you were unlucky last time - POKE 34124,0. It seems likely that Ghostbuster's got a twin too - any takers on that one?
Kent Sorensen from Sweden has ventured into Level 9's Adventure Quest to come up with a POKE that lets you remove any one problem from the game at a time. Simply press Break, then POKE 26388 with the room number you're stuck at, then CONTINUE. As he points out this is especially useful if you don't have the keys from location 18 to unchain the snowman. It's about time we had a few adventurous POKEs, so keep 'em coming.
10 LET tot=0: FOR n=65000 TO 65101: READ a: LET tot=tot+a: POKE n,a: NEXT n
15 IF tot<>10865 THEN PRINT AT 10,0;"Error in Main Data": STOP
20 INPUT "KEMPSTON?";a$
30 IF CODE a$<>CODE "Y" AND CODE a$<>CODE "y" THEN GO TO 50
40 POKE 65028,37: POKE 65029,127: POKE 65100,13: POKE 65101,131
50 LET n=65102: LET b=1: LET c=1
60 READ a: IF a=0 THEN IF b=0 THEN IF c=0 THEN GO TO 80
70 LET c=b: LET b=a: POKE n,a: LET n=n+1: GO TO 60
80 CLEAR 65535: STOP: RANDOMIZE USR 65000
90 DATA 62, 113, 221, 33, 24, 60, 17, 0, 192, 55, 205, 86, 5, 33, 75, 254, 17, 195, 126, 1, 3, 0, 237, 176, 33, 60, 254, 17, 7, 127, 1, 15, 0, 237, 176, 33, 78, 254, 126, 95, 35, 126, 254
100 DATA 0, 40, 7, 87, 35, 126, 18, 35, 24, 241, 17, 0, 64, 33, 43, 254, 1, 18, 0, 237, 176, 195, 0, 64, 49, 232, 95, 17, 0, 0, 33, 24, 252, 1, 48, 184, 237, 184, 195, 144, 210, 62, 253, 219, 254, 203, 103
110 DATA 58, 163, 130, 192, 225, 225, 195, 23, 248, 205, 239, 130
200 DATA 140,144,0
210 DATA 59,136,0,60,136,0,61,136,0
220 DATA 138,141,201
230 DATA 151,137,201
240 DATA 255,142,0,0,143,0,1,143,0
250 DATA 238,135,0,245,135,0,252,135,0
260 DATA 229,135,0,230,135,0,231,135,0
270 DATA 0,0,0