We've really gone to town this month - starting with Urban Upstart. Alan Pitt of Great Yarmouth has written in to find out how he can get into the town hall to collect the red tape. And what does he do with it once he's got his grubby mitts on it? Well, we can't answer the first question, Alan, but you'll need to keep the tape handy when you try to break into the mansion. That info was sent in by Mark Thomas so perhaps you'd better get in touch with him to find the solution to your first problem.
Mark has also sent in the following clues to solve any financial problems you have. (I wish he'd come and solve mine! Ed) First, you've got the rather unsavoury task of rifling through the dustbins where you'll find a letter and a cashcard. In the letter you'll find a number that you should then go to the telephone box and dial. That way you'll be given a cash account number. Now, and you've probably sussed this already, you must take the card to the bank, type the number and you'll be given £5. Bit stingy but it should see you through. To find out how, get in touch with Mark.
From one town to another - Hampstead. Andrew Wesley of Leamington Spa doesn't know the area and he's having trouble finding the cocktail party. Obviously been mixing with the wrong set, eh Andrew? Fortunately, one of the in-crowd has written in - S Komar of Bridgend. So, now, Andrew, you can cast off the social stigma of your inferior status in the game. First, vote for (3) at the meeting and you'll find the cocktail party south- east from a wine bar near Covent Garden. There you'll meet Pippa - just give her pater the memo and the report. Already your social standing has rocketed and you're about to achieve the fabled Hampstead. Pip pip!
Still staying bang up to date, B Martley of Huddersfield has sent in a complete list of the companies that appear in System 15000, all with their phone numbers and passwords. It's far too long to reproduce here but I'm sure he'll supply all you would-be-hackers with a copy if you get in touch. In the meantime, here are a couple of his clues to keep you going. If you're trying to
break the bank, a short holiday may refresh you. (You'd better watch out, though, that it's not at Her Majesty's pleasure!) Also, watch out for Perry, there's more to him than meets the eye. As someone says, catch you on the phones. (Can't think who. Ed)
If you're looking for a list of more useful addresses, read on. Here are all the YS readers who are best at particular adventures or having trouble in them. Of course, if your name's not here and you want the world to recognise you, write in now - and make sure you send in all your hints or problems so we can pass them on. So, drop us a line at Give Us A Clue, Your Spectrum, 14 Rathbone Place, London W1P 1DE.
KINGS OF THE CASTLE
Hampstead / Urban Upstart / The Hobbit
S Komor, nn xxxxxx xxxxxx, xxx-x-xxx, xxxxxxxx, xxx xxxxxxxxx xxnn nxx.

System 1500
B Martley, n xxxxx xxxxx, xxxxxxx, xxxxxxxxxxxx, xxxx xxxxx

Sherlock / Urban Upstart / The Hobbit / Temple of Vran / Eye of Bain / Planet of Death / Mountains of Ket
Mark Thomas, nn xxxxxx xxxxxxxx, xxxxxxxxx, xxxxxxxx, xxxxxxxx xxn nxx.

Erik The Viking. Terry Braverman, nn xxxxxx xxxxx, xxxx'x xxxxxx, xxxxx xxn nxx.

Spiderman. Simon Hart, nn xxxx xxxx, xx. xxxx, xxxxx xxnn nxx.

System 15000. Robert Slater, nn xxxxxxx xxxx, xxxxxxxx, xxxxxxx, xxxxx xxnn nxx.

Jewels of Babylon / Temple of Vran. Richard Clements, nn xxxxx xxxxxxxxx, xxxxxxxxx, xxxxx xxnn nxx.

Doomdark's Revenge. Colin Read, nn xxxxx xxxxxxx, xx. xxxxx'x, xxxxxxxxxx xxnn nxx.
DOWN IN THE DUNGEONS
Sherlock / Hampstead
Andrew Wesley, nn xxxxxxxxx xxxx, xxxxxxxxxx, xxxxxxxxx xxx, xxxxxxxxxxxx xxnn nxx.

Urban Upstart
Alan Pitt, n xxxxxx xxxx, xxxxxxxx xxxxxx, xxxxxxxx, xxxxx xxxxxxxx, xxxxxxx.

Sherlock
Michael Meechan, n xxxxxx xxxx xxx, xxxxxxxxx xxnn nxx.

Valhalla. "Help!"
Ruth Pracy, nn xxxxxx xxx, xxxxxxxxxxxx xxnn nxx.

The Hobbit. "When I'm on the forest road I see pale bulbous eyes staring at me! I try to run away and bang - I'm dead!"
Andrew Hault, nn xxxxxx xxxxx, xxxxx xxxx, xxxxxx, xxxxx. xxn nxx.

Kentilla. "How do I pass the ward of disintegration north of the balcony? (I can also help you with Gremlins, Sherlock and more)."
Gary Ogden, n xxxxxx xxxx, xxxxxxxxxx, xxxxxxxx xxnn nxx.

You can't trust anybody these days - or almost. What with spies, counter spies, double agents, triple agents, it's a relief to find someone you can rely on - Peter Freebrey takes you into The Fourth Protocol the adventure based on Frederick Forsyth's noveL Now it's up to you to find out who's on your side and who's on theirs. But you'll need all your intelligence for the task.
AKW 3
Ref:140
MEMO
From: Sir Peter Freebrey
To: John Preston, head of CI(A)
Congratulations, John, on your appointment to head of CI(A) - long overdue, old chap. As you're now in charge of security for all government buildings, it falls within your jurisdiction to investigate the following, rather worrying case. A cache of top secret NATO documents has been sent to the department anonymously. It looks like we have a very serious breach of security and it's down to you to find out who's leaking the documents. And we want to know where they're going and why. There's some evidence to suggest that this leak is behind a Russian plot that we have started to uncover - but I'll keep you posted on that one, old boy.
As you're new to the department, I'll just give you a run-down on the facilities available to you. From your office you have access to the unit's central computer (Cencom). The principle options allow entry to the Cencom filing system, allocation of watchers', the making and receiving of telephone calls (you'll find your list of telephone numbers in the filing system) and access to three terminals that display various memos and reports. I know what you're thinking, old son; the romance has gone out of espionage. Like any other of Her Majesty's civil servants, you'll be more office-bound than Bond.
As you'll need to keep tabs on suspects, you have been assigned fifty of the department's top 'watchers'. Make sure you target them wisely, old boy, or you'll find some of your quota will be taken away.
Well, you're on your own now, old son. As you uncover more info, you must decide what course of action to follow. You can dip into Cencom for more gen or assign more surveillance bods. Good luck and keep me posted. We must have a snifter at my club when all this has blown over.
THE NATO DOCUMENTS
Investigations by John Preston of MI5 have led us to this warehouse. Inside are a number (unknown) of KGB agents and a nuclear device. A crack six man SAS team has been called in to defuse the situation (and the bomb). Request your choice of weapons. Also, plan of attack and instructions for making the bomb safe. Remember, time is not the only thing that's ticking away ...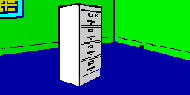 Inside is the nuke and the KGB. Outside is the SAS team. If you're to save Western civilisation as we know it, you're gonna have to get in there and defuse the bomb. First arm your troops ...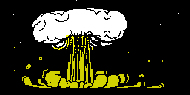 This is certainly a sad ending to a game with a brilliant concept. No, you can wave goodbye to Coke and Levis - it's caviar and vodka from here on in.