Name: Scott Donaldson
Town: Whitehall, Hamilton
Age: 13
School: Hamilton Grammar
Hobbies: Speccy, Badminton, Chess
Fave Game: Hypersports
Fave Music: Ultravox

Your superdooper spy car can shoot everything apart from the blue death-cars and the choppers. So, to blow up a helicopter, you'll have to pick up a missile from one of the trucks.
Scott Donaldson on SPY HUNTER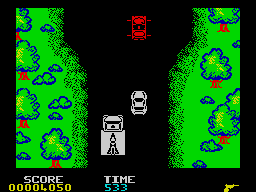 After the truck dumps you at the beginning of the game, be quick and drive back in before the ramp is raised. That way you'll have a rest from the traffic - no vehicles appear! If it's invincibility you're after, keep your finger on the up key while you're holed up in there.
There's just no point in going at top whack - trundling along in low gear is a much more effective way of zapping the other road hogs. And above all make sure you take out the red mean machines with the nasty Boedicea style knives on their wheels - or you could be cut up about it when they run you off the road.
When you're on the water, watch out for the blue boats. They drop mines, so the best bet is to drive slowly with your finger on the fire button. Keep to the right as far as possible when you're overtaking the yellow peril boats. That way you'll find it easier to dodge the missiles they fire at you and rejoin the road.