It's time for an adventure or two! Let's see what Steve Cooke has found for you to explore ...
ROBIN OF SHERWOOD
Adventure International £9.95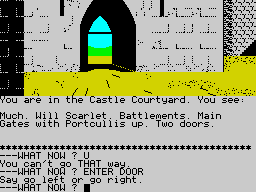 Adventure International certainly rake in those big titles to turn into Spectrum adventure hits! Following in the footsteps of Gremlins is Robin of Sherwood. You could say it was like robbing the big screen to give to the small!
Anyway, how do the adventures of Robin the wonderboy live up to our expectations? You'll find great graphics, with a different one for every location. You won't be at all disappointed by the program either, though I reckon the game could be just a teeny bit friendlier. It kept ignoring my commands and getting the program to accept my phrasing was harder than solving the puzzles.
This game is a winner despite the niggly bits. Be careful when leaving the castle near the start. If you manage to make your escape from the Goblin's Dungeon, then you should make it out of the castle ...



THE SECRET OF ST. BRIDES
St Brides School £6.95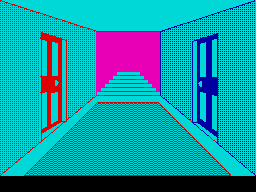 Oh, I say girls, this is a wizard wheeze! Even the boys might fancy a bash at this one.
If the thought of Quilled games sends your knees a quiver, and I admit there've been some shockers, then think again. St. Brides has quite a whacky atmosphere to it, and if you can forgive the occasional Quill- like quirk - like waiting an age before replying to your commands, you should find these antics give you quite a kick.
As Trixie Trinian you'll find yourself in the heart of St. Brides School where all the young school girls seem to have the idea that it's not 1985 but about fifty years back in time! Even worse, those mysterious mistresses seem to be dab hands at hypnosis and ... (like a good school goer I mustn't give the secrets of St. Brides away, must I?) Pssst! I mustn't say a whisper about that amulet either or I'll get a jolly good ticking off ... it's all jolly hockeysticks what!
GIVE US A CLUE ...
Just when we were thinking that solving Sherlock was sheer luck, you've flooded us with hints and tips on the game! Paul Ridley and husband-and-wife team John and Patricia Black sent in far too many clues to print, but here's a few for those of you still trying to work out who this Watson fella is. To get people to follow you, you'll need to ask them three times per move. A bit long winded, but it works! Paul suggests trying it out on the cabbie! And while on the subject of the cabbie - don't pay him. (Now that's a wise investment. Ed) Why not ask Daphne about Tricia Fender, you'll get another address for your collection. Finally, Paul recommends that you should always take the lamp.
A fair number of you are still having problems killing off Smaug (the dragon) in The Hobbit. Well, Helgi Hafthorsson from Iceland (how did you guess?) has settled this problem once and for all with his tip. Go to the village of Lake Town and tell the Bard to go North. From here you must follow him up to the mountain until you see the dragon. You're far too weak to kill the dragon yourself, so you must ask the Bard to shoot it for you. Now that solution should keep Richard Webber from Chadwell-St.- Mary happy. It's exactly what he was asking for!
Peter Bates, who calls himself 'the wally from Leeds,' and Freddie Still from London both sent in some useful tips for Valkyrie 17 freaks. Behind the dustbins in the Schloss, apparently, you'll find an aqualung which you'd be well advised to take. Also, give the butcher the lead-box and hide Reichmuller's body in the shower. (Stranger things have been known to happen in Valkyrie, so don't be surprised by those clues!)
Here's another first for YS - the first person to complete Level 9's Red Moon. Graeme Smith finished the epic only one week after its release! Now that must be a record for one of Level 9's adventures! Graeme also kindly sent in some tips for those of you who aren't quite as speedy with the puzzles. To get the brooch you'll need to read the book and find the aviator's sarcophagus. (Pardon? Ed) When you want to enter the metal room, Graeme suggests using a little rubber insulation. When you've killed the cloaked statue in the dark junction, you'll find that his ghost will be wandering around! To avoid being killed by this, type Kill Statue and then go back the way you came. When you return to where the ghost was, it should have vanished! (It's magic! Ed) Finally, Graeme says that the purple potion restores your hit points to 50, the shirt makes your armour less painful and the tracers allow you to carry more, so what more do you want?
Right, that's your lot for this month - but if you're stuck in an adventure, look to the masters below. If there ain't one there that can help you, then write in and we'll publish your problem. If you're a brilliant adventurer, on the other hand, write in anyway and tell us all about how to do it. Just stick your stuff down on a piece of paper and send it in to Give Us A Clue, Your Spectrum, 14 Rathbone Place, London W1P 1DE. Just think of all that talent out there waiting to be tapped!




KINGS OF THE CASTLE

Red Moon
Graeme Smith, nn xxxxxxxx xxxxxx, xxxxxxx, xxxxxxx.

The Hobbit
Helgi Hafthorsson, xxxxxxxxxxx nn, xxxxxxxxx, xxxxxxx nnn.

Valkyrie 17, Planet of Death
Peter Bates, nn xxxxxxx xxxxxxx, xxxxxxxx, xxxxx nn.

Valkyrie 17
Freddie Still, n xxxxxx xxxxx, xxxxxxxxx xxxxxx, xxxxxx xn nxx.

Eureka, The Hobbit, The Hulk, Spiderman. Inca's Curse, Ship Of Doom, Mountains Of Ket, Temple Of Vran, Final Mission, Light Globe, The Templars' Secret, Safari.
Vasco Novais de Oliveira, xx xxxx xxxx xx xxxxx xx nn, nnnn-xxxxxxx, xxxxxxxx.

Valhalla, Black Crystal, LOM, Doomdark's Revenge, Hobbit, Sherlock.
Iain Gibson, nn xxxxxxxxxx xxxx, xxxxxxxx, xxxxxxxxx xnn nxx.

The Hobbit
Toby Blake, nn xxxx xxxx, xxxxxxxxx, xxxxxxxx xxx xxx.

Sherlock
Paul Ridley, nn xxxxxx xxxx, xxxxxxxx, xxxxxxxxx xxnn nxx.

The Hobbit, Urban Upstart, Quest For The Holy Grail
Philip Kevin Bugler, nnn xxxxxxx xx, xxxxxxx, xxxxxx, xxx xxxxxxxxx, x. xxxxx xxnn nxx.



DOWN IN THE DUNGEON

Erik the Viking - "How do I save a game in progress?" Tom Clark, nn xxxxxxxxxx xxxx, xxxxxxxxxxx, xxxxxxxxxx xnn nxx.

Dungeon Adventure - "How do I escape the central dungeon exit chamber without being killed by weights, and what's the significance of the pedestals and collars?" M.C. Lumley-Holmes, nn xxxxxxxx xxxxx, xxxxx, xxxx xxn nxx.

Sherlock - "How do you break the codes on the letters found in Basil's house in the fire and rubbish bin?" Michael Meechan, n xxxxxxxxxx xxx, xxxxxxxxx xxnn nxx.

Kentilla - "When I get the castle and Zelda has taken me across, I get stuck. Please help!" Lynsey Strachan, nn xxxxxx xxxxxx xxxxxxxx, xxxxxxxxx, xxxxxxxx, xxxxxxxx xxn nx.

Sherlock - "How do I stop Lestrade arresting Major Ffoulkes?" David Vivian Jnr., n xxxx-xx-xxxxxxx, xxxxxx, xxxxxxxx xxnn nxx.

Ship of Doom - "I've got the Micro Battery and the Sonic Screwdriver, but now I'm stuck. Please help!" Alan Figgins, nn xxxxxxx xxxxx, xxxxxxxxx, xxxxxxxxxxx xxn nxx.