anything plugged into the MIDI interface but, again, the 128 I tried refused to co-operate.
Sound has to be one of the 128's radical improvements. Although Speccy games lead the world, their sound always has to be taken with a pinch of imagination. Even a simple 128 mode conversion can include 8912 support and the transformation will be dramatic. The best thing I saw a 128 do was the machine sitting next to mine and it did it for the entire time I was in the building. Hooked to a fancy Casio organ and in turn to a Hi-Fi, it ran through a superb rendition of five popular tunes repeatedly. And it did it without reaching for its microdrive - all five tunes were loaded into memory and switched between automatically. It's an English demo program so expect to hear of it soon ...
Investronica stalled on the exact details of the bank-switched memory system - as it did on the bulk of technical details. Its reason is that things might be changing dramatically - they sure are in for a busy month! The basic principles are 128K RAM divided up into 16K pages, any four of which can appear at any position in the Z80's 64K addressing space. There's 32K ROM on board (EPROMS on early machines) divided into 16K for the original Spectrum ROM and 16K for the 128K mode ROM. One source suggests that either the top or bottom half of the ROM is paged into the first 16K of the Z80's address space. However, Investronica detailed a much more sophisticated and versatile idea - on power-up, reset or entering SPECTRUM, the appropriate 16K of code is copied from ROM into a 16K RAM page and that page is then switched into 0-16K of the memory map.
This first page of memory is then, apparently, write-protected so that it appears to be ROM. If this turns out to be the case, it should be possible to pull all sorts of lunatic stunts such as altering ZX Basic and then switching to 48K mode. If the software control is there, you should also be able to dispense with the ROM altogether and run pure 64K programs. What a shame video memory still starts at location 16384 - you still can't persuade a Speccy to run the standard CP/M operating system without extra hardware. Rats!
In 48K mode, three RAM pages are switched in above the page pretending to be the 16K ROM. Who cares which pages they are as once they're in, the banking is disabled and you can't switch to any of the other pages. There's nothing a program can do, however wayward, to get back to 128K mode.
In 128K mode, three pages are switched in to give you a normal 48K system but the remaining 64K (four pages) are available by the bank- switching mechanism. This gives you around 104K free for Basic programs
and their data and a maximum of around 120K for pure machine code. Remember that the system variables and screen area are still going to steal around 8K of the space.


RAM DISK
The extra memory appears to be supported from Basic by the rather crude solution of a RAM disk - using the commands LOAD! and SAVE! So long programs have to be split into chunks and called from the RAM disk as needed. Note that this is non- standard syntax in terms of Interface 1 commands - you'd expect some new channels but, of course, not every 128 owner will have an Interface 1 and there isn't room to put some or all of the Interface 1 stuff in the 16K ROM in the machine. However, it should be possible to do your own bank- switching using IN, OUT, PEEK and POKE if you need greater control. Machine code programs can, of course, make the entire 104K (or 120K if the ROM really can be replaced with RAM) appear as one continuous chunk.
The 128's RS232 port is the same as the Interface 1's port - Investronica says it's pin compatible but since the pins are a different shape, you'll need a new cable anyway! It's a shame that it's not an enhanced version of the port as anyone who's tried it will know that you can die trying to make it do full- duplex (transmit and receive data at the same time). This makes it fine for printers and micro-to-micro links but modems will still be a pain in the neck. If you've got an Interface 1 attached, the built-in RS232 remains what Investronica calls 'the primary device'. Quite how your programs address the Interface 1 RS232 or how current programs will react to the new port remains to be seen ...
As for pricing, Investronica sells old 48K Spectrums for 27000 pesetas (around £122) and Spectrum+s for 36000 pesetas (£164). It's price of 50000 pesetas for the new 128K machine works out at £230 over here which is probably no guide at all.
So how good is the 128? The extra memory and improved sound opens up all sorts of possibilities for new software. But the 128 is a bit messy since it doesn't incorporate or build-on the facilities provided by the Interface 1. Neither does it (apparently) provide any serious enhancements to the ageing ZX Basic other than a bare minimum of support for the new hardware features.
It will be interesting to see how the machine changes when it makes it to an English version. Certainly, I could think of things I'd rather have than a simple (and rather slow) text editor. And who needs a four-function calculator when all you need to do is stick the keyword PRINT before the calculations? OK Sinclair, we're interested and we know you can do it ... why are we waiting?
SPECCY SPEX
Here's how the Spanish 128K Spectrum looks at the moment. Be warned, all details subject to change on production and UK versions!
PROCESSOR
Z80A, 3.5 Mhz.
MEMORY
128K RAM in 16K pages.
32K ROM, 16K original Spectrum ROM for 48K mode, 16K for new 128K mode.
VIDEO
As Spectrum.
KEYBOARD
As Spectrum with extra Extended mode/ Symbol-shift keys for Spanish characters. Separate numeric keypad for use in 128K mode. Provides calculator and screen editing keys.
SOUND
8912 sound chip, 3 voices, pure sound and white noise. New PLAY command provides control from Basic. Sound is played through TV - there is no internal speaker.
BUILT-IN SOFTWARE
ZX Basic, Text Editor, Calculator, Basic screen editor.
ZX BASIC
As Spectrum in 48K mode. In 128K mode, keywords must be typed in full and there are extensions for Ram disk drive (LOAD!, SAVE!, CAT!) and PLAY.
INTERFACES
RS232, MIDI music interface, RGB monitor, Composite Video monitor. MIC, EAR and expansion connector as Spectrum.
PRICE
50000 pesetas in Spain.
UK price £180?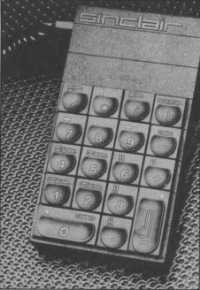 The keypad is standard and provides editing keys and a calculator.