Name: Peter Dawson
Town: Yate, nr. Bristol
Age: 13½
School: King Edmunds
Hobbies: Computers!
Fave Game: Bruce Lee, what d'you think?
Fave Music: All the latest hits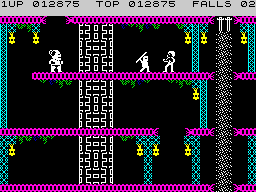 Peter Dawson on Bruce Lee
If you want my advice thwack everything that moves - the more violent you are the better. This ain't a game for the faint-hearted!
You've got to collect all the lanterns in the
first three rooms before you can proceed. Then go to the middle room and look for the exit.
You'll be attacked by the Ninja throughout the game, though they're a bit wimpy. The Green Yamo is a completely different kettle of karate - so keep out of his way.
To get your own back on the enemy, let them take their flying kicks at you, then double back and go-a-chopping in their direction. It'll take three blows to knockout the Green Yamo but only two to finish off a Ninja.
When you eventually reach the wizard, avoid his eyes - the fireballs he sends out are lethal. Talk about looking daggers!