These two buttons let you scan the puzzle pieces you've collected so far so that you can choose which ones you want to fiddle with on the workspace. It's fiddly 'cos you can only see two at a time but what do you expect from a wrist-watch?
Toggle between the map and workspace by switching the wrist terminal on and off.
Flippin' heck - pushing here will flip pieces top to bottom or side to side so that you can get them to fit together.
4125 phone home - press here to auto-dial the ZX81 back at HQ. It's superior processing power will help you organise the puzzle pieces and tell you if you've got enough to get a punchcard together ...
Here's the two pieces you're working on at the moment.
Use the workspace to shuffle, invert and overlap puzzle pieces until they match. The finished punchcards allow you into Atombender's lab to foil his dastardly plan. When you're not putting the pieces together, this space becomes the map window, showing the relative positions of the rooms you've visited so far.
Use these three buttons to change the colour of the current piece - for two pieces to overlap, they must be the same colour.
MUSICAL DIVERSION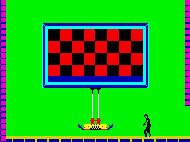 Unlike some recent games, the music room isn't just a red herring to make you lose time. Once you turn to search the device, a pattern of notes is played on the chessboard. Repeat the pattern in order from the lowest note to the highest and you'll win lift and snooze tokens ...