GWR 14xx CLASS - Introduction
My name is Ken Staniforth and I reside in Rotherham, South Yorkshire in the UK.I first took an interest in railways in 1949, taking up the then popular hobby of trainspotting and continued until the demise of steam in the early 1960's. I still occasionally have the thrill of main line steam a couple of times a year taking in one of the many steam specials.
As far as model making is concerned this is quite new to me, except for a short period when I was an apprentice Engineer in the Steel Industry. At that time I had the opportunity to make a model of an Industrial tank loco, got as far as the frames and packed it in mainly on cost grounds. I have always regretted it ever since and when I first saw the advert for Winson's GWR 14xx tank I thought this is my opportunity to redress the situation. So I took the plunge and ordered from the second batch. Although perhaps cheating a little having all the parts made, due to lack of machine tools it is really the only option open to me. Another thing that set me off was a visit in May 1998 to a cousin in London who I hadn't seen or heard from for many years. I was surprised to find that he was building from scratch a GWR Prairie tank, not sure what gauge but certainly less than 5".Having taken early retirement in 1992, I am able to devote plenty of time to the project.
I won't say too much about the Winson Model Technology's model of the 14xx tank as I'm sure its already been said, except that it comes in 12 monthly kits and should look something like the photo below when it is finished. For those not familiar with the 14xx class, it is a Great Western Railway small tank locomotive with a wheel arrangement of 0-4-2T. It was a Collett design introduced in 1932 for light branch work, often used on push-pull trains.
I shall create new pages as the building progresses one page to cover each kit.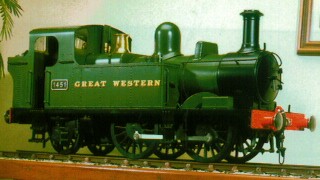 Click here to go to next page (Frames-kit one)