Computers & Modding
I am not exactly sure how it has happened, but I seem to have become a lot more involved with computers. OK I have a web page, and use the internet. I have become more interested in the digital imaging side both at home, and at work, and probably spend far too much time than is healthy with the beasts.
The house now appears to have 7 computers, not quite sure how it all happened, it sort of crept up on me. All are responsible for different activities, and functions. This shows just how sad it has become. They even have names, as they are all networked for the rapid moving of data and software between machines. Do I need 7? - Well I reckon at least 6, and realistically eight, but that could be getting silly, isn't it. There isn't a PC in the bathroom, kitchen, shed, or dining room, though the latter do have network ports.
Well anyhow we have, in no particular order,
Domealone - Observatory - PII 300 - Operates the astronomy software, telescopes, and CCD imaging equipment & the Dome.
Vaio - My Bedroom - PII 366 laptop - Primarily for playing MP3s from HAL in the front room, and numerous mobile applications.
Astro = Spare bedroom P1 233 - Allocated for use as a data logger for future radio astronomy project - meteors / Sun
Terminator - Study - AMD 1000 - Portable image capture system with Firewire camera for Microscopy & Astronomy applications
Scanman - Study - PIII 850 - Linked to flatbed scanner & Polaroid 5 x 4, 120 , 35mm film scanner & hosts the CD writer
Main - AMD 800 - Study - the work horse, does all my main writing. processing, and internet work
HAL - Dual XP 1900s - Living room. linked to HiFi, and soon Video, DVD writer, displays on TV, will run observatory from in house
Well peeps, you can't get much sadder than that can you. Seriously the system has come together really well, and allows some flexibility with operating systems. Two run Win98, as they support older peripherals. The Sony laptop also has the ilink capability for linking video from my video walkman, and is running Win98. All the rest are running Win2000, though HAL is due to be upgraded to XP in the very near future.
Well if you think loads of PC's are sad. Read on! As I decided that I would like to run a PC linked to the HiFi, and the video system I decided that this would have to be more like a piece of furniture, unlike the usual box as it would sit pretty prominently in the front room.
Whilst searching on the net for a decent case to house this wondrous beast I was going to build, I came across another bunch of nutters doing the same sort of thing - They call it Modding. Well I was hooked. I just could not believe the bits you could get. I found this great case called a Cyberfusion case, and decided I would build a fully modded machine called HAL. So the first thing you do is order loads of great high spec PC bits for loads of money, and design a cool and interesting setup. You then start cutting your very expensive case into pieces, and assemble everything together. This is what went in it.
Tyan Tiger motherboard, 2x AMD XP 1900 processors with fans, I will raid card, 2x 40gig HDD's Mirrored, 512 DDR Ram, Pioneer DVD RW R CD - RW CD - R, Floppy drive, DigiDoc fan controller, 1x 120 mm fan in top, 4x 90mm fan two inlet 2 exhaust, 450 watt PSU, 3x Cold cathodes Red Green UV, Baybus to control Cold Cathodes, Rounded IDE cables - Yellow, Black spiral wrap to tidy up power cables, Fan cooler for the RAM, Laserbay - THE BRAIN - red leds., GeForce 4 Ti500 graphics card with S video out - to link to TV, Sonic Fury sound card with 5.1, Large round diameter window cut in the side of the PC so you can see all the insides lit up!, Custom built HAL led switchable from Baybus. All operated by a small infrared keyboard with built in track ball.
So you get the picture? Well if not see below for what it really looks like. It was a great little project which got totally out of hand. I hope you find it at least a little entertaining. I know the spec is not so great now, but I did finish it in 2001.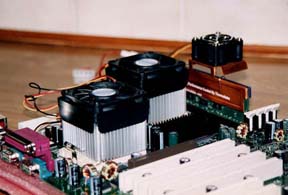 ...............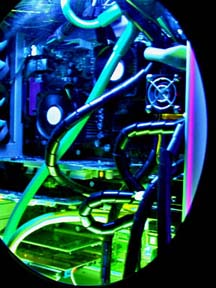 Here is the power house, twin CPU's hidden under the fans, and the Ram Cooler. Prior to assembly, and also as seen through the window in operation. Yes that is the side of the case :-)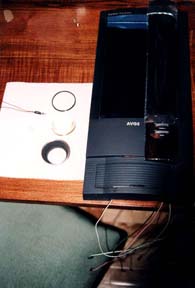 ....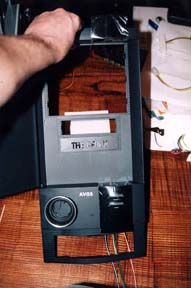 ....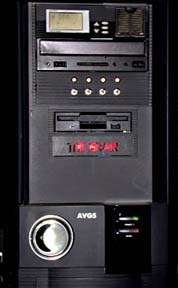 The modding process. Various bits of old microscope fittings, and an led, and a brand new cover. Then cut and glue new led HAL eye onto machine, and add Laserbay THE BRAIN. There you go add a Baybus, and a Digidoc fan controller, and you have a new beast of a machine. Assemble the rest of the bits, and switch on. You then have,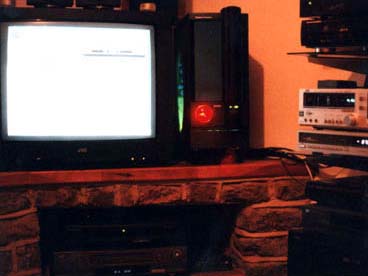 ......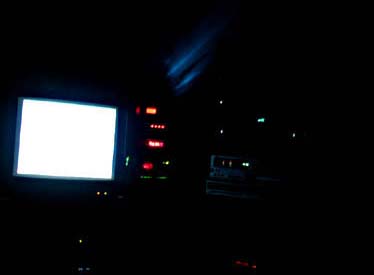 The pictures do not really do it justice, but you get the idea. Sure adds a little bit of atmosphere to the room at night, and it is very functional. The TV takes Sky TV into Aux1, Hal outputs into Aux2, and Aux3 takes a feed from the low lux video on the telescopes in the dome, just so I can see if its clouded over when imaging. This is actually transmitted over a wireless link using composite video.
The idea is to be able to run the telescope, and control the dome, run the CCD imaging system remotely for long exposure, keep an eye on the sky, and also listnen to music / watch TV without moving off the settee. It all seems to be coming together at last.
So that is where we are at present, and while I think of it a good time to express my thanks to Neil who had to suffer some of this with me. Cheers mate, appreciated.
For those interested in modding I can offer the following the following links to places who I have found excellent in both goods, and service.
CoolCaseMods - Everything for the Modder
Kustom PC's - More bits for the Modder
Overclockers - Various componets, boards etc
Overclock.co.uk - More cases & components.
Well there's a start for you, off you go, take a look, and see what you could do to that old tired looking PC in the corner :-)
General Main ...What's New General ...Astronomy Main.. . Home