The Equinox Star Party - Thetford
Shortly after acquiring my LX200, I came across an ad in the Astronomy World Magazine. It was advertising a star party in Thetford forest. Having been a great fan of Sky & Telescope as child, and seeing all these amazing scopes in a field, I persuaded my good lady that it would be a nice idea to go and camp at this forest venue for a weekend. The site did have facilities, and we did have a tent. She said OK, and off we went.
As I needed power to run my LX200, and my small Toshiba laptop, I chose a hookup for the power. On arrival there, and not knowing anyone, it appears that only myself and an American chap Pete next to me were the only ones in the hookup field. Either way it was great to do some observing, and some socialising. We came away having a great time, and having met a few new friends.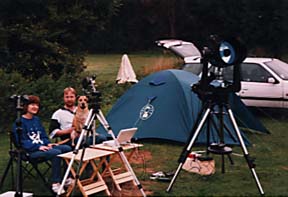 .......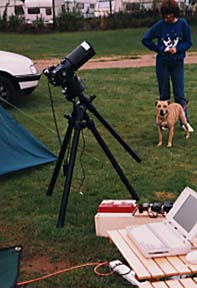 Here is the set up in our first visit 1998. I took the LX200, and my ETX. Pictured are my ex wife Monika, and my trusty friend Zak.
The following year we booked the same pitch to get the power, and ran an extension lead into the field where everyone else was, and camped over there.
I had recently purchase a Daystar H alpha filter, and a Milburn wedge for the LX200, so we seemed to get quite a bit of interest, and again had a nice time, meeting up with some old friends, and getting to now a bit more astronomy. Having the chance to peek through 18 inch dobs was a real treat.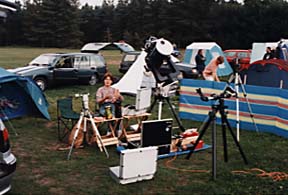 .......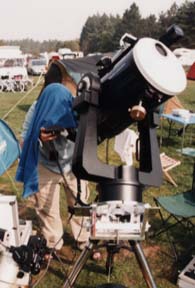 The LX200 fully kitted up for solar observing in 1999, I was lucky if I got a look during the day. The dog is there, he is just hidden whilst scrounging. Again blessed by good weather the event was a hit.
So I managed to get permission to go again the next year 2000, setting up as before, but this time with the new Takahashi I had just purchased having sold my LX200. I had opportunity to compare it with the 6 inch of Pete's, and Nick's. Well lets leave the conversation there shall we :-(. The 6" certainly made a difference on the satellites of the planets, and we also had a great time trying out various eyepieces, especially the Radians v the LE's.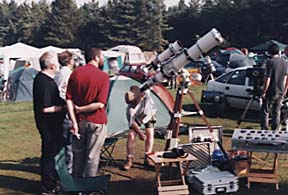 ...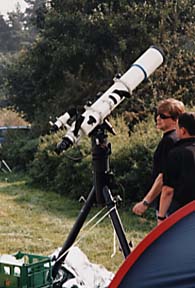 ...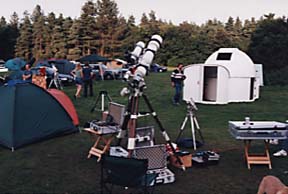 The Takahashi FS128 & FCT76 on the EM10, along with Pete's Tak FS152 on a G11. Later we had Nick's 6" FS152, and Ted had is Helios 150. It sure was a nice night on Saturn & Jupiter.
Unforumately the weather was not so good after the weekend, and although we were going stay a couple of days, the good lady wasn't happy with the weather so we had to leave early.
I enjoyed the get together anyway, and vowed to go back the following year on my own with the dog, and actually take time out for a proper break. I invested in a small tent for camping in, a Kendrick observatory tent to put the scopes, and my new mount in, and waited for the next year. If I was staying longer, I had to be a little more prepared.
.........
So much better prepared, and armed only with my trustly companion Mr Zak I managed to get a whole week at Thetford. This was great apart from the occasion storm. Extra carrying space was required for the longer duration, and having the two tents was a god send. One which you can live in, and cook etc, and one just to lay your astro gear out in made all the difference in getting images in the times when the weather cleared briefly. One thing I did have to do was replace the Gazebo. That went flying in the storm, and was trashed. The Kendick tent was just brilliant.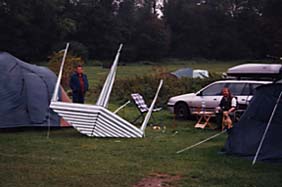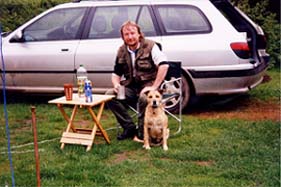 The morning after the night before. Well sodden, but still smiling, next move was to Argos for an electric fan heater. Something that is with me each year now. We actually managed some good observing despite the odd deluge so all in all the 2001 Equinox Star Party was a great success.
Now left to my own devices I decided that the if I was only going to be able to get away for one holiday, I might as well book up a couple of weeks for the 2002 event. Having booked early, and got my usual pitch, which makes all the difference to my solar & lunar imaging due to it's position. I replaced my gazebo, and prepared for a fortnight of Rest, Relaxation, Socialising, and Star gazing. The holiday was a hit, and didn't I need it.
It seems now that the regular crew who come for a week or so are getting pretty organised. Between us we manage to cover most eventualities.
The amount of Kendrick tents has shot up, and more people are coming than ever before. They are coming earlier, and staying longer. Things are getting very civilised with the use of heaters, electric kettles, Barbecues, and fine selection of wines, scotch, and beers. Observing has increased due to the Kendrick tents, and now we know the location of a fine local butchers the cuisine has become mouth watering on occasion. We take it in turn cooking curries, chillies, stir frys etc. With so many clear nights this year, it has been known for people to comment at 0300hrs, when woken by Percy The Sleep Warden, Oh no, It's not clear is it! Sometimes in a fortnight it is good to sleep.
There also appears to be a few more larger Dobsonian telescopes around which are a real treat. This really does give me the opportunity to do some real deep sky observing. Should the evening be cloudy, then some people just get the guitars out, and west there to the early hours chatting, over a wee dram, and listening to people play. Usually Gavin & Brian. A quite relaxing way to finish of the day.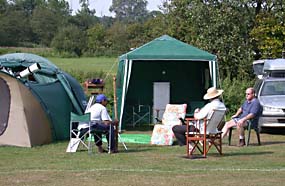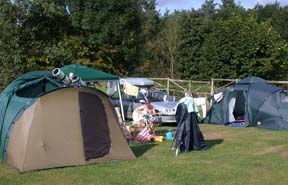 Having two tents, and some room makes all the difference when your away for a couple of weeks. Yes the sun lounger is mine, and yes all that does fit in the car! Total luxury or what! Sorry about the washing line, makes it look like a gypsy camp I guess. One does have to wash you know, even on holiday
Here are a selection of pictures that hopefully captures some of the variety seen at the Equinox Star Party Thetford. Special thanks goes to Mike Cook who organises the event with some help from his local group the Loughton Astronomical Society. Also best I put a plug in for the B C & F guys at Telescope House who have sponsored, and aided this event for the last few years. Well done lads.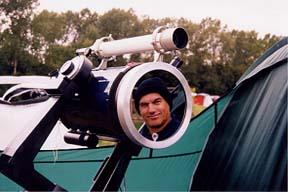 ....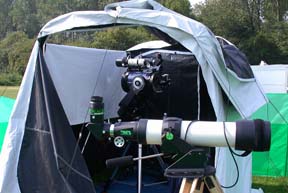 Some of the regular telescopes seen in Hendrick observing tents.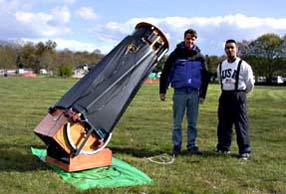 ....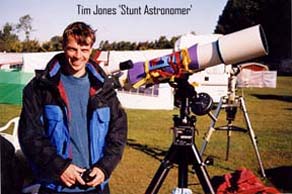 Big dobs for deep sky, and even stunt astronomers.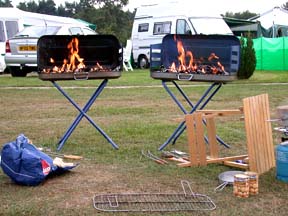 ....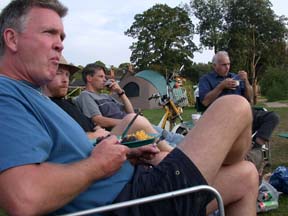 Full cooking and socialising is a must. I man has to eat.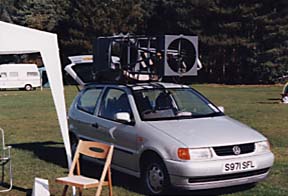 .....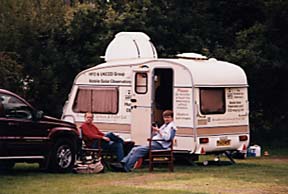 Even transportation can be interesting the Astro way.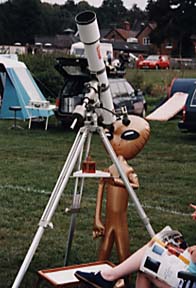 ........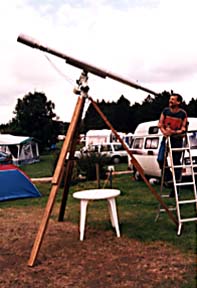 No sign of intelligent life here Brian, what about you? Nope, can't see a thing!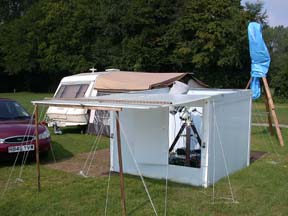 .......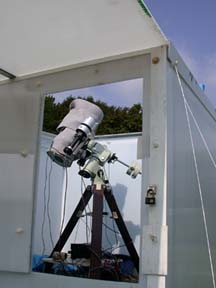 Even portable home made observatories get in on the act. A portable roll off roof version.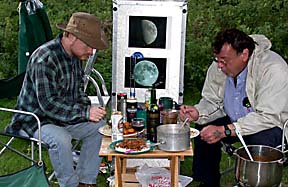 International cuisine at its best.
The event is great success in many ways, and anyone out there with a slight interest at looking at what goes on should pop over for the day. The main Saturday is a public day with telescope tours trade stands, and food available. Keep an eye out in the astronomy press, or contact the Dower House camping site, for further details.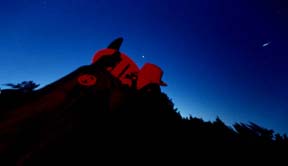 Keep looking up.
Astronomy Main.. Home .What's New Astronomy..General Interest Main