Filter Wheels For Visual and Imaging
Having started to do some deep sky imaging using the SBIG ST-10E CCD camera I had a look around for a Colour Filter Wheel. I had already seen the True Technology Flip Mirror with filter holder, but wanted something I could use remotely. The benefit of the Flip Mirror was when not set up for goto, or if I was having problems focusing I could at least use the eyepiece to check the approximate position of the object I was about to image.
In addition having a selection of 2" Lumicon filters, and 1.25" planetary filters, it would be nice to use those in a similar manner. Looking at my choices it was down to the SBIG unit - tried and tested, or the new Visual motorised unit from True Technology which seemed to satisfy more of my needs. Having now got the upgrade for Maxim DL which includes the TT CFW and ST-10E I went for the motorised visual wheel from True Technology.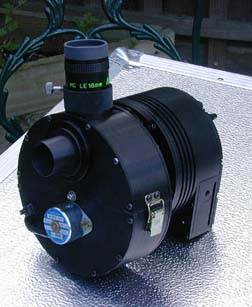 ..................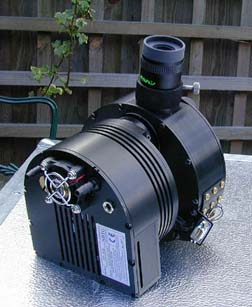 The SBIG ST-10E on the True Technology Custom Filter Wheel
A special hand unit allows power via the ST-10E, it also allows the use of more than 3 filters in the Maxim DL software.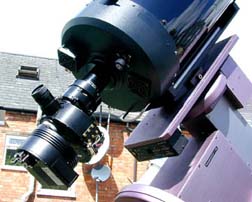 ..................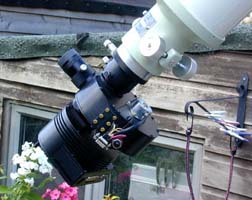 SBIG ST-10E on Celestron C11 using NGFS & also on Takahashi FS128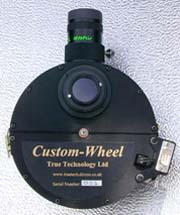 ...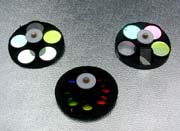 ...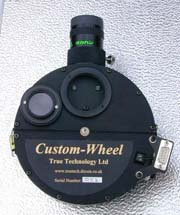 This shows the CFW with the position of the 1.25 IR blocker for CCD work and my filter wheel combination. One with Lumicon Deep Sky - OIII - HBeta - UHC - and ND filters. The 8 way wheel has 1.25" Meade planetary filters, and the other 2" has the Clear - Red, Green, and Blue filters for Tricolour imaging along with the visual diagonal.
As mentioned before this filter wheel assembly allows for visual use of the filter wheels.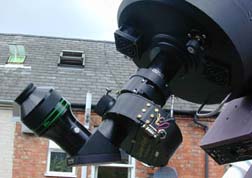 ................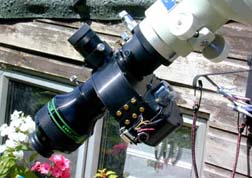 31mm Nagler on both Celestron C11 and Takahashi FS128
As with a CCD camera it is possible to use one of the many adapters to couple up an Astrovid video or 35mm camera for the same sort of applications.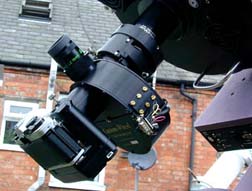 ................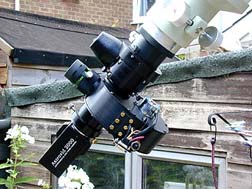 Again Celestron C11 and Takahashi FS128.
Follow the link for examples of images obtained by Tri Colour Imaging
.. Astronomy Main.. Tri Colour Images ..Home