Astronomical Imaging with Video
Having tried a little imaging with 35mm film, I considered what else I could use with my telescope which would produce images more quickly than using film. Having only just got back into astronomy I didn't want to spend too much money at first in case I wasted it, and cooled CCD seemed very complicated and very expensive. I had been used to using video cameras of various ages to image subjects down a microscope for many years, and decided to try this approach first. Armed with a small TK1070 colour camera which I managed to scrounge, I started with the brightest objects the Sun and the Moon. Having seen what I could do on the Sun, I decided that this would be the best method to capture the forthcoming Total Solar Eclipse, but how to record the data?
I had an old Ferguson VHS portable recorder from many years ago, and a 12 volt Television was also easy to get hold of, but transporting these in and out of the house was going to be a pain, and taking them to Romania for the eclipse was not really practical. I did some investigations and came across the Sony Video Walkman. This little unit was ideal for portable imaging. A very compact unit with built in screen that will fit in your pocket and record on DV from composite or YC inputs. The only problem was the price, over a £1000.00. Well I decided it would be worth it especially for the eclipse. It is not a decision I regret, it is a great piece of equipment.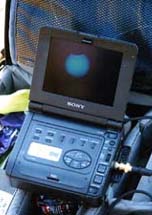 ...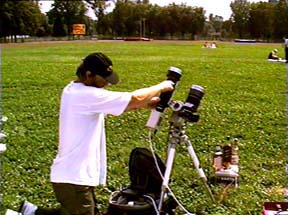 ...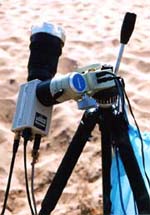 GVD900 Video Walkman as used for eclipse imaging - for images go to Eclipse Observations
The colour cameras whilst sensitive enough for Solar and Lunar imaging were not good enough for use on the planets. For this I decided on a B & W camera of high sensitivity, I was looking at a small Watec, but decided on the Astrovid 2000 as it had a remote box for control of the camera functions. A definite plus.
....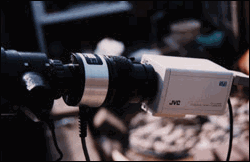 .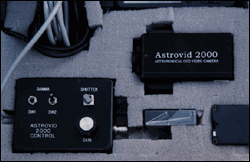 Here is the TK1070 camera with Daystar H alpha filter, and the Astrovid 2000 complete with control box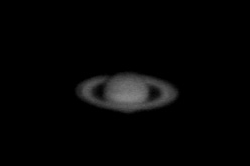 .......................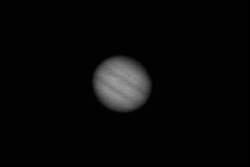 Saturn and Jupiter with an Astrovid 2000 on a 10" LX200 single frames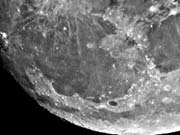 ....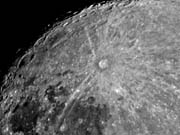 .. .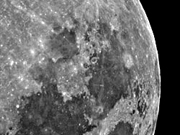 The Moon with an Astrovid 2000 on a 10" LX200 single frames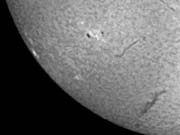 .......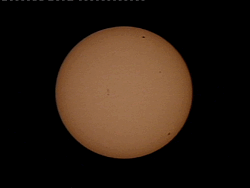 ........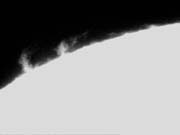 Imaging the Sun's features using both Astrovid 2000 and JVC TK1070 video cameras
I have recently moved on my Astrovid 2000 in order to get a Astrovid Stellacam, this camera is more sensitive than the 2000, and I want to try some imaging of meteors and satellites.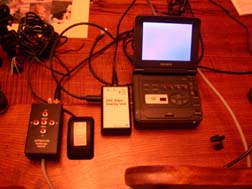 ....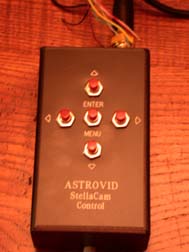 ....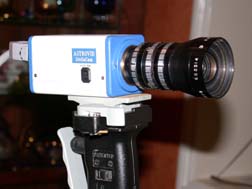 At the Thetford meet in April 2002 we had the opprtunity to have comet Ikeya Zand reasonably high up, so I attached a 135mm OM lens to the camera, and captured some mages on the Sony video Walkman. Here is a captured image usingth Sony Vaio ilink.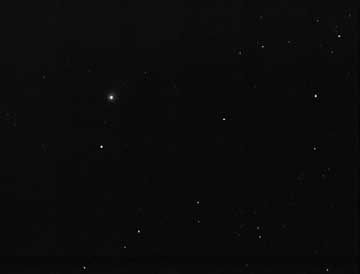 The comet is the brighter fuzzy blob.
I also had a go at imaging some stars, and objects that I would not normally do with video. See if you can recognise them. They are labeled in case you struggle. The Stellacam does allow integration so for deep sky applications, a driven mount can readily stack 128 images, so enhancing the image you get.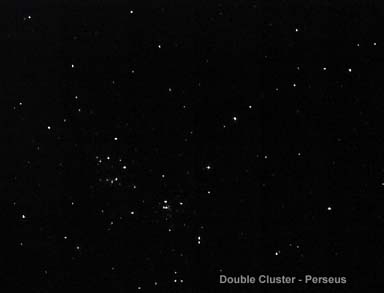 ....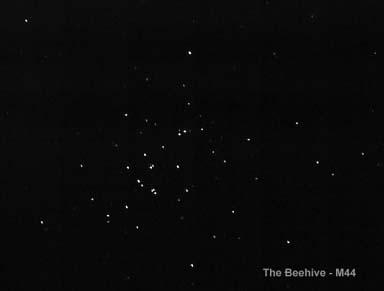 Astronomy Main..... Astronomical Imaging... . Home