Total Solar Eclipse Observations
One of the most spectacular events to witness is a total eclipse of the Sun. I have been very fortunate to have witnessed two Total Solar Eclipses, this is the brief intro and links to the actual events.
My first real chance for a Total Solar Eclipse was to be August 11th 1999. Having decided Cornwall had a good chance to be clouded out, and due to the utter greed of the local population several months prior to the event I opted for Romania, a place I had never been before.
Now what to take on my first Total Eclipse to the event to try and get some images of the event?
You would think 2 mins and 22 secs is a long time, but according to all who have been before - the time just disappears. Trusting my fellow and more experienced amateurs, I put together a selection of equipment which I thought might do the job. A 600mm mirror lens for taking 35mm images, and a small video system for trying to get some movie images as well. The idea was to capture these images on a video walkman whilst spending most of the time watching the event unfold, and download selected stills to a PC afterwards. The assembled equipment being tested is shown below.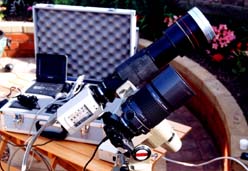 ..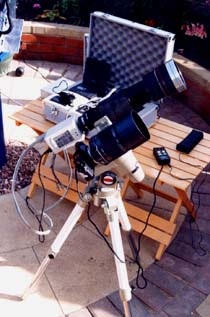 ..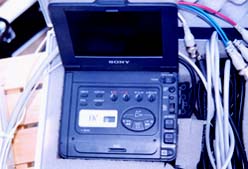 The images show the JVC TK1070 video camera with a Tokina 150 -500mm lens, and a 600mm Sigma mirror lens mounted on either side of a Vixen GP mount with RA drive. Power was to be supplied by a car battery bought on arrival.
The links to the actual Total Solar Eclipse events are below
Bucharesti 1999 ..... and ..... Zimbabwe 2001
Annular eclipse from Burghead - Moray - Scotland
Observing the Sun ... Astronomy Main.. Home