Total Solar Eclipse Observations
Zimbabwe - June 21st 2001
Having seen my first Total Solar Eclipse in Romania in 1999 I was hooked. The next visible one was across Southern Africa, Angola, Zambia, Zimbabwe, Mozambique, Madagascar. Due to cost, and possible problems in the region I chose an organised tour for Zimbabwe. The tour group I went with were Explorer Tours. They were very good, and the organisation was excellent considering how much we did in such a short time. Only one problem was that the hotels were always in built up areas so night skies were not too good. Not really a complaint, just a shame to have missed some of the southern sky sites.
As with Bucharest, I decided to use a similar video system, and just let it run, whilst watching the event. I would also try and take two shots with a 8mm fish eye lens, and one with a small telephoto to get a slightly wider field image than I expected from the video. Due to problems with weight I had to leave the FCT76 at home, and borrow a Sky patrol mount from Nick Hudson at True Technology to run the camera. Public thanks to Nick for helping me out. The location for the event was at a dryish riverbed behind Maname School, in the North East of Zimbabwe, close to the Mozambique border. It was a truly excellent setting.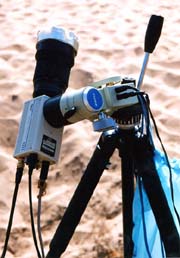 ...,,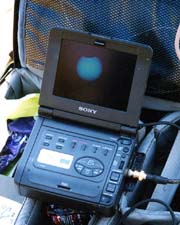 ... ,,
The equipment is similar to last time, only this time I used a JVC KY-F55 3ccd camera and a smaller lens a 180mm OM Zuiko. I could use a smaller lens as the chip size was only 1/3rd inch. I was hoping that I would obtain better image quality and resolution from the new system, again I used a Sony Video Walkman to capture the images, and then transferred them to a Sony Vaio laptop using the built in i-link facility.
I did have problems with the drive due to poor alignment, and also the tripod sinking in the sand, but from the video it was possible to get several stills, and also Richard Robinson was able to put together an animated GIF of these images.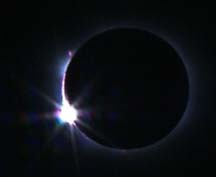 .....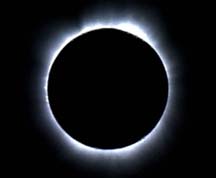 ....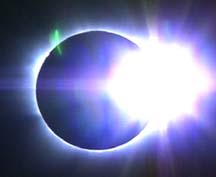 2nd Contact - Totality - 3rd Contact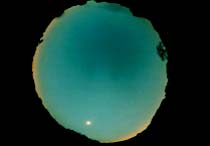 .......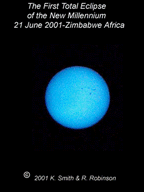 .......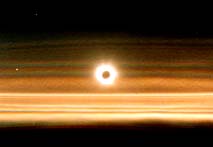 Image taken of location with 8mm fish eye lens, animation of complete eclipse by Richard Robinson from video stills, and 150mm lens shot which had a light leak into the camera - somehow?, it does make it interesting, it was the only frame to be affected though - weird.
The links to Bucharest 1999 & Eclipse home below.
Romania 1999 .. Eclipse Home ..Transit of Mercury
Astronomy Main..... Home ... ..Observing the Sun