Observing the Sun - Our nearest Star
Sitting a modest 93 million miles from us, and with light taking only minutes to reach us, our Sun gives us a great opportunity to see how a star really behaves. To most people looking out on a warm summer's day the sun seems a stable and calm globe. When we start to look in a little more detail this so called stable globe is a mass of seething gas, forever changing in its appearance. The blemish free surface is not as blemish free as you would imagine. Many a feature can be observed on its surface. Sunspots in particular provide fascinating viewing. These cooler regions of the Sun appear dark as they are not as hot as the background surface. Detail can be seen in their shape and it is possible to watch them evolve over periods of days, as they rotate across the face of the Sun. Sometimes regions of white known as faculae can also be seen, and these can be very short lived so that you can see these change over shorter periods.
A WARNING - ONLY OBSERVE THE SUN USING EITHER THE PROJECTION METHOD, OR BUY SPECIAL FULL APERTURE SOLAR FILTERS -
DO NOT USE THE FILTERS OFTEN SUPPLIED WITH SMALL SCOPES WHICH FIT OVER THE EYEPIECE.
IT COULD BE THE LAST THING YOU EVER SEE AS THE BACK OF YOUR EYE IS TURNED INTO A BLACK MASS OF CONGEALED DEAD TISSUE - GET THE PICTURE !
Even regular solar observers can make mistakes. Make sure your filter is secured over the front of your scope, the wind can always blow the front filter off. Users of a Herschel Wedge can easily forget the Polarising filters when changing eyepieces.
All that aside the Sun makes fascinating viewing. I use a Takahashi FS128 and FCT76 for most of my observing. I also use a Herschel Wedge for white Light observation, this is not the safest means of observing, but the quality of the image is considerably better than that when viewed via a full aperture solar filter IMHO. The manufacture is Intes and I rate this model very highly.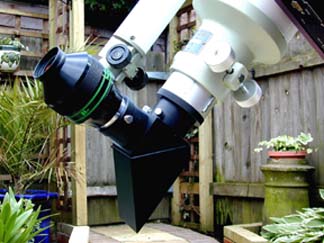 . . . .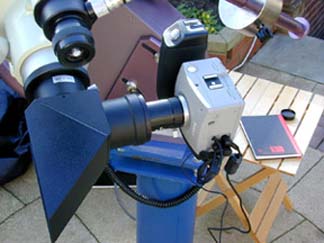 Picture here is the 31mm Nagler in the Intes Herschel Wedge, and additionally in the photographic mode with a 2x Barlow lens.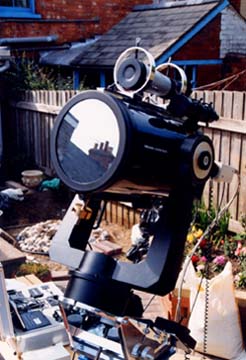 . . . . . . . .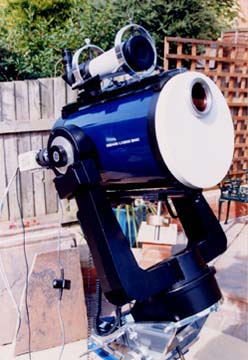 Above is the LX200 10" with a full aperture solar mask, and in addition the same instrument with an off axis mask, this time containing an ERF for H alpha observations
To see examples of my Solar observations click on the links below
Main Solar Observing Page
Observations of the Sun in White Light
Observations of the Sun in H alpha
Total Solar Eclipse Observations
The Transit of Mercury
Astronomy Main.. Home