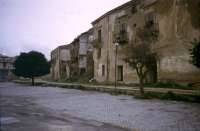 Most of the town of Santa Margherita was destroyed in the terrible earthquake of 1968, which laid waste to so many places in western Sicily. It was here, in the Palazzo Filangeri-Cutò, that Giuseppe di Lampedusa, author of The Leopard spent his summer holidays as a boy. He describes the great excitement of leaving the Palazzo Lampedusa in Palermo each June in the early 1900s - the twelve hour journey by coach, train, and coach, the welcome by the town band, the warm bath on arrival.
Not surprisingly these memories helped Lampedusa create in his imagination the massive palace of Donnafugata, where Don Fabrizio plotted the survival of his aristocratic class in the era of Garibaldi (who began his invasion of Italy with his landing at Marsala in 1860). Surveying the pitiful remains of the palace in 1993 - although restoration is underway [2005] - it was hard to picture the suites of unvisited rooms where Tancredi and Angelica in the novel roamed and made love. The house was a wreck, the garden a wilderness.
From Lampedusa's "Places of My Infancy":
"Set in the middle of the town, right on a leafy square, it spread over a vast expanse and contained about a hundred rooms, large and small. It gave the impression of an enclosed and self-sufficient entity, a kind of Vatican as it were, that included state-rooms, living-rooms, quarters for thirty guests, servants' rooms, three great courtyards, stables and coach-houses, a private theatre and church [below], a large and very lovely garden, and a big orchard.

"And what rooms they were! Prince Niccolò [who restored the palace in 1810 - it dated from 1680] had had the good taste, almost unique for his time, not to ruin the 18th century salons..."
Lampedusa's Donnafugata is not to be confused with the Castello di Donnafugata in Ragusa province: this is however well worth a visit for its own sake.