This is not of course the Donnafugata so lovingly described in Il Gattopardo (The Leopard) by Giuseppe Tomasi di Lampedusa: that was at S. Margherita di Belice. If you visit S Margherita, however, you will be saddened by the pitiful remains of the vast gorgeous palace where Tancredi and Angelica could wander and make love undisturbed. Surprisingly perhaps then, this Donnafugata - with no connection to the Leopard except its name - will compensate for the dilapidation of the original. For the Castello di Donnafugata is a very fine palace indeed, with 122 rooms - less than Don Fabrizio's but still impressive. The first floor has now been restored to its original beauty, but the extensive grounds still await regeneration.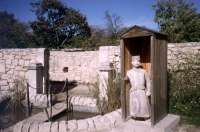 I've been there three times - the first time (August 1993) neither house nor garden were accessible. It was a quiet remote place, where dogs snoozed in the sun. The second time, I was allowed to wander around the decayed gardens - and even explore (and get lost in ) the great stone-walled maze. There are many fine trees in the garden - including a huge Magnolia, and, besides the maze, a tempietto and artificial grottoes. On my third visit - in 2005 - there were coach parties of schoolchildren in their colour-coded baseball caps (green, yellow and red), and a large restaurant had opened to provide them with lunch. But the gardens were closed!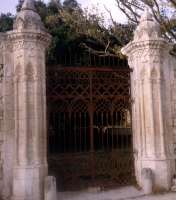 The name Donnafugata is probably now best known for fine Sicilian wines - confusingly, these do not originate either from this Donnafugata in Ragusa province or from S. Margherita di Belice, but from Contessa Entellina in Trapani province, not far from Segesta. [it is close to the site of ancient Entella, along with Eryx and Segesta, once a town of the mysterious Elymians]. Incidentally, the name has nothing to do with a lady who's run away, or been kidnapped, but derives eventually from Arabic Ayn as Jafat (fountain of health). When I first enjoyed the wines - in Lipari - they were all named after characters in the Leopard - this no longer seems to be the case (2005) although there is one called Lighea, which reminds one of a short story by Lampedusa. They also produce Marsala and the exquisite Passito di Pantelleria (I always bring a bottle or two back from visits to Sicily).
| | |
| --- | --- |
| | |
The oldest part of the Castello dates back to the 17th century, but most of it has been much altered. The facade is from the last century - although its elegant Venetian Gothic style makes it look much older. The upper floor is now (2005) open to the public for a modest charge, but photography is not allowed. I therefore made full descriptions of the rooms - examples below (with illustrations from old postcards):
Sala della Musica (Music room)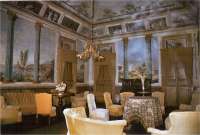 Walls in trompe l'oeil; on each wall green/blue Corinthian columns with gold capitals and bases, with views beyond. To the left: a harbour - calm sea, sailing ships, a river mouth, fishermen on the rocks, a castle on a rocky island linked to a town by bridges, all reflecting in the calm waters, which are blue/green (ie bluer than the columns!).
Next wall, to the right: a palace in a park with hills in the background and railings around it. It has two doric pilasters, with matching columns on the shadowed side. Two lions/sphinxes flank the entrance. A lady in red accompanied by two gentlemen stands in the wide drive, with another to her right, with cane and tailcoat.
Next wall (opposite the first picture): a massive palace with grand staircases, an obelisk. There is a dome and wings with dozens of doric columns. There's a tempietto on a rocky hill to the right, and Mt Etna is in the background. Figures walk on the broad drive in front.
Next: A castle in a small lake; a willow on the right; soldiers with muskets; a girl in a green skirt with two baskets; a seated man in a red suit; some sheep; a well-dressed shepherd.
The frieze has: fruit, fish, sculpture, mathematical instruments, rabbits and a partridge with a rifle, astronomical instruments, ladies' fans, jewels, eau de cologne, mirror, musical instruments - a violin, horn and accordion with sheet music. The ceiling is a pale blue/green decorated with harps and floral motifs, and a zodiac. There are yellow sofas and chairs arranged around two small round tables. Various old pianos and other instruments are also present.
Appartamento del Vescovo (Bishop's apartment)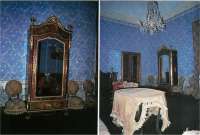 Sala: Upholstery (including the tablecloth) is a deep rose. There's a chandelier, and a gilded mirror above a gilded table; a portrait of a grumpy-looking cleric; a large china pug dog. A square ceiling picture has Cupid and four ladies; a chariot with swans is in the background. There's a picture of (?) Christ surrounded by angels offering a flan, fruit, wine etc. Stanza da letto contains a very substantial double-bed. The blue wallpaper with a lacy motif looks like the sky seen through lace curtains. On the ceiling is a picture of Venus in bed with four cute cupids (one Black, holding a mirror). There's a signed photo of Vittorio Emanuele!
Sala degli Specchi (Room of mirrors)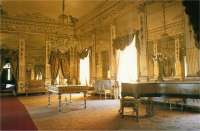 The day I visited, there was an artful scattering of white pebbles on the floor. The large marble table held silver flasks and glass rods. The grand piano was topped by a very large silver flask. There are mirrors on all sides of the room, surmounted by a gilded frieze; the large windows have gold and lace drapes. There is a spectacular chandelier. The overall effect is breath-taking: a room that seems to distil the essence of Sicilian sunshine. There are 8 stools and 2 sofas upholstered in very pale pink/brown brocade.
Salone degli Stemmi (Hall of the Shields)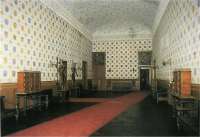 Another amazing room. The wallpaper consists of hand-painted shield motifs - it appeared that no two were the same. The ceiling is interlaced octagons and squares on a very pale blue background. There are two suits of armour, and several black leather sofas.