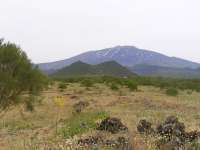 The name is simply the Greek for thunder (as in brontosaurus) - highly suitable for a town cowering on Etna's western flank. But bizarrely, there may be a connection with the famous English literary family. After Nelson's help in propping up the Bourbons, King Ferdinand made Admiral Nelson Duca di Bronte (Duke of Bronte). Nelson never took over the vast estate that went with the title, the Abbey of Maniace, known since his day as Castello Nelson. But the father of the novelists, a loyal Ulsterman called Brunty, allegedly changed the spelling of his name to Brontë in honour of the great sailor (though where he got the diaeresis from is more problematical).
A later Duca di Bronte, Viscount Bridport, descended from Lord Nelson through his sister, features in Daphne Phelps' memoirs: after seemingly being desperate to buy Casa Cuseni after the death of Daphne's uncle , the Duca suddenly withdrew his offer without explanation. Daphne was now herself desperate - as a result of the Duca's decision, she felt compelled to keep the house and stay in Sicily.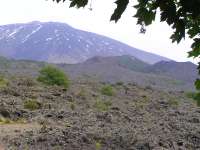 The old town seems to be built on a precipice - descending into it by car is highly perilous. Instead of that, branch off towards Etna - after 6km the lava-paved road ends: the starting point for an excellent walk on Etna's western slopes. You see old and recent lava-flows, new and ancient volcanic cones, forests of holm-oak and Etna broom. And if you are lucky, you may stumble upon a pagghiaru - a traditional forester's shelter made of stripped branches and covered with earth. The one I found was deliciously cool inside - so welcome after the sweat of the climb, and even had offerings of food and drink hang up inside plastic sacks. I took a huge crunchy apple, and left some biscuits in a Sainsbury's bag.
Many of the smaller towns of Sicily claim to be the home of this or that item - Bronte is the world capital of the Pistachio Nut (pistaccio in Italian).