I find I'm in a rather small minority of people who actually like Catania. It's where I first arrived in Sicily - at Fontanarossa airport (so cunningly concealed when it's time to depart therefrom), and I also arrived there once by sea, having travelled from Malta in a sort of combination of tube train and submarine. Just to step onto dry land was a magical experience. I've also arrived there by taxi, bus and train, as well as making frequent visits by car. The latter is not advisable - those whose experience of driving might have been (like mine) limited to London, Paris, Rome, Athens and Nairobi could find the experience traumatic. However it's good practice for Palermo, and Messina will have knocked off a few rough edges from your driving skills.
What not to miss in Catania? Number 1 - the fish market. Arrive early - it will all be gone by 11 am. Every imaginable fish, mollusc and crustacean is here, a symphony of colours, textures and scents (only old fish smell! Everything here is fresh - sold in the morning it will all have been eaten by evening. Beppino had heard of frozen fish, but he'd no more eat it than have a pot noodle instead of his lunchtime pasta).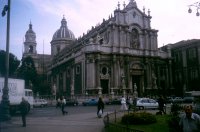 Number 2 - the cathedral. Unwind here after a busy day in the city. It is a calm and numinous space. Also see: the Teatro Bellini and the small but fascinating Bellini museum; the Roman Theatre (cunningly hidden apparently inside a building) - not to be confused with the remains of the Amphitheatre, which are less impressive; the street where they sell nothing but coffins; banana trees growing in elegant courtyards; the huge church of San Nicolò and its former convent, and the bookshop near the university. (In many Sicilian towns there are excellent boookshops - especially attractive for the classicist, with texts of most classical authors available cheaply in Loeb-style with Italian translations.) You won't be able to miss the Via Etnea, running gently uphill for several kilometres from the Duomo towards the mountain, which so often is invisible through haze. Best in the rain when the black volcanic paving slabs glisten. Console yourself with a gelato or coffee and a cake in one of the smart cafés, or better still find a restaurant serving some of that fish!