This must be one of the least-visted archaeological sites in Sicily: I've found a true test of the mettle of the traveller in Sicily is to ask them about the Rocche di Cusa.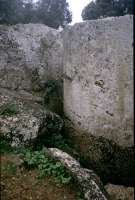 Nothing has been touched here since 409 BC, when Hannibal's 100,000 Carthaginians arrived in Selinus and in nine days destroyed one of the largest and most prosperous Greek cities of its day. Column drums were awaiting transport to Selinus, others were still being carved from the limestone beds. There are gaps where completed drums have already been shipped, and a squarish block that was intended for a capital. Most probably they were intended for Temple G at Selinus.
This is one of the few places of such archaeological interest left in Sicily - and probably Europe - which has not been enclosed and made into a tourist zoo [it has now - May 2007!]. There are no cafes, bars, souvenir shops, or litter - only a custodian's hut near the entrance. Not to be missed - despite the difficulty of finding the place!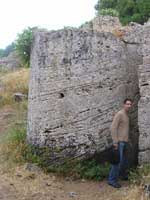 From Selinunte you have to go through the drab town of Campobello, and pass the sewage works; but you will be rewarded with a peaceful site - never disturbed even by archaeologists - which has remained as it was for 2,400 years. Even the olive trees look old enough to have been the originals! In 1993 I wrote "the site is remote, beautiful and apparently unvisited. Ate my picnic of panini, grapes and walnuts sitting on one of the ancient column-drums."
From here it would be logical to proceed to the charming port of Mazara del Vallo - described by the Blue Guide as "the most interesting town in western Sicily". Unfortunately I didn't know this at the time - and I have not yet been there.