For the ancient Greeks Etna was the biggest thing they could imagine. When Trygaios in Aristophanes' Peace is fattening his dung-beetle so it will be strong enough for him to ride up the heaven, it's described as a beetle "as big as Mount Etna". When you see it - and, unbelievably, it's possible to spend a week in Sicily within a few miles, or even to fly over it, and never see it at all thanks to the summer haze - it is, in the words Douglas Adams applied to space, "really big". Over a thousand metres high, it's Europe's largest active volcano. It takes a day to drive round it (not recommended! Take the Circumetnea railway for some stunning views). From all over southern and eastern Sicily you will occasionally glimpse it: I've seen it from as far away as Gela on the south-east coast. In the autumn of1993 I lived in Taormina with a daily view of the monster mountain for three months: every day it was different, as wind and climatic conditions constantly evolved. The plume of smoke from the summit grew sometimes longer and stronger, sometimes weaker and wispier. From the arrival of the first snow in early October it became increasingly beautiful. My vantage point, Casa Cuseni in Taormina, had been selected by Robert Kitson who had the villa built as "the finest view in Europe". See Taormina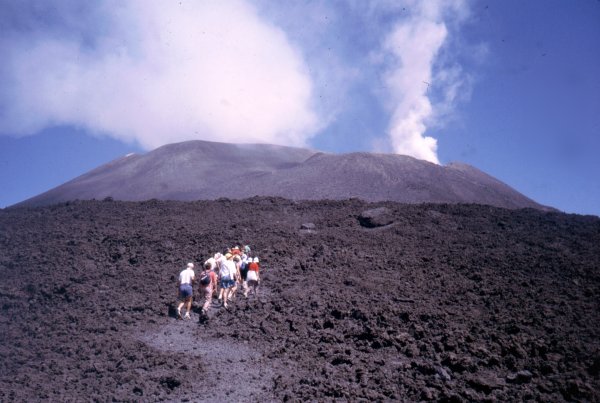 So why try to get closer? (Who said "giant slag-heap"?) The lower reaches are in many places covered in ancient woodlands, despite the fires which seem to burn every night, and teem with wildlife. The highest one can currently get to is the Rifugio Sapienza, several thousand feet below the summit: in 1993 one could travel up from there by cable car, and then by jeep to within 200 metres of the top. Recent volcanic activity has made that impossible - the cables themselves were destroyed during a recent eruption. It is possible to stay at this height, there's an excellent hotel tucked away just above the Rifugio, where Leon Parris and I spent the night in April 2001. It had started to snow as we began the long drive up from Adrano, and there was a blizzard raging by the time we reached the hotel. A superb meal in front of a roaring fire was most comforting, although by morning the car had disappeared under a blanket of snow. The temperature outside was -5 degrees C: we'd come the previous day from Eraclea Minoa, where we'd been basking on the beach at 27 degrees. But as the sun came up most of the snow swiftly vanished, as we descended in a leisurely way via Nicolosi to the sea. A few days later we motored towards Palermo, skirting the northern and western flanks, via Randazzo and Bronte, past numerous old lava flows. As we stopped for refreshment on the autostrada, we had our last glimpse of the mountain. It was belching clouds of black smoke: the 2001 eruption had begun.
In May 2005 I decided to do some exploring on foot - approaching from the west. Leaving the main road at Bronte, a road through a housing estate to the south of the town eventually begins to climb, becoming a narrow lane paved with lava slabs. After several kilometers, as the scenery gets wilder and more dramatic, you reach a barrier, where the walk begins. I did a round tour of about 8k, taking in a variety of old eruption peaks - all known as "monte", and crossing lava fields of different ages - the one from the 18th century is still not covered in vegetation - it takes about 400 years for this to happen. Much of the walk is through shady forest - most welcome as an antidote to the heat. Best of all was a very-recently reconstructed forester's hut - deliciously cool inside, with offerings of food and drink left by earlier walkers (I saw none!). A huge apple was a wonderful treasure, exchanged, I fear, for only half a packet of Sainsbury's biscuits. I recommend Peter Amann's Landscapes of Sicily for accurate and detailed description of some excellent walks.