| | |
| --- | --- |
| | The remains of the Greek city of Akrai are beyond and above the pleasant baroque town of Palazzolo Acréide. It was a Syracusan colony - one of the earliest (7th century BC) - marking Syracuse's intention to expand inland and control the Monti Iblei. There are several baroque churches to be visited, but the best thing (which I have so far failed to see) is the Casa-Museo di Antonino Uccello - a vast and fascinating collection of Sicilian bygones and folk art. Next time! |

The best time to visit Akrai is in May, when the International Student Classical Drama Festival is on (Festival Internazionale del Teatro Classico dei Giovani : www.indafondazione.org). You can see two or three plays every day. Entry is free, and you also have access to the Greek theatre and the remains of Greek Akrai. The actors are young and enthusiastic; most are from Italy, although there were school groups from Croatia, Spain, Belgium and Bulgaria here in 2005. The first play starts at 9 or 9.30 am - a rare opportunity to see ancient drama in the early morning as the Athenians did. The theatre holds only a few hundred spectators - most of these are friends of the actors. There is no scenery - just the remains of the scaena, a grove of trees and Etna in the background. The theatre is also used during the festival for a professional production - associated with the Drama Festival at Siracusa.
For pictures and a review of some of the productions I saw in May 2005, go here. There are other archaeological remains besides the theatre, both Greek and Roman - the most interesting (and best-preserved) being the bouleuterion - which was once roofed. In several visits I've not yet been able to see the "Santoni" - 12 figures of the goddess Cybele cut from the rock in the 3rd century BC.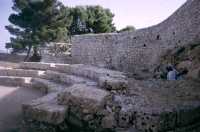 Performances at the Teatro Greco
Update 2007
I finally made it both to the Santoni, and to the Museo di Antonino Uccello. The visit to the Santoni is difficult, but worth it - involving climbing over a gate and scrambling down some thickly overgrown stone steps. The site is in fact signposted from the road south to Noto, but visitors must be very rare!There are several worn and very ancient images, thought to be of Cybele (nothing of course to do with St Antony), preserved from vandals by their remoteness inside individual barred prison cells.
The Museum is amazing and wonderful. And absolutely free! It contains most beautiful artefacts, illustrating the rich cultural history of Sicily. Samples:
Click for more pictures of Palazzolo Acreide on my Flickr page.