Scopello & Riserva dello Zingaro
Scopello is a small fishing village - once utterly remote (see The Ten Pains of Death by Gavin Maxwell, who came here in 1953). "When I first came to Scopello", he begins "I thought it was the most beautiful place I had ever seen". Nowadays it is still remote, but access by road is somewhat easier than it was in Maxwell's day - although the scramble from Scopello di Sopra to the Tonnara on the coast "a mile below" as he suggests with some exaggeration, is still precipitous (unless you cheat and go round by the road).
The Tonnara - the now abandoned tuna-catching station where Maxwell lived - is still a magical place - and fishing is still possible, if not for tuna. At the pensione where we stayed for two nights (Pensione Tranchina), we were asked in the morning at breakfast if we wanted to order dinner. "Yes, what is it?" "Fish." "What sort of fish?" "We don't know. We haven't caught it yet". One night it turned out to be dentice, cooked in sea-salt, the other, the freshest ever shrimps. The proprietress is from Panama, and speaks English - this became extremely important when on the final morning Leon locked the keys in the car. Without her, the tricky negotiations on the telephone with the breakdown service from Palermo would have been impossible. We waited all day for the truck - when the driver arrived, within minutes he had done a very clever thing with a lever and a coat-hanger (supplied by the pensione) - and refused all payment.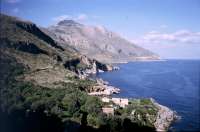 A little way beyond Scopello, the road ends in a the car park for the Riserva Naturale dello Zingaro (where Bonelli's Eagle can be seen, they say. I failed to do so). The reserve is accessed through a tunnel - no vehicles are allowed. The rough track ascends and descends the mountainside as it follows the shore line for several miles, eventually rounding the cape and finishing at the resort of S. Vito Lo Capo, passing tiny bays and coves accessible only by sea (the area was allegedly left undeveloped as it was used by the Mafia for importing and exporting).
Even in November there was a profusion of wild flowers on the mountain side. I branched off through an old olive and carob orchard to the Cala della Disa: a tiny hidden cove invisible from the main track. I was tempted first to paddle and then to throw off all modesty for a most delicious bathe. The November sun was hot enough to compensate for my lack of towel. [When I came again in May 2007, it had obviously become quite a popular beach: maybe a dozen people were there.]
Click for more recent pictures (2007) of Scopello on my Flickr page