If you were to arrive at Palermo's Falcone-Borsalino airport in the evening, with no accommodation booked, you would probaby end up like us at Terrasini, or one of the other resorts to the west. Apart from the fact that the indifferent hotel here (Palm Beach - violated my motto always to avoid hotels with flags outside) was the most expensive we stayed in all trip (excepting the luxurious final night in the Villa Igiea, Palermo), this is not a bad place to start a tour of Sicily. We had an excellent meal in a huge restaurant, which we had all to ourselves apart from a distressed Indian pilot (flying to Lampedusa from Palermo) who sent his pasta back and complained loudly about the lack of Indian restaurants in Sicily.
And we had the view (see above) that I chose for the page headings on this website - and we had the pleasure of watching a large shed being "expertly" erected on the beach in front of us before we left in the morning.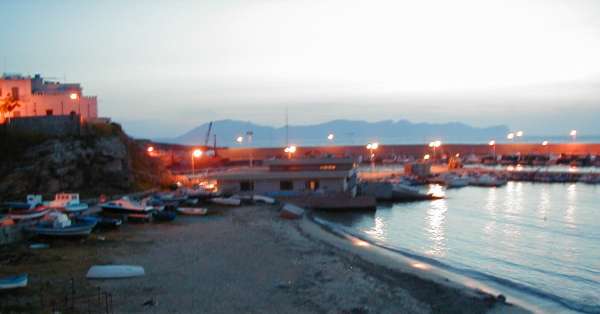 An alternative to Terrasini would be Trappeto, where I've stayed at La Sirenella - the splendidly-endowed eponymous mermaid in the foyer alone makes it worth a visit. Again there's a sea view - and the small town is a neat and tidy place, making it hard to imagine the horrific squalor and poverty when Danilo Dolci worked there. A train into Palermo takes just over an hour from here - a sensible alternative to driving.
Printer friendly page: click to print