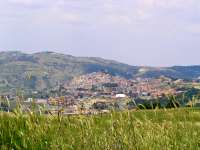 Although it's nearer to both Ragusa and Siracusa, Vizzini is actually a far-flung village in the province of Catania, 60 km away. It's famous for one thing: it was the birthplace of the story teller Giovanni Verga. Verga wrote the short story on which one of the world's most popular operas was based - Cavalleria Rusticana, music by Pietro Mascagni. Verga set the story in the village where he was born in 1840. It's hard to imagine a more remote location in all Europe at this date. The story tells of primitive emotions among simple passionate folk - it was supposedly based on a real event in Vizzini before Verga's time.
Turiddu, a poor peasant, is engaged to Santuzza. His attentions stray - not without encouragement - to Lola, his former girlfriend, now the bored wife of the (comparatively!) wealthy carter Alfio (He owns a horse and carretto: when I saw the opera in Macerata in 2003 he delivered his first aria from horseback). Alfio finds out when the jealous Santuzza reveals Turiddu's infidelity to him. Turiddu offers his rival a drink, knowing what this will lead to. Alfio, as Turiddu knew he would, refuses - and Turiddu understands from this simple gesture that he must kill Alfio or die himself. Another symbolic action - a hug during which Turiddu bites Alfio's ear - sets up the duel. Turiddu bids farewell to his mother and Santuzza, and goes off to meet Alfio. Almost immediately a woman's scream is heard: she rushes in shouting "Hanno ammazato compare Turiddu! Hanno ammazato compare Turiddu! " (They've killed Turiddu!). The opera ends in crashing discords.
Pietro Mascagni - who had never visited Sicily - was only 26 when wrote his most famous opera in 1890. It was a storming success on its premiere in Rome (There were 30 curtain calls), and in the same year it was performed in Florence, Turin, Bologna, Palermo, Milan, Genoa, Naples, Venice and Trieste. Within a year it was heard in Budapest (conducted by Gustav Mahler no less), Monaco, St Petersburg, Dresden, Buenos Aires and Vienna. It was a fantastic overnight success for the young composer (he told a friend he'd never need to work again). His subsequent success was modest in comparison, but he lived long enough to supervise a recording to celebrate the first 50 years of Cavalleria Rusticana in 1940.
| | |
| --- | --- |
| | |
Mascagni's vision of a primitive earthy Sicily populated by passionate peasants who kill each other at the drop of a hat was, thanks to the amazing popularity of the opera, unconsciously helped to propagate a view of Sicily and Sicilians which still flourishes a century and more later. The ear-biting scene in Godfather III obviously owes a debt - underlined by the use of the opera as a background to the series of deaths in the Teatro Massimo, Palermo, which end the trilogy: Michael Corleone's son Anthony of course sings Turiddu! More seriously, the exaggerated sense of honour exhibited by Alfio and Turiddu was known as "mafia" - and those who upheld the traditions as "mafiosi": for well over a century Cosa Nostra was happy to foster this quaint illusion, that the Mafia was not a criminal organisation, but a specifically Sicilian - and therefore admirable - cast of mind.
Hear recordings of Cavalleria Rusticana here (oldest dates from 1901!).