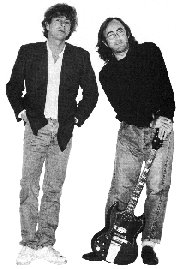 There can scarcely be many musicians in the annals of rock whose careers have plotted so diverse a path as that of Peter Ollie Halsall. Most will be familiar with his work as Kevin Ayers' most faithful sideman on live and recorded work spanning more than 18 years, but few will be aware of the full extent of his contributions to a succession of intriguing projects both before and during the association.
This discography is not intended as a comprehensive trainspotter's guide to every known incarnation of releases worldwide and for that reason does not include labels or catalogue numbers. It lists vinyl albums (although, apart from his own projects, Halsall may feature on precious few tracks) and singles (45) not found elsewhere. It also includes many collectors items on tape (T) and video (V) - corporate outlets not being known for their selective expertise - and seeks to give some perspective to an extraordinary career and to highlight the very best examples of a truly unique talent.

Tracks marked with a small square are essential selections
PART I: There's a Moose on the Loose!
From Swinging London through the Hippy trail to the end of the progressive era
TIMEBOX
Soul Sauce/I Wish I Could Jerk Like My Uncle Cyril (45) 1967

I Will Always Love You/Save Your Love (45) 1967

Move on Up/ ? (45) 1968

The Original Moose on the Loose (omnibus of other Deram singles 1967-1970)

Gone is the Sad Man

More than competent pop sides (if a little reminiscent of The Love Affair et al) featuring Halsall on vibraphone. B-sides are far more interesting embryonic Patto.
PATTO
Patto (a.k.a. Anarchy) 1970

Hold Me Back

San Antone

Money Bag

Hold Your Fire 1971

See You at the Dance Tonight

Give It All Away

How s Your Father

A Sense of the Absurd (reissue of Patto & Fire plus bonus tracks)
Finally given a free rein by Vertigo, the Pattos crafted quite the finest jazz-rock (if you like) guitar albums of the period (or any other for that matter). The reissue is a worthily packaged effort by Richard Lane on Mercury.

Roll 'em Smoke 'em Put Another Line Out 1972

Singing the Blues on Reds

Loud Green Song

Patto's Sgt Pepper. An eccentric and totally OTT affair and, by that token, nearest to capturing the essence of the group. Typically, Ollie reacted to his new guitar hero status by playing equalling stunning piano almost throughout and by devoting most of side 2 to an epic sea shanty on acid! (Sea Biscuits parts 1 & 2).

Monkey's Bum 1973 (unreleased)
Ollie left halfway through but this remains an awesome piece of work. NB: Avoid the unauthorised Audio Archives CD. The intrepid Richard Lane is working towards an official reissue. In the meantime trade with the OH Archive tape which is considerably nearer the original.

BBC radio sessions (T) 1970.72
Live at the Beeb (T) 28.6.71, 2.12.72 & 24.1.73

Singing the Blues on Reds

The excellent quality of the later sessions (regrettably not in concert) is marred only by Dave Brooks totally incongruous tenor sax (at the invitation of Halsall).

Live at The Piper Club, Viareggio, Italy (T) 1972
A bit of a curate's egg this one the selected good part coming the closest to recreating Patto live.
Live at the Torrington, London (T) July 1975 (reunion)
The only remaining complete gig? (someone please contradict this!) Includes much of the sheer lunacy that was Patto. Appalling quality recording via Dictaphone, but somehow it works.


OLLIE HALSALL/ROBERT FRIPP
Ollie & the Blue Trafs 1972
This legendary album is almost certainly lost forever, although Halsall mentioned it 16 years later.

PART 2: The Rock Machine Turns You On.
'The thing I haven't mastered yet is a high energy thing where I can perform solos and chord work more spontaneously' OH 1976

TEMPEST
Living in Fear (CD) 1973

Paperback Writer

Waiting For a Miracle

Turn Around

I'll stick my neck out and say that this is one of the finest heavy rock albums ever made. Utterly magnificent guitar set in some excellent songs.
BBC radio transcription disc 5.73 (most of it)
BBC radio (T) 8.73
Live at Nuova, Italy 1973
Live at Frankfurt 1973
The earlier radio show is essentially a guitar duel between Halsall & Holdsworth. Alan left the band shortly afterwards! The later trio gigs are splendidly drunken affairs featuring Ollie on lunatic mono synthesiser.

BOXER
Below the Belt 1975

Shooting Star

More Than Meets the Eye

Don t Wait/All the Time in the World (45)

Bloodletting 1975 Halsall & Patto s final attempt at the big time. A third album, Absolutely, was made after Ollie s departure. The 1975 BBC radio sessions are neither wholly live nor worth listening to.

PART 3: And Now for Something Completely Different!
Bonzo and Python discover Ollie and invite him to the party:
SCAFFOLD
Fresh Liver 1973
Sold Out 1973

GRIMMS

Rockin' Duck 1973
'They asked me to play like Hendrix. They asked me to play as though I were a policeman, or a carpet salesman. You can do it because it s easy to do, but I could never let go OH 1976

NEIL INNES
How Sweet To Be An Idiot 1973
Recycled Vinyl Blues (CD) (includes most of Idiot) 1994
Off the Record 1978 (OH contribution unclear)

THE RUTLES (NEIL INNES)
Meet the Rutles 1978
All You Need is Cash (V) 1978
OH briefly plays Leppo (Stuart Sutcliffe) in the film. What is less widely known is that apart from providing the wonderful Beatle guitar pastiches, he also sang Eric Idle s part of Paul (Dirk McQuickley).

VIVIAN STANSHALL
Teddy Boys Don't Knit 1981
Dogends concert (T) 1988
Stanshall was a wonderfully eccentric artist and probably a perfect foil for Ollie. Unfortunately the contribution to either recording is not apparent.

PART 4: A Heavy Session!
I won't do sessions anymore. It's like being a plumber. They get you in to patch up a track' OH 1976
MICHAEL D'ALBUQUERQUE
We May Be Cattle But We've All Got Names 1973

Dribble Dribble

Sweet Mirth

Stalking the Sleeper 1976

ANDY ROBERTS
And the Great Stampede 1973

STEVE YORK'S CAMELO PARDALIS
Manor Live 1973

TERRY STAMP
Fatsticks 1975

DUFFY POWER
Lawdy Miss Clawdy (45) (year?)
Some excellent examples scattered (somewhat thinly in places) throughout these. Unfortunately, overall, the material hardly supports Halsall s embellishments. There is also a DENNY LAINE solo album and some things by BILL LOVEDAY (Reggae for it Now?) which I haven t managed to track down.

MORGAN FISHER
Miniatures 1980
A brief and tedious contribution to one of the strangest albums of all time.

PETULA CLARK(!)
Downtown 1968

MAYNARD WILLIAMS
Ten Songs 1973

JESUS CHRIST SUPERSTAR
Soundtrack 1973

DAVID KUBINEC
Some Things Never Change 1978
Apparently, Ollie was also involved with these but, apart from a primitive solo with our Pet, I cannot honestly discern his presence.

PART 5: I Did It Otway
I make no excuses for citing John Otway as a genius and one of the few artistes I would currently get out of bed to go an see.
In 1979 Ollie encountered a soul mate in the form of this lunatic busker. Their low budget tour of the states is the stuff of legend.

JOHN OTWAY
It s a Pain

Frightened and Scared

John's finest album until the 1995 Premature Adulation.
JOHN OTWAY/OLLIE HALSALL
Way & HAL (T) (studio demos) 1979
The title derives from the fact that rather inferior versions of these Otway/Halsall compositions surfaced 3 years later on Otway & BARrett s Way & BAR album. Ollie contributes guitar, bass, drums & violin to his own production which is little short of a masterpiece. There remains but one live tape of this remarkable duo performing in a pub, somewhere .

OLLIE HALSALL
Lovers Leaping (T) (studio demos) 1979

Back Against the Wall

Travelling Show

Lovers Leaping

Airplane Food .... (well OK, all of it!)

Included this at this point since it owes its very survival to Otway who recorded two of the tracks Ä Door to Door Daughter & Travelling Show. Reviewed in depth in WAWS 6 (August 1994) this remains, effectively, Ollie s only solo effort and an intensely satisfying album.
PART 6: Y Viva Espana!
In 1981 Ollie moved to Spain and, in between his work with Ayers, found time to produce and play for many Spanish artistes:

MAJABAND
Introducing Police Hits (!) 1983

RONNI URINI
(actually Austrian) Sailship (45) 1983

MANZANITA
Mal de Amores 1984

REY LUI
Un Nudo en la Garganta 1988
Velocidad 1990

THE FAVORITOS
10,000 Revoluciones 1989

RADIO FUTURA
De un Dais en Llamas 1985
Veneno en la Piel 1989

DESPERADOS
Tan Alto Como Nos Dejen 1990

CIENFUEGOS
Besos 1991

CORCABODO Y LOS CHATARREROS
Tormento de Tormento 1991
Suceso (45) 1991

CALLEJONES
Al Pie del Canon 1991

HOMBRES 6
Historia del Bikini 1992

RAMONCIN
Corta 1992

DISTRITO 14
El Cielo Lo Sabe 1992
I am at a loss to find a charitable view of any of these Spanish language releases, presumably Ollie must have related to some of this. Suffice to say that I have forced myself to listen to all of it and have no inclination to do so again. I fear the same probably applies to the ZANNA GREGMAR and RAYMOND FINN releases which I have yet to hear.

CINEMASPOP
Cinemaspop 1983
Sigan a Esa Rubia (45) 1983
Sal Gorda (film soundtrack) 1983
La Naranja Mecanica
(A Clockwork Orange) 1984
Whilst the first three offerings could safely reside in the previous category (bar two vaguely interesting Halsall compositions), the Naranja Mecanica is a different plate of paella (sorry!). For a start It s in English (which I m afraid is the language of rock) and apart from a bizarre Wild Thing features Halsall written and performed material throughout. On the debit side the music is almost entirely sequenced & synthesised, with very little guitar. Halsall appeared very enthusiastic about this particular project describing them as a great band . OK it's techno-pop, but I ve not heard it done better.

PART 7: Ayers on a G String
You all know these but here goes anyway:
KEVIN AYERS
Confessions of Doctor Dream (CD) 1974
Just the one track but clearly the start of a partnership made in Heaven.

KEVIN AYERS/JOHN CALE/ NICO/ ENO June 1 1974
(Rainbow Theatre) (CD)

May I

Shouting in a Bucket Blues

Perversely the only official live Ayers/Halsall release - and then only two tracks, the solo on the former prompting Terry Theise s respected appraisal nearly 3 years later (Guitar, January 1977).
Sweet Deceiver (CD) 1975

Toujours la Voyage

Sweet Deceiver

Yes We Have No Mananas (CD) 1976
I have long regarded these two together as amongst Kevin s finest achievements. Apart from some superb guitar, Ollie also provides most of the Deceiver bass parts.
Rainbow Takeaway (CD) 1978
That's What You Get Babe (CD) 1980
Diamond Jack & the Queen of Pain 1983
Deia Vu 1984 (OH bass only)
As Close As You Think (CD) 1986

Never My Baby

Budget Tours (Africa)

Too Old to Die Young ( with the riff later ressurected on Another Rolling Stone.)

Ollie freaks should take especial note of this remarkable album. The credit Kevin Ayers featuring Ollie Halsall could almost be reversed such is the balance of the collaboration.
Falling Up (CD) 1988

Another Rolling Stone

Am I Really Marcel

Marcel features quite possibly the most elusive solo of Ollie s career, even remarking on it himself in a 1988 interview. Quite how he achieved the final note will remain a mystery.
Still Life With Guitar (CD) 1992
It's getting very near the end and if this isn t now one of the most poignant pieces of music you ve ever heard I d like to know what is. What a shame the live Another Year Goes By chorus came too late for the album version.

PART 8: The Road Goes on Forever
'Playing with someone like Ollie makes the whole tedious process of going out on the road worthwhile' KA 1974

The spontaneity of live performance almost invariably affords the opportunity for a musician s most inventive work. The indifference of record companies has left us with just the June 1 1974 Rainbow concert, so thank God for the wealth of alternative material:

JOHN CALE
BBC Old Grey Whistle Test (V) 1985
Europe (T) (V) 1985
Hamburg (T) 24.10.85
Vienna (T) 1985
Some very intense playing here I feel. Ollie was clearly enamoured of the Welshman. I remain unconvinced.

KEVIN AYERS/OLLIE HALSALL/ JOHN CALE/ANDY SUMMERS/ZANNA GREGMAR
Musical Express (V) 3.12.81
(Spanish Banana Bootleg CD)

Didn t Feel Lonely

Africa

Reviewed in WAWS 2, this is the best footage of Ollie to hand (The worst being a 1985 Cale gig with the bizarre spectacle of Ollie on bass with a lesser mortal in the guitar seat).
KEVIN AYERS (T)
WAWS 4/5 Trainspotter issue thoroughly chronicles an Ayers/Halsall live tape catalogue approaching 40 concerts. I have restricted this final list to a selection of the very best items in terms of both sound quality and performance:
Hurricanes, New York 24.4.80
Prins van Oranje, Venlo
(Sweet Dreamer Bootleg CD) 6.4.82

Shouting in a Bucket Blues

Supersalesman

Rotterdam 1.3.88
The only track of note from this concert. A quite staggering funk version with an incredibly inventive solo building to a wonderful `chickin pickin climax.
Aachen 3.3.88

Shouting in a Bucket Blues

Amsterdam 3.4.92

May I

Goodnight Irene (yes, really!)

Rennes 9.4.92
(Everything from Animals onwards) A DAT straight off the sound desk (I wonder how that could have happened!). Especially notable for the very best May I solo of all acknowledged by Kevin as The Ollie Halsall Experience!


The Jazz Galerie, Bonn 22.4.92
Again, basically the whole show but particularly I Don t Depend on You. I m not ashamed to admit to the odd tear during the final notes of the solo on this now exquisitely ironic piece. Not as good a sound as Rennes but my favourite concert overall. By the way, how many of you geetar players have managed to master the deceptively simple riff in Here Comes Johnny?


GLR Session 30.4.92
On the afternoon of their final show, at the Shaw Theatre, London, the Elderly Brothers recorded these delightful acoustic renditions of I Don t Depend on You & May I.



I freely acknowledge any omissions in the hope that those with additional material (especially video) will come forward. Meanwhile, I remain indebted to the intrepid camcorders who provided what little visual evidence there is even if - God bless their little cotton socks - some appear to think that Kevin played the solos!


Barry Monks August 1996