The Civil War.
Probably due to Nottingham's record of defending the monarchy
during previous upheavels (the Battle of East Stoke in the War of
the Roses being one example), King Charles I chose to raise his
standard here in 1642. However, local response to his call to arms
raised only 300 men. Once the King had marched away, the town
became a Parliamentarian stronghold.
In 1646 Charles surrendered himself to the Scots (hoping for bett-
er treatment than if he had surrended to the English) at the Kings
Head public house (now called the Saracens Head) Southwell.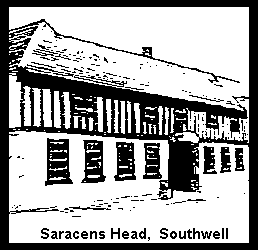 After the restoration of the monarchy in 1660, Henry Ireton, who
had been one of the local signataries to King Charles's death
warrant, had his body exhumed (he died in 1685), paraded through
the streets of London, and was hung, drawn and Quarted. His head
was then placed at Westminster Hall, where it was still to be seen
many years later. Another local traitor, Colonel Francis Hacker,
endured the same punishment whilst still alive.