Nottingham City Centre
With over 800 shops, Nottingham's city centre offers the visitor
one of England's finest shopping experiences. Between the two
main indoor centres, The Broad Marsh to the south, and The
Victoria Centre to the north, are numerous shops and small
arcades. Most of which are located on pedestrianised streets.
See Bottom of page for Street map.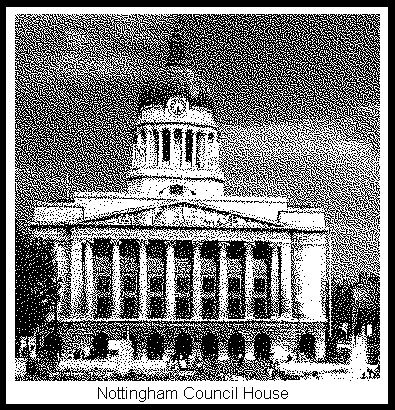 Places Of Interest
The City Information Centre.
Smithy Row, at the side of the Coucil House. Tel:0115 9155330.
Nottingham Castle Museum.
Castle Road, Tel:0115 9153700.
Although the original castle's gatehouse and outer walls still
stand, the castle itself was destroyed at the end of the Civil
War. Standing in its place on a great rock which towers
above the city, is a magnificent ducal palace, built in 1674.
In 1875, this was converted to a museum and art gallery,
which today houses the 'Story of Nottingham Exhibition',
a fine art collection and a splendid collection of silver and
glass.
Ye Olde Trip To Jerusalem.
At the foot of the castle rock, Castle Road.
With it's rooms carved out of the sandstone rock, Ye Old
Trip To Jerusalem is reputed to be the oldest inn in England
Built in 1189, it's name is said to come from the fact that the
Crusaders would rest here on their way to the Holy Land.
Brewhouse Yard Museum.
Castle Boulevard. Tel:0115 9153600.
Brewhouse Yard is a collection of 17th-century cottages.
At one time in its history, the yard was exempt from
interference by the town, and so became a haunt of thieves
and criminals. Nowadays, with its re-created shops, it gives
the visitor a taste of over 300 years of Nottingham's
commercial and domestic life.
The Tales of Robin Hood.
Maid Marian Way. Tel:0115 9501536.
Take a unique trip back in time to over 700 years ago, and
experience the sights, sounds and smells of Robin Hood's
age. Excellent entertainment for both children and adults.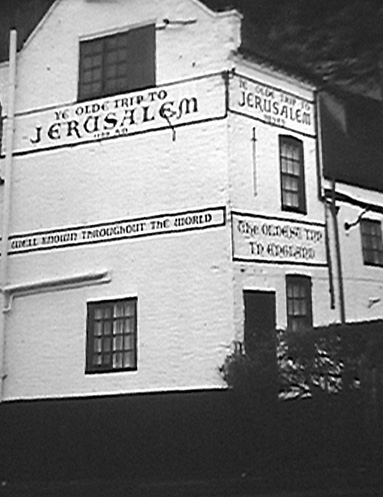 The Caves of Nottingham.
Broad Marsh Shopping Centre. Tel:0115 9241424.
The subterranean world of Nottingham is a warren of caves,
with Mortimer's Hole being the most Famous. Through
which, in 1330, a group of conspirators entered Nottingham
Castle to capture the Earl of Mortimer, lover of Queen
Isabella. The group of caves at the Broad Marsh were re-
discovered during the building of the shopping centre, their
use, which covers over 700 years, ranges from a leather
tannery, to their most recent use as WWII air raid shelters.
The Museum of Costume and Textiles.
Castle Gate. Tel:0115 9153500.
Housed in a group of restored 18th-century houses, the
museum holds a display of costumes from 1760 to 1960, all
displayed in rooms furnished in period styles. There is also a
display of various textiles and fashion accesories.
CONDEMNED !...at the Galleries of Justice.
Shire Hall, High Pavement. Tel:0115 9520555.
Housed in the old Shire Hall and County Gaol, Condemned
offers the visitor a unique experience in 19th-century crime
and punishment. After being tried in the courtroom and
found guilty, you are ushered to meet the prison warders
while you await your fate.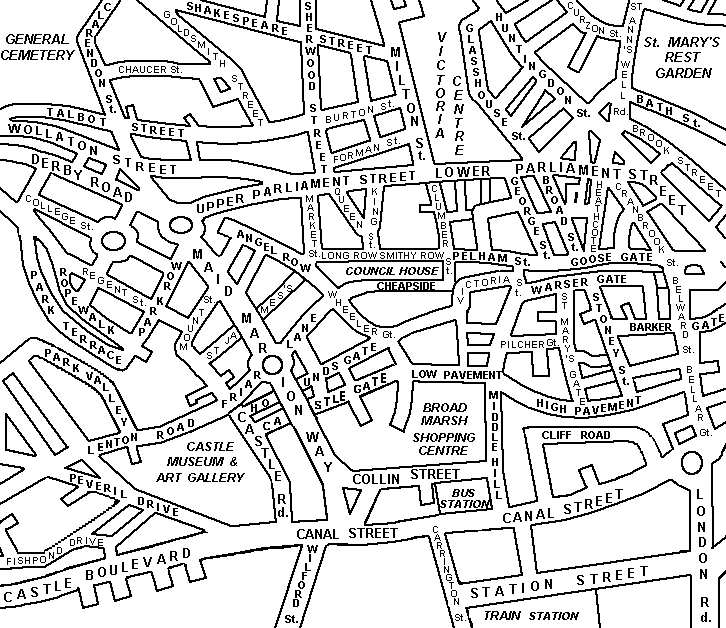 Home