Book Reviews
Book 16
The Antiques of Perfume by Leslie G. Matthews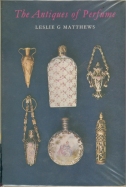 pub. G. Bell & Sons London 1973. ISBN 0 7135 1756 5
The are by now a number of books on perfume history which I have reviewed in this section, and although if one frequently recognises identical small sections and quotes in all of them, each brings some new facts and stories to the subject.
One suspects that the authors main passion within this small 88 page book, is to be found within the 22 pages of Chapter Six which deals with Collectable Antiques of the perfumery world, be they porcelain, pottery or glass, or even enamelled gold containers. In addition, the book is profusely illustrated with 89 plates depicting scent bottles, vinaigrettes, scent bottle labels, perfume cases etc., and the research and effort put in to obtain these from the listed sources stated in the acknowledgements section must have been huge.

The history of perfumery is developed through four chapters devoted to Ancient peoples, Medieval to Elizabeth I, the Stuarts to the end of the Eighteenth century, and from the Nineteenth century to Modern times.
Being a specialist, the chapter on Natures Own Perfumes – an account of natural perfumery materials - I found disappointing, However it is rare not to find the occasional jewel in any publication, and I was fascinated by the short entry on Morse powder, formerly used in French cosmetics for rouge and face powder formulations, made from grinding walrus tusks!
In a very short section on perfumes the perfumes based on New Mown hay are discussed (these were based on accords using coumarin and amyl salicylate, but are not considered popular today).

In continuation of this section is a slightly longer piece on Earth perfume (Matti ka Attar) and reference to Attar production at Kannauj, India. As we know in more detail nowadays, Mitti Attar is the fragrant material is produced from the local earth taken from dried up water-holes, lakes and wells which are moulded shapes and half baked before removing and distilling, condensing the vapours from the still directly into a base material, usually sandalwood oil, or for cheaper products, liquid paraffin. It is nevertheless interesting to read of the early findings and speculations about the nature of the smell of earth, which the author credits to the Septimus Piesse, the famous French perfumer. We now know that various micro-organisms contribute secondary metabolic products which characterise the actual smell of the earth, and the perfumery trade employs a nature identical compound called geosmin to help recreate this odour.

Final chapters on Perfumers and Perfumery Advertisements and a weak chapter on Special Uses of Perfume complete the book. I found this book through the UK National Lending Library loan system, and have learned a good number of new historical facts, but I suspect this book would appeal most to antique collectors who specialise in this area of collecting!
Copyright Tony Burfield May 2002.