Book Reviews
Book 17
A Dictionary of Plant Lore by Roy Vickery (Oxford University Press 1995). ISBN 0-19-866183-5#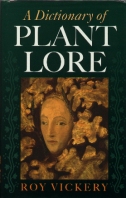 It's a great pity that this book was not consulted when authors of certain populist High Street books on Aromatherapy were being penned – the results could have only proven beneficial, if only as a source of reference to anecdotes surrounding the alleged curative effects of certain plants. Roy Vickery, former Curator of Flowering Plants at the Natural History Museum, has put together this 437 page A-Z of British & Irish ethno-botany, assembling stories, legends, historical happenings, uses in rituals and customs, and herbal remedies into a large, but ordered and informative miscellany.
Many of the entries will ring true with many of us of certain years (!) who were bought up in the UK as country-dwellers – the fact that for example Hawthorn blossom (Crataegus spp.) and Bluebell flowers (Hyacinthoides non-scripta) were never to be brought into the house for example (page 40). The association of Peonies (Paeonia spp.) within the Rose group by some working perfumers - it seems to me more green, waxy and if anything more associated muguet - had me puzzled until I see that it was called by many the "sheep-shearing rose" (p281) – but you'll have to consult the text for the full story!
Even more intriguing was the entry on Meadowsweet (Filipendula ulmaria) often to be found on riverbanks and ditches in the UK, and whose flowers have sweet, powdery, anise, powerful green waxy character gives way to a more unpleasant urinic note after picking*. Vickers notes that many flowers considered "unlucky", have sweet creamy flowers that disintegrate after picking, and leave a mess on table surfaces. I would speculate that many of these same flowers also have in common the production of "off-notes" after cutting and gathering. Even more interesting is the assertion (page 239) that the "old-man" part of plant names refers to the devil (for example Meadowsweet is also called "Old Mans Pepper") .
The entry on Juniper takes a whole page, and the fact that it was also formerly known as Savin might explain much in the context of Juniper's alleged abortitative properties. Some of our currently overlooked naturalised aromatic plants are also mentioned – Wood Sage (Teucrium scorodonia) for example, a brew of which apparently cured two cases of St. Vitus dance in the 1930's, or the distillate from Fumitory (Fumaria spp.) which was used cosmetically to remove freckles, and as an anti-helminitic agent.
The book comes complete with an extensive bibliography and Latin plant names index, and a preface giving an account of the history of plant-lore studies in Britain. This book is not exactly a "must buy" for the aroma enthusiast, but does contain much fascinating material on British ethno-botany for the layman. Interesting also to read this sort of material now, in an age when social anthropologists are examinining the psycho-dynamics of ritual and belief in ethno-medicine, with possible pyscho-neuroimmunological and ethnopyschological involvements - but I'd better stop now, as I believe the last sentence is a possible candidate for inclusion in the "Pseuds Corner "feature of the satirical periodical Private Eye!
* N.B. Odour description by Tony Burfield, not Roy Vickery!
Copyright © 2002 by Tony Burfield All rights reserved