Book Reviews
Book 35
Virginia McNaughton (2000) Lavender: the Grower's Guide. Garden Art Press.
Copyright © Tony Burfield August 2005.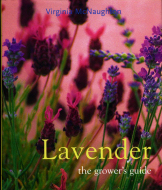 This delightful, beautifully illustrated and well-researched hard-covered book stretching across 180 pages is by Virginia McNaghton, a botanist author who formerly worked as a Botanical Officer in Christchurch Botanic Gardens, New Zealand. Early chapters cover the cultivation, propagation, pests & diseases of lavender. A hint about the right time to cut the crop for oil production is also included, although the uses of lavender are a relatively small section of the book. The chapter on the botany of lavender is especially interesting with an account of morphological characteristics across different lavenders – for example the length of hair on the penduncle (nicely located for the non-botanists in labelled photographs) of Lavandula stoechas might be used to gain insight into the parentage of the cultivar, or the quantitative measurements of the bracteoles may similarly give some indications of parentage.
The history of lavender and classification of lavender species and four chapters on cultivars of Lavandula angustifolia, Lavander x intermedia, Lavandula lanata x Lavandula angustifolia and Lavandula stoechas and other lavenders occupy a considerable portion of the book, are lavishly illustrated with photographic reproductions, with details included where possible right down to the breeder, country of origin and date if known. The Appendices contains a table aiding identification by colour – for example the white flowered cultivars that I am familiar with (L. angustifolia Nana Alba and L. x intermedia Alba) are listed with four others which of which can be located in the appropriate places in the text.
The final chapter looks at Lavender growing around the world, using brief descriptions from those appropriately experienced in lavender matters in Australia, France, United Kingdom, Japan, New Zealand and the USA. The UK contribution comes from Henry Head, who is the managing director of Norfolk Lavender.
Altogether this is an extremely informative book which should appeal to gardeners, plant collectors and commercial growers, and has more than a fringe interest to those who study fragrant materials. The large number of pink and purple hues plant images in particular, makes this work a visual delight.