Book Reviews
Book 7

An Ancient Egyptian Herbal By Lise Mannich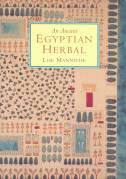 Pub. British Museum Press (reprinted with revisions 1999).
Dr. Lise Mannich is according to the liner notes a Danish Egyptologist, and brings a wealth of personal knowledge and experience to the pages of this scholarly work. The 176 page book is lavishly illustrated with photographs and line drawings, this especially works well for me in the early part of the book where Egyptian gardens and bouquets, garlands and collars are described. The first section also includes cosmetic, perfumery and medicinal herbal uses. Inevitably recipes for kyphi are included, but also for oil of lilies and the scented fats of ox and goose.

The second section of the book is an ancient Egyptian herbal, and the author describes difficulties encountered in deciphering the hieroglyphs into plant identities, and the clues which may be gained from Coptic word equivalents. Ninety-four plant and tree species are identified and described in the second section, together with their medicinal uses, and although this is a historical look backwards, a few cautionary toxicological references would not have been amiss, but cannot be found, except for mandrake Mandragora officinarum and poppy Papaver somniferum. This well referenced and researched section closes with some end-notes on Identification of ancient Egyptian Plants, and an appendix of herbal plants mentioned by Dioscorides.

It is doubtful if the reader would find a more authoritative source on ancient Egyptian plant usage than this volume. Since interest in natural perfumery has grown, perhaps partly from the use of pure and natural raw materials in aromatherapy, and perhaps via the current concerns in certain sectors regarding anything synthetic, I imagine this book will be popular amongst educators looking for source material for teaching in this area.
BACK BACK TO BOOK REVIEWS NEXT
Copyright © 2001 by Tony Burfield
ALL RIGHTS RESERVED