Tony Burfield
Independent Essential Oil / Raw Materials Consultant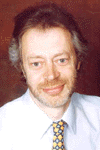 Tel: ++(44) (0) 7771-872521 Email: tony@tonyburfield.co.uk
I have been fortunate enough to have had the privilege of long-standing (25 + years) technical experience in the Aroma Industry for a number of major companies, each of whom holds a strong market position. At the same time I have been involved in a variety of aroma projects which involve global travelling, and so I can offer a truly Independent and flexible Consultancy Service with an international perspective, which includes impartial client advice and a personal touch, which can be tailored to address specific requirements.

Skills offered include:
Advice on the development & technology required to hone crude natural products to the buyer's requirement.

Marketing advice

General scientific/technological support in crude drug/essential oil sales etc.

Assistance in the preparation of sales literature

Chemical analysis and safety data

Product applications and end-user support

Research and background for new and existing lines
Please feel free to address any enquiries to me in writing, by email or telephone in complete confidence.
Tony Burfield