Cropwatch Issue 3.
Copyright Tony Burfield May 2004
1. Blue Cypress oil [ Callitris intratropica Benth. et Hook f.]
In keeping with our follow up investigations on failed get-rich-quick plantation schemes in Australia, I am thankful to Jim Gobert for alerting me to another story, which has, allegedly, lost investors millions. Blue cypress essential oil is produced by a special process from the heartwood, wood, and bark of the North Cypress Pine - a member of the Southern Conifer group of the Cupressaceae family, which grows to 45m. and has fragrant wood. It is one of a number of native cypress trees which grow in the aboriginal lands of Australia (e.g. the northerly Bathurst and Melville Islands), but its geographic isolation has prevented its commercial exploitation for a considerable time. Aboriginal uses of the resin from Callitris intratropica include employment as glue and for contraceptive uses (Bowman & Harris 1995). It was widely promoted in the essential oils and aromatherapy professions a decade past. It can be steam distilled from the heartwood/wood/bark, but a solvent extracted "oil" is also available, appearing as a deep blue-black, highly coloured­ mobile liquid, where much was previously made of its azulene-like properties.
Properties
However Cropwatch's opinion is that it is hard to see why the oil should be particularly attractive to perfumers. Burfield (2000) describes the oil as follows: "In colder weather the oil may become semi-, or almost completely, solid (presumably due to the guaiol content). The odour is overwhelmingly woody, and slightly earthy, the top-note being multi-faceted, with the following aspects being discernable: there is a medicinal almost ylang-like note, a minor pine-like quality, a touch of spiciness and a pineapple-like fruitiness. After a few minutes the odour profile becomes piney-resinous, loosing some dryness and becoming sweeter. The dry-out is woody-earthy and celery-like." It isn't regarded by the author as particularly interesting perfumery material, but it may have a certain novelty ingredient status.
The composition of the oil is summarized again by Burfield (2000): "The oil contains sesquiterpenes such as b-elemene and d-selinene and sesquiterpene alcohols such as guaiol (26%) and b-eudesmol (6.3%). The blue colouring may be ascribed, at least in part, to the presence of guaiazulene (1.6%) although other complex structures with a resemblance to the azulene moiety are present.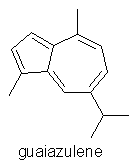 In a (somewhat strange) attempt to compare the oil with other commercial oils, some attention has been drawn to an alleged similarity with another guaiol containing oil: guaiacwood oil, although the sweetness of guaiacwood oil is not particularly mirrored in this oil. However the oil has been 'image marketed' in the cosmetics trade on the fact that it is the only wood oil containing guaiazulene which has alleged anti-bacterial properties (although a more cost-effective and more ecologically sound plant source of guaiazulene might be German chamomile oil). Bowles (2000) previously set out the oil's history & chemistry, as well as outlining the uses of the oil, and its anti-inflammatory, anti-irritant and anti-viral effects. The author's experience of the oil has been less upbeat, centering around poor keeping quality and unacceptable batch to batch variability.
Legal wrangles
The Age, an Australian newspaper, carried a story ("Bitter Blue") on April 21, 2004, described a legal wrangle over patents and allegations of deception. The battle is described as being between Mike Collins who claims to have discovered the oil first, and Bill McGilvray, well known essential oil producer, and former president of the Australian Tea-Tree Industry Association. The article describes a decision taken by the Delegate of the Commissioner of Patents in June 2002, ruling that McGilvray should loose the rights to log the trees on Aboriginal and on Crown land for allegedly breaching contracts and failing to pay royalties according to the Government and spokesmen of the Tiwi aboriginal people. It is further reported in the article that seven South African investors lost $100,000 in the wrangle. You can read the full story at http://www.theage.com.au/articles/2004/04/20/1082395850945.html
References:
Bowles J. (2000) Simply Essential. Aug 2000.
Bowman D.M.J.S. & Harris S. "Conifers of Australia's dry forests and open woodlands. In: Ecology of the Southern Conifers pp252-270 eds. Enright NJ & Hill RS. Smithsonian Institution Press, Washington DC.
Burfield T (2000) Natural Aromatic Materials – Odours & Orgins pub AIA Tampa.
2. Sandalwood Update.
It has been puzzling many of us exactly what is going on with Sandalwood oil EI – suspicious as ever, some of us old hands suspect that some batches of oil are being adulterated in new ways which we haven't yet fathomed!
Sandalwood Oil East African Osyris lanceolata Hochst. & Steud.
No – not the Sandalwood East African material deriving from Tanzanian Osyris tenuifolia Engl. ("bastard sandalwood") which has lanceol as its principle component! It was somewhat surprising for us to learn at this point that there is a new kid on the block in the form of Sandalwood oil East African from Osyris lanceolata. The scented wood from this 8-10m. tree native to S. Africa, makes an interesting oil, having an initial strong sickly sweet note which rapidly gives way to a metallic-rubbery-woody note slightly reminding of Cedarwood. The profile lacks the sensuality of E.I. Sandalwood oil. The dry-own is a smooth somewhat sweet creamy woody note, much less crude and more pleasant than the top note and more similar to E.I. Sandalwood, but as noted for the top note, still lacking the sensual quality of E.I. Sandalwood oil. Its highish concentration of santalols (probably 32% max) and high santalyl acetate content (approx 35% typical) may make it seem an attractive proposition to some.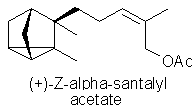 Apparently 150 tons of logs of Osyris lanceolata per month are being imported into India by a company in Mumbai (which claims to be the largest importer) – and who's literature states sales of oils, chips, powder etc. are made into chewing tobaccos, attars, perfumery and the agarbatti/joss-stick industries. The company admits also to producing between 750-800 Kg of East African sandalwood oil per month (Banker 2004). However the sustainability of this practice is far from clear - reports of the threatened status of Osyris lanceolata in the Eastern Arc mountains of Tanzania can be viewed at http://global.finland.fi/julkaisut/group_3.htm. Further, a report on oil on the resource status of Osyris lanceolata in Tanzania and oil quality variation amongst endemic trees populations by Mwang'ingo, P.L. et al.can be viewed at http://www.inasp.info/ajol/journals/safj/vol199abs.html. From these reports the situation would seem to show cause for concern.
Ref: Banker R (2004) Personal communication to author.
Sandalwood oil New Caledonian Santalum austrocaledonicum Viell. var. austrocaledonicum.
Now being promoted and sold by several essential oil companies, it remains to be seen how long this source, previously reported to be threatened, will last. So what do we know?
We know that sandalwood trees (Santalum austrocaledonicum) which grow from 5-12m. and may reach 30-45 cm. in girth, are widespread on the Isle of Pines and in the Loyalty islands around Noumea and to the north of the main island. On Grande Tierre it only occurs in a few restricted areas (SPRIG 2000). We also know from the same source that three varieties are distinguished S. austrocaledonicum var. austrocaledonicum, S. austrocaledonicum var. pilosulum, S. austrocaledonicum var. minutum, and that morphological and oil content differences occur between S. austrocaledonicum var. austrocaledonicum trees on Loyalty Island and "the Ile des Pines" provenance. We also know that subspecies of Santalum species might show some variations sesquiterpenoid composition, however S. austrocaledonicum oils from several geographic locations are known to be able to pass the ISO 3518 criteria for Sandalwood oils, although the optical rotation criteria may be a stumbling block.
New Caledonia was reported as having 360,000 hectares of forest land but only 10,000 under cultivation ref: www.fao.org/DOCREP/004/Y1997E/y1997e19.htm As the European Forestry Institute points out at http://www.efi.fi/cis/english/creports/vanuatu.php "In general, current timber export markets in Asia and New Caledonia do not require information on the environmental standards and impacts of logging operations". This is important because energy intensive steam distillation of small charges (250-300Kg) of sandalwood chippings or shavings to produce the sandalwood crude oil (this crude grade is being sold into aromatherapy), take up to 2 days to complete and thereby generate relatively large amounts of carbon emissions per kilo of oil, contributing to the overall negative ecological impact of the operation. As several minor Pacific Islands are currently being submerged through the effects global warming, this is a sensitive issue. Cropwatch has been making representation to Australian entrepreneurs in the Pacific connected with Sandalwood exploitation suggesting that the implementation of solar distillation rather than importing diesel to generate steam would perhaps help reduce this negative impact, however it is to be remembered that Australia is not a signatory to the Kyoto protocol and has little internal pressure to act in a deep green ecological manner. It is also to be remembered that Oceana itself causes a huge carbon emission loading to the world atmosphere which can only be added to by diesel or wood-fired distillation processes.
Cherrier (1993) reported on the difficulties of sandalwood cultivation in New Caledonia noting heartwood development was proportional to proper development (fast growing trees producing less heartwood). On the narrower subject of sustainability, Ehrhart (1997) presented a fairly optimistic report on the status of known consistent sandalwood stocks in New Caledonia (in contrast to the depleted situation in many/most other South Pacific locations), and makes the point that surveyed sustainable logging management should be possible in these circumstances (yearly quotas have been set at 55 to 60 tons of wood). However, apart from illegal cropping & fire damage, the danger is that of over-exploitation – the bio-resources of New Caledonia to supply Sandalwood oil are unlikely to be able to supply more than a few percent (i.e. probably no more than 2 tons max.) of the total Sandalwood oil demand – which will be severely tested now that leading French aroma houses are currently offering oil from this origin. Further, as indicated above, whilst the emphasis in the sales propaganda by Sandalwood oil salesmen has largely centered on examining tree sustainability, the negative aspects concerning the total environmental impact of the operation can easily be overlooked.
References:
Cherrier, J-F, 1993. "Sandalwood in New Caledonia". In F.H. McKinnell (ed) Sandalwood in the Pacific Region. Proceedings of a symposium held on 2 June 1991 at the XVII Pacific Science Congress, Honolulu, Hawaii. Canberra: ACIAR Proceedings No.49. pp19-22.
Ehrhart Y. (1997) "Descriptions of some Sandal Populations in the South West Pacific: Consequences etc." ACIR Proc. 84, 105-112.
SPRIG (2000)
Santalum album plantations Australia
At the time of going to press, a report about the lack of any impact assessment study ever being carried out, and a statement concerning economic failure of investment schemes for S. album plantations have had to be held over for a future issue. Meanwhile mailed comments on the status of Santalum spp. in Australia covered in Cropwatch 2 have been received by the author from two senior Australian Forestry officials, who have unfortunately declined permission to have their observations reproduced here.
3. Tasmania: destruction of the forest eco-system.
Its hard to miss the press coverage on this lately, with The Guardian reporting that concerns about Australian forests are an election issue, and the singer Chrissie Hynde supporting the boycott of Tasmania as a holiday destination etc. by People for the Ethnic Treatment of Animals (Peta). Meanwhile loggers seem to prove once again prove that whatever the country concerned, they are above the law and cannot be stopped. Richard Flannagan (Guardian April 21, 2004 p16) wrote an impassioned article about the setting alight of Tasmanian rainforest which is felled before being napalmed, much of the wood being sold as unprocessed wood chips. Magnificent Eucalyptus regnans trees of enormous stature and great age are gone forever, and pictures of such a cleared area of the Styx Valley in Tasmania have previously featured in an earlier Guardian feature by David Fickling (Guardian March 22, 2004). Flannagan also describes the close relationship that Tasmanian politicians enjoy with Gunns Ltd., the largest logging company in Australia and how the population is cowed – to question this action is to risk ostracisation or unemployment. Fickling mentions in more detail that 2 board members of Gunns were criticised in an official bribery inquiry in 1989, and the fact that Tasmania's acting premier, Paul Lennon visited Scandinavian pulp mills with Gunns chief executive, John Gray. Perhaps Cropwatch is starting to understand why we meet a brick wall so many we try to communicate with in that felled continent. Meanwhile comprehensive information on the unsustainable activities of Gunns Ltd. can be viewed on the Wilderness Societies website at http://www.wilderness.org.au/campaigns/corporate/gunns/
4. GM non-food crops.
A very well researched report by GeneWatch's director Dr. Susan Mayer at www.genewatch.org/CropsAndFood/Reports/non-food_crops_part2.pdf identifies some research on GM crops intended for non-food use: grasses, flowers, trees, and crops such as cotton used for fibre production. Tree species referred to include Betula pendula, Eucalyptus camuldensis, Eucalyptus globulus, Liquidamber spp. etc., and details of trials being carried out in Canada on larches and black spruce figure amongst much other identified work. Mayer notes that there are no GM trees available commercially as such, but work has been carried out to transfer insect resistance, and herbicide tolerance. In the flowers section of the report you will find reference of "the molecular breeder" Florigene (offices in Australia & Netherlands) and its' interests in the cut flower industry – giving relevant information on patents for roses, carnations, chrysanthemums. Mayer also disturbingly reports on retailed mauve & violet GM carnations with extended vase life sold by Florigene & Suntory in Australia & Japan respectively.
In India, Ashok Sharma reported in February this year writing in the Financial Express (http://www.financialexpress.com/fe_full_story.php?content_id=53684) that the Indian Minister for Agriculture Rajnath Singh inaugurated the Centre for Transgenic Plant Development in Jamia Hamdard in Delhi. Sharma reports that the centre has already developed a transgenic herb Chicory (Cichorium intybus L.) which has a 40% higher content of esculin, which has skin protective properties. Other ongoing work at the centre includes studies on ACC oxidase to improve the shelf life of vegetables & fruits and chalcone synthase for flower colour modulation. Since several Indian aromatic raw material producers that the author has spoken to clearly understand that going down the GM route would jeopardise sales of these materials into EU markets, these developments in allied areas seem surprising.
5. OPINION: Methyl eugenol-containing essential oils.
Copyright Tony Burfield May 2004.
Worries about possible risks due to the methyl eugenol content of natural materials – herbs, essential oils - have surfaced in the recent past but there is a dearth of information on the subject directly available in the public domain to aromatherapists or complementary health practitioners. The following feature is an attempt to add some background information to this subject.
The warm, musty-mild-spicy odoured aromatic compound Methyl Eugenol (aka eugenol methyl ether, or 4-allyl-1,2-diomethoxybenzene) is prohibited from being directly added as an ingredient to fragrances intended for retailed cosmetic products, due to worries about its' potential carcinogenicity.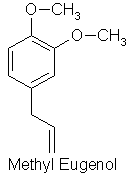 As it occurs naturally in many essential oils and extracts, the addition of these ingredients is not restricted outright, but on provision that the methyl eugenol content does not exceed the following concentration in the following finished products according to the IFRA standards (see www.ifraorg.org/):
Fine Fragrances 0.020%*
Eau de Toilette 0.008%
Fragrance Cream 0.004%
Rinse off products 0.001%
Leave-on products/
Oral hygiene products 0.0004%
Non skin (as defined on IFRA website)
0.010%*.
*The limit of 0.02% for the starred items applies to the concentration in the fragrance compound.
In effect this means that there is an obligation on ingredient suppliers, under the requirements of due diligence, to supply information to customers, to make sure that they receive the necessary information in order for them to comply with the above requirements of the IFRA Standards. To spell this out in more detail, reporting the methyl eugenol content of the specific batch of the ingredient will then allow the customer to further calculate final levels of methyl eugenol appearing in the finished product. It is difficult to see how many small essential oil suppliers, without resort to internal analytical expertise, will be able to perform this function. Additionally, it is relatively easy to find plants for sale on the Internet, who's essential oils contain high levels of methyl eugnol e.g. Black tea tree plants can be ordered at http://www.hotkey.net.au/~macs_oils/plant01.htm. No warning about the potential toxicity of methyl eugenol is presented.
It has long been established that methyl eugenol occurs in essential oils such as Canadian Snake root, Bay, Citronella, Laurel, Emodia, Fennel, Betel, "Brisbane Sassafras", Pimento, Hyacinth etc., and its occurrence often coincides with the additional presence of eugenol (Poucher 1991). And so, purely as a guide, here below is presented a "snapshot" guide to the reported methyl eugenol content of several further essential oils.
Published data on Methyl Eugenol Contents of Essential Oils.
1. FEMA have published data to members on methyl eugenol contents of essential oils (no geographic origins specified).
2. The BFA on 12.02.02 circulated BEOA data from 09.11.01 on the methyl eugenol content of a number of analysed commercial oils. Oils were classified by botanical name (no chemotypes were distinguished) and by origin. There are no particular surprises, although methyl eugenol contents on rose otto seemed low-ish compared with other published data, and the range of methyl eugenol contents of the 23 basil oils (all apparently from Egypt) was relatively large. No data on fennel oil (identified by the EU Scientific Committee on Food as a dietary source of methyl eugenol) was included. The BEOA data document makes comment that expert analysis of genuine essential oils shows how widely essential oils vary in composition, and makes comment that the BACIS commercial data-base of essential oils shows methyl eugenol contents of 258 oils, that some of this data is misleading, and not representative of genuine high volume essential oils used in commerce.
3. IFRA data on methyl eugenol contents of essential oils, as presented on the IFRA website www.ifraorg.org in May 2004 does not define the plant source species, the geographical origins of oils or any chemotype information. A document circulated by IFRA (to members only – not in the public domain – but most of the information the same as on the IFRA website) on April 6th 2004 lists 21 essential oils, again giving no botanical identification, only giving geographic origins for two types of oils (citronella and rose), and giving chemotype information for basil only. As has been observed previously by this author, the standard of botanical reporting in IFRA documents, and in EU legislation leaves a great deal to be desired.
4. A list of plants containing methyl eugenol, duplicating the species names of many of the entries below, can be found on the Agricultural Research Services data-base at http://www.ars-grin.gov:8080/npgspub/xsql/duke/chemdisp.xsql?chemical=METHYL-EUGENOL
Table I - Various References re: Methyl Eugenol content of EO's.
Essential oil
Remarks
Methyl eugenol content

Reference key (see below)
Acorus calamus

Calamus Indian

1.0%

Shiva et al.

Acorus calamus

Calamus Mediterranean

0.9% max

BEOA

Acorus calamus

(?)

Calamus oil

<1.0%

IFRA website

IFRA 06.04.04

Anasarum canadense

Snakeroot oil

36.0- 45.0%

EOS

Aniba rosaedora

Rosewood oil

0.11%

TQ

Artemisia

dracuncunculus

Tarragon oil Russian

type

11.5%

TB

Artemisia

dracuncunculus

Tarragon oil Russian

type

5 – 29%

EOS

Artemisia

dracuncunculus

Tarragon oil French

type

0.8%

TB

Artemisia

dracuncunculus

Tarragon oil French

type

0.1 to 1.5%

EOS

Artemisia

dracuncunculus (?)

Estragon oil

<1.5%

IFRA website

IFRA 06.04.04

Canarium indicum

Essential oil

300-750 ppm

Duke 2

Canarium lucozonium

Elemi oil Philipines

0.44%

TQ

Cananga odorata

subsp. macrophylla

Cananga oil

0.17% max

BEOA

Cananga odorata

subsp. macrophylla (?)

Cananga oil

<0.5%

IFRA website

IFRA 06.04.04

Cananga odorata

subsp. genuina

Ylang ylang I

I

nd quality

0.15%

TB

Cananga odorata

subsp. genuina

Ylang ylang. No details.

0.154%

TQ

Croton elutaria

Cascarilla oil W.I.

0.2% max

BEOA

Croton elutaria

(?)

Cascarilla oil W.I.

<1.0%

IFRA website

IFRA 06.04.04

Cinnamomum camphora

Camphor oil white, China

Not detected

BEOA

Cinnamomum cassia

Cassia bark oil China

0.03% max.

BEOA

Cinnamomum cassia

(?)

Cassia oil

<0.1%

IFRA website

IFRA 06.04.04

Cinnamomum tamala

Tejpat oil

0.5%

Lawr

Citrus paradisi

Grapefruit oil

0.0002%

TQ

Citrus sinensis

Sweet? orange oil

0.0004%

TQ

Cymbopogon citratus

geraniol chemotype

to 18.0%

TB

Cymbopogon nardus

Sri Lanka

1.8% max.

BEOA

Cympopogon nardus

Sri Lanka

3.0%

FEMA

Cymbopogon nardus

(?)

Citronella oil Sri Lanka

<0.2%

IFRA

06.04.04

Cymbopogon winterianus

Citronella oil, China

(Java type)

0.2% max.

BEOA

Cymbopogon

sp.

Citronella oil

<2.0%

IFRA website

Cymbopogon winterianus

(?)

Citronella oil Java

<2.0%

IFRA

06.04.04

Dacrydium franklinii

Huon Pine Oil

to 98.0%

TB

Daucus carota

Carrot seed oil

0.165%

TQ

Daucus carota

Carrot seed oil Chinese

1.23%

Kam

Daucus carota

Carrot oil

<0.5%

IFRA website

IFRA 06.04.04

Daucus carota

Carrot oil CO2 extract

0.1%

IFRA

Echinophora tenuifolia

Turkey

17.5 – 50.0%

TB

Elettaria cardamomum

Cardamom oil, India

tr. to 0.1%

TB

Eucalyptus (globulus?)

sp. name not indicated

1.07%

TQ

Hyssop

sp. name not indicated

0.55%

TQ

Hyssopus officinalis

(?)

Hyssop oil

<1.0%

IFRA website

IFRA 06.04.04

Illicium verum

Star Anise oil

0.11%

TQ

Laurus nobilis
Bay Laurel oil

2.8% max.

BEOA

Laurus nobilis

Bay Laurel oil

4.0%

TB

Laurus nobilis

Bay Laurel oil

4.62%

TQ

Levisticum officianale

Lovage Leaf

1.3% max.

BEOA

Levisticum officianale

(?)

Lovage leaf oil

<1.5%

IFRA website

IFRA 06.04.04

Lippia citriodora

Verbena oil

2.3%

TB

"Magnolia"

Michaelia

or Magnolia spp. ??

2.64%

TQ

Melaleuca alternifolia

Tea tree oil

trace

IS

Melaleuca bracteata

(chemotypes II, III, IV)

to >40%

TB

Melaleuca bracteata

(chemotypes I,II,III, IV)

trace; 1.5%; 8.7% and 50% respectively

Brophy et al.

Melaleuca

leucadendron

(chemotype II, methyl eugenol form)

95-97%

TB

Melaleuca

leucadendron

(chemotype I, Ila and llb)

1.6, 94.6 and

6.7% respectively

Brophy JJ

Michelia alba

Flower and leaf oils

0.38 & 0.22% respectively

Kam.

Myrstica fragrans

Nutmeg Oil Sri Lanka

0.8%

TB

Myrstica fragrans

East Indian Nutmeg oil

tr – 1.2%

EOS

Myrstica fragrans

West Indian Nutmeg oil

0.1- 0.2%

EOS

Myrstica fragrans

(?)

Nutmeg oil

< 1.0%

IFRA website

IFRA 06.04.04

Myrstica fragrans

(?)

Mace oil

< 0.5%

IFRA website

IFRA 06.04.04

Myrtus communis

Myrtle oil

1.21%

TQ

Myrtus communis

Myrtle berry oil

2.3%

Mazza

Ocimum basilicum

Sweet basil oil

Often below

0.2%, Comores

(exotic type) to

1.6%

Ocimum basilicum

Oil of Egyptian origin

5.6% max

BEOA

Ocimum

spp.

Basil oil

< 6.0%

IFRA website

IFRA 06.04.04

Ocimum basilicum

Basil Oil

2.6%

FEMA

Ocimum basilicum

var. basilicum

Described by F & P as Exotic type Basil oil

1.6%

F & P.

Ocimum basilicum

var.

"feuilles de laitre"

Described by F & P. as European type Basil oil

2.5 to 7%

F & P.

Ocimum basilicum

var.

"grand vert"

Oil

55-65%

F & P.

Ocimum basilicum

var.

minimum

Described by F & P. as "Small Basil"

55-65%

F & P.

Ocimum gratissimum

var. thymoliferum

Described by F & P. as "Basil oil thymol type"

1.7%

F & P.

Ocotea pretiosa

(Brazilian Sassafras oil- methyl eugenol type)

> 50.0%

TB

Pelargonium

graveolens

Geranium oil China

Geranium oil Bourbon

Not detected in

either oil

BEOA

Pelargonium

odoratissum

Geranium oil Egypt

Not detected

BEOA

Peumus boldus

Leaf

100-125 ppm

Duke

Pimenta dioica

Pimento leaf oil

to 2%

TB

Pimenta dioica

Pimento leaf oil

2%

FEMA

Pimenta dioica

Pimento leaf oil

15.4%

TQ

Pimenta dioica

Pimento leaf oil

3.9%

BEOA

Pimenta ­dioica

Pimento berry oil

to 8%

TB

Pimenta ­dioica

Pimento berry oil

15.0%

BEOA

Pimenta ­dioica

(?)

Pimento berry oil

Pimento leaf oil

< 15.0%

<15.0%

IFRA website

IFRA 06.04.04

Pimenta dioica

Plant part to produce oil not stated

1.2 – 4.4%

F & P.

Pimenta racemosa

var. racemosa

Methyl chavicol/methyl eugenol chemotype

48.1%

Aurore et al.

Pimenta racemosa­

Bay leaf oil

4.6%

TQ

Pimenta racemosa­

Bay leaf oil

0.4 to 12.6%

TB

Pimenta racemosa

(?)

Bay oil

< 4.0%

IFRA website

IFRA 06.04.04

Pimpinella anisum

Anise oil

0.11%

TQ

Piper cubeba

Cubeb oil

Not detected

BEOA

Ravensara aromatica

Ravensara oil Madagascar

0.10%

F. & P.

Rosa centifolia

Rose absolute

0.6% to 1.9%

TB

Rosa centifolia

Rose otto

1.1 to 3.0%

TB

Rosa damascena

Rose otto

1.1 to 3.0%

TB

Rosa damascena

Rose otto Bulgaria

1.6% max

BEOA

Rosa

spp.

Rose oil Bulgaria "different types"

< 2.5%

IFRA

06.04.04

Rosa

sp.

Rose oil China

< 3.5%

IFRA

06.04.04

Rosa damascena

Rose otto Morocco

0.5% max

BEOA

Rosa

sp.

Rose oil Morocco

<2.6%

IFRA

06.04.04

Rosa damascena

Rose otto Turkey

0.5% max

BEOA

Rosa

sp.

Rose oil Turkey

<3.0%

IFRA

06.04.04

Rosa

sp.

Rose oil

<3.5%

IFRA website

Rosa damascena

Absolute

0.8 to 1.6%

TB

Rosa damascena

Rose otto India

2.0-2.5%

Shiva et al.

Rosa

spp.

Rose bud oil Georgia

<0.1%

TBb

Rosa rugosa

Rose otto, China

0.10%

SCIB

Rosmarinus officinalis

Rosemary oil

0.011%

TQ

Rosmarinus officinalis

Rosemary oil Tunis

>0.01%

TBa

Satureia hortensis

Summer savoury oil

0.88%

TQ

Satureia montana

Winter savoury oil

0.11%

TQ

Satureia montana

Winter savoury oil Balkans

0.7%

BEOA

Satureia montana

(?)

Winter savoury oil

<1.0%

IFRA website

IFRA 06.04.04

Syzygium­ aromaticum

Clove bud oil

to 0.15%

TB

Syzygium­ aromaticum

Clove bud oil

0.2%

Shiva et al.

Syzygium­ aromaticum

Clove leaf oil Indonesia

0.5%

TB

Syzygium­ aromaticum

Clove oil

<0.5%

IFRA website

IFRA 06.04.04

Tagetes minuta

Tagete oil

0.03%

Lawr. a

Trachyspermum

ammi

Ajowan oil, India

0.03%

TBb
N.B. Question marks in the above table appear when the author has had to make an intelligent guess at the botanical origin of the oil because the original source failed to reveal it.
Remarks on the Toxicity of Methyl Eugenol.
Similarities of methyl eugenol to the structure of safrole, a known carcinogen, have not gone un-noticed.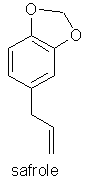 Following the RIFM/FEMA workshop in May 2000, the FEMA expert panel issued a report entitled "Safety Assessment of Allylalkoxybenzene Derivatves Used as Flavouring Substances – Methyl Eugenol and Estragole". This included a description of the 2-year bioassay with methyl eugenol by the National Toxicity Program (NTP) whose aim was to establish the carcinogenic potential of methyl eugenol regardless of route of administration. The NTP study found that the present exposure to methyl eugenol from food (mainly intentional addition of essential oils, spices and spice isolates) presents no hazard to human health. The report finds that although very high doses are carcinogenic, they are such that they must have first induced a hepatotoxic effect. We also subsequently learned from the RIFM/FEMA workshop write-up, that one serving of pesto contains from 10-100 times the average daily human consumption of methyl eugenol, although even this level was 100 times lower than the lowest dose forcibly given to animals in the NTP assay.

The NTP technical study on the 2 year toxicology and carcinogenisis studies on methyl eugenol in F334/N rats and B6C3F1 mice was published in July 2000. It showed clear evidence of carcinogenic activity of methyl eugenol in the tested rodents, and can be viewed at http://ehis.niehs.nih.gov/ntp/docs/tr491/tr491abs.pdf

The German Bundesrat decided on May 11th 2001 not to market flavourings and foodstuffs containing added methyl eugenol (or methyl chavicol) after June 30th 2001, although this ruling did not apply to methyl eugenol naturally present in flavourings or foodstuffs.

The EU's Scientific Committee on Food expressed an opinion on methyl eugenol on 26.09.01, which can be viewed at http://europa.eu.int/comm/food/fs/sc/scf/out102_en.pdf The committee remarked that methyl eugenol is a multi-site, multi-species carcinogen, being both genotoxic and carcinogenic. Average human intake from diet of methyl eugenol amounted to 13 mg/person/day and the 97.5th percentile was 36 mg/person/day (on a body weight basis these values correspond to 0.19 and 0.53 mg/kg bw/day, respectively). The committee was unable to establish a safe exposure limit.

Subsequently IFRA decided to severely restrict the limits of methyl eugenol in finished fragranced products in 2001 (36th Amendment to the Code of Practice).

Low methyl eugenol rose oil has been commercially offered by a small number of aroma houses. Removal of the methyl eugenol content by high vacuum fractional distillation seems to adversely affect the typical rose character in products offered. Removal of the methyl eugenol content by spinning band or spinning cone distillation may be more satisfactory, but production time is at a premium on this expensive technology. Rose oils naturally very low in methyl eugenol are known in Eastern Europe and further East, but the quality is very poor to actually unacceptable for most purposes, even before methyl eugenol removal.

As a closing comment, it is hard to see why the aromatherapy and cosmetic industries are "led by the nose" on the choice of available commercial rose qualities utilised, which merely reflect historical perfumery trade uses. It has previously been established that rose absolutes from varieties of garden roses can demonstrate beneficial cosmetic properties (Étienne et al. 2000) whereas a conventional commercial rose absolute showed none of these effects. Further, it is likely that certain of these other varieties will only present a fraction of the methyl eugenol levels encountered in conventionally sourced rose ottos and absolutes.

Methyl Eugenol in Aromatherapy.

The author is unable to find any detailed advice given by professional aromatherapy organisations to members on this issue, on a par with that put by IFRA for its membership in the perfumery profession. Harris (2002) has reviewed the position of methyl eugenol in aromatherapy practice in the light of IFRA restrictions in the fragrance industry. It is worth exploring a number of points.

Firstly, Harris notes that the IFRA have published a list of essential oils (e.o.'s) with methyl eugenol contents, commenting that these figures only pertain to oils used in the fragrance industry. Harris instead quotes e.o. data from Lawrence (1998-2002). However IFEAT have previously criticised the use of Lawrence's data (specifically over the separate 26 allergens issue), as they maintain it is relates only to experimental data and does not relate to the composition of commercial oils. In any case, in the real world, the e.o.'s distributed by many (but certainly not all) aromatherapy oil suppliers are identical to those distributed by the fragrance industry.

Harris further maintains that "the average aromatherapy treatment regime consists of 5-10 sessions, given at most once per week, generally with the essential oils employed being changed during this regime according to the improvement of the client…", and goes on to state, "those most at risk from methyl eugenol are the aromatherapists themselves", but does not investigate exposure of this most "at risk" group in any satisfactory detail. Harris further mentions avoidance of high methyl eugenol containing oils by therapists, and talks of using "3 drops in a blend" – which, as several professional therapists have privately commented, "is not

Aromatherapy".

Since aromatherapy is a poorly paid profession, many professional aromatherapists are obliged to work extended hours, and may have to perform 6-8 massages per day, 5-6 (or more) days per week. Further, a whole body massage may well be carried out with 20-50 mls of massage oil containing 2-2.5% e.o., although some practitioners apparently have been known to use even higher concentrations (Guba 1998). Unknown amounts of methyl eugenol are therefore absorbed by the therapist throughout the week, via skin absorption through the hands, and by inhalation of vapour. Harris doesn't mention the fact that diet is additionally adding to the therapist's body burden of methyl eugenol.

The above factors may eventually allow a more realistic calculation of daily human body loading from methyl eugenol for aromatherapists, but interpretation of the data revolves around interpretations of the NOEL (no-effects) level in the longer-term and appropriate safety factors (IFRA used a factor of 1000 X). Since aromatherapeutic treatments such as whole body massage are vastly different from animal dosing studies, drawing direct conclusions about possible toxicological effects is distinctly risky. Further, it is already known from human liver microsomal preparations that metabolism rates by human cytochrome P450 isozymes for methyl eugenol varies more than 37-fold (Gardner et al. 1997) suggesting a wide range of serum concentrations will occur in the general population following methyl eugenol exposure.

Meanwhile Schecter et al. (2004) have produced a study on human consumption of methyl eugenol and its elimination from serum under a mandate from the National Toxicology Program of the US Department of Health and Human Services. In particular the team investigated the consumption of methyl eugenol from a brand of gingersnaps, found to contain a relatively high concentration of methyl eugenol at 3.3mg/g (a number of other foodstuffs containing lower concentrations of methyl eugenol are also listed in the article & cigarette tobacco's were identified as another possible source of methyl eugenol exposure!). Serum peak levels of methyl eugenol were found to be within range of a concurrent study of 213 non-fasting subjects in the third Nutrition Examination Survey (NHANES III, 1988-1994). However in this latter study, the authors found that methyl eugenol levels in the blood of the general US population were higher than expected (but the highest concentration found, 390pg/g, was still 2000 X lower than the lowest dose used in the NTP rodent studies referred to above). Nevertheless, as Schecter et al. remark, the significance of the elevated levels with respect to any toxicological consequences, still remains to be determined.

It may well eventually turn out that a working aromatherapist, constantly using basil and rose oils, and with a fondness for pesta and flavoured cigarettes is more likely to be hit by a meteorite than to contract a toxicological problem due to daily methyl eugenol exposure from all these routes. Its just that it would be nice to think that those entrusted with a duty of care towards working people in our society were actively investigating this topic. The situation being as it is, assessments on this topic are more likely to be made by self-educated laymen, than by formerly qualified toxicologists – and to this end, Cropwatch has written to some toxicologists for some learned opinions on this matter. Any replies will be published in further editions of this organ.

STOP PRESS!

Professor Arnold Schecter (see reference above) kindly read my piece on methyl eugenol above and hinted from the tone of the article above that I might have understated the risk slightly, commenting further as follows:

"What my work followed during a year I worked at NIH was that methyl eugenol is extremely carcinogenic to rodents and causes cancers in rats and mice, two species, and in multiple tissues. The human levels may or may not be of concern, both those we reported and the higher levels we alluded to in the general US population, so high for unknown reasons. ME does not occur by itself in humans but in combination with many other toxic chemicals so potential human health effects might be from ME alone or in combination with others".

And further: "In combination with other carcinogens (methyl eugenol) might be harmful at lower levels than those derived dosing animals with one chemical only. Many chemicals in our bodies."

I take these points on board, and suggest even louder now, that the aromatherapy profession needs to take this issue seriously, perhaps appealing for outside help to more properly evaluate the risk.

Glossary

BFA: British Fragrance Association

IFEAT: International Federation of Essential Oils and Aroma Trades

IFRA: International Fragrance Research Association

Table Data References:

Aurore, G. S. Abaul, J. Bourgeois, P. Luc, J. (1998) "Antibacterial and Antifungal Activities of the Essential Oils of Pimenta racemosa var. racemosa P. Miller (J.W. Moore) (Myrtaceae)." J. Essential Oil Res. 10(2), 161-164.

BEOA: British Essential Oils Association 9th Nov 2001 – data reproduced by kind permission.

Brophy JJ: Brophy JJ (1999) "Potentially Commercial Melaleucas" in Tea Tree – the Genus Melaleuca eds. Ian Southwell & Robert Lowe. Harwood Academic Publishers.

Brophy et al: Brophy et al. (1999) J Essen Oil Rec 11, 327-332.

Duke: Duke J (?) from Chemicals and their Biological Activities in: Peumus boldus MOLINA (Monimiaceae) – Boldo – see http://www.rain-tree.com/db/Peumus-boldus-phytochem.htm

Duke 2 : see http://www.ars-grin.gov:8080/npgspub/xsql/duke/chemdisp.xsql?chemical=METHYL-EUGENO

EOS: "Essential Oil Safety" Robert Tisserand & Tony Balacs Churchill-Livingstone 1996.

F & P: Franchomme P. & Peneol D (1995) "l'Aromatherapie

Exactement" pub. Jollois. R.

Guba R (1998) "Toxicity Myths –the Actual Risks of Essential Oil Use." Centre for Aromatic Medicine 1998.

IFRA website: www.ifraorg.org information as at 01.05.2004

IFRA: Annex 1 IFRA Standards.doc April 6, 2004.

IS: Ian Southwell (1999) "Tea Tree constituents" in Tea Tree – the Genus Melaleuca eds. Ian Southwell & Robert Lowe. Harwood Academic Publishers

Kam: Kameoka H. (1993) "The Essential Oil Constituents of Some Useful Plants from China" in Recent Developments in Flavour & Fragrance Chemistry –Proceedings of the 3rd Int. Haarman & Reimer Symposium Pub. VCH NY 1993.

Lawr.: Lawrence BW (1989) EO's 1981-7 Allured Publ.

Lawr. a: Lawrence BM et al. (1985) Perf & Flav 10(6), 56-58 Dec 1985-Jan 1986

Mazza G. (1983) "GCMS Investigation of Volatile Components of Myrtle Berries" J. Chromatog. 264, 304-311.

SCIB: Zhu Lianfeng et al. (1993) Aromatic Plants & Essential Constituents South China Inst of Botany, Hai Feng Publishing Co.

Shiva et al: Shiva MP, Lehri A, Shiva A. (2000) Aromatic & Medicinal Plants pub IBD 2000.

TB: Tony Burfield (2000) Natural Aromatic Materials: Odours and Origins pub. AIA Tampa.

TB see: http://www.users.globalnet.co.uk/~nodice/new/magazine/odprofile.htm

TBb: Tony Burfield (unpublished data)

TBc: Tony Burfield & Sylla Sheppard-Hanger (2002) "Basil Oils Monograph" AIA UK 2002.

TQ: trade suppliers questionnaire (IFF 2003)

Poucher (1991) Poucher's Perfumes, Cosmetics and Soaps - Vol 1 The Raw Materials of Perfumery 9th edn. Blackie Academic & Professional.

Zhu Liangfu et al. (1993) Aromatic Plants & Essential Constituents South China Inst of Botany.

Text References.

Étienne et al. (2000) "New and unexpected cosmetic properties of perfumes. Effects upon free radicals and enzymes induced by essential oils, absolutes and fragrant compounds." International Journal of Cosmetic Science 22, 317-328.

Gardner et al. (1997) "Cytochrome P450 mediated bioactivation of methyleugenol in Fisher 344 rar and human liver microsomes." Carcinogenesis 18, 1775-1783.

Harris B. (2002) "Methyl eugenol – the current bete noir of aromatherapy". Int. J. of Aromatherapy 12(4), 193-201.

Lawrence B.W. Progress in Essential Oils (1998-2002).

NHANES III 1988-94 National Centre for Health Statistics (1994). Plan and Operation of the Third National Health & Nutrition Examination Survey, 1988-94. Series 1: Program & Collection Procedure No 32.

Schecter A et al. (2004) "Human Consumption of Methyleugenol and Its Elimination from Serum" Environmental Health Perspectives 112(6), 678-680.