Linalool-Containing Essential Oils: New Safe Use Proposal

Copyright Tony Burfield AIA UK & Sylla Sheppard-Hanger AIA


July 2004.

The IFRA position.

The 38th Amendment to the IFRA Standard (Nov 2003) states that "linalool and natural products known to be rich in linalool, such as bois de rose, coriander or ho wood oils, should only be used when the level of peroxides is kept to the lowest practical value. It is recommended to add antioxidants at the time of production of the raw material. The addition of 0.1% BHT or a-tocopherol has shown great efficiency. The maximum peroxide level for products in use should be 20mmol/l."

How have we got to this position, and what should Professional Aromatherapy Organisations, and other users of essential oils for topical purposes (such as Natural Perfumers) do now exactly?

Linalool: the good, the bad and the ugly.

Linalool (3,7-dimethyl-1,6-octadien-3-ol) CAS No 78-70-6 aka linalol is ubiquitous in essential oils. High linalool-containing oils include howood 80-90%, rosewood 60-90%, coriander 60-80%, linaloe 30-70%, sweet basil linalool type 30-50%, thyme linalool type, Mentha citrata 20-50%, lavender 20-50%, lavandin 30-40%, petitgrain 20-30%, bergamot 10-30%, clary sage 10-25%, ylang ylang 10-15%, geranium 8-15% (Burfield 2000). Optical isomers of linalool are:

· (3R)-(-)-linalool which has a flowery-fresh odour reminiscent of lavender, and oils containing high excesses of (-)-linalool include lavender, lavandin, ho oils, bergamot; it is additionally found in ylang-ylang, petitgrain, clary sage and laurel oils (Casabianca, 1998), also in the wood oil of Nectandra elaiphora. It is becoming apparent that in natural scents, individual enantiomers appear more often than the racemate form i.e. (-)-linalool occurs in freesia. (-)-Linalool may also be obtained from rosewood distillation, although individual trees can produce oils of differing chirality of linalool.

· (3S)-(+)-linalool has a different odour being less fresh and slightly woody and occurs in coriander, limette and orange oil, also occurring in Bursera delpechiana to 75%. (Burfield 2004a)

Linalool natural is obtainable from a number of sources industrially, including bois de rose, orange, coriander, and Mentha citrata oils. Virtually all perfumery formulations feature this important odourant (Burfield 2000).

The anti-inflammatory activities of (-)-linalool, (±)-linalool and linalyl acetate, as shown by reduction in odema to carrageenin-induced edema in rats, was previously investigated by Peana et al. (2002), who suggested that essential oils containing these compounds would possess anti-inflammatory effects. Since linalool-containing oils are often employed for their analgesic properties, Peana et al. (2003) went on to investigate the antinociceptive effects of (-) linalool, deducing that activation of opioidergic and cholinergic systems was crucially important for this role. Further investigations of the benefits of linalool and linalool-containing oils have been reviewed by Burfield & Sheppard-Hanger (2003).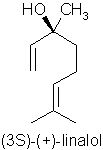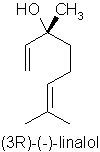 But of course current toxicological legislation ignores possible benefits of active compounds and focuses on adverse reactions. Linalool is considered an allergen under 7th Amendment to the Cosmetics Act having previously been found to be a frequent cause of allergic contact dermatitis. On storage linalool auto-oxidises and builds up products including hydroperoxides such as 7-hydroperoxy-3,7-dimethyl-octa-1,5-diene-3-ol (Skold M. et al. 2002) which apparently cause the allergic reaction. The authors found that in guinea pigs, ten week old samples of linalool sensitised the animals, but highly purified linalool produces no reaction. Auto-oxidation was therefore identified by the authors as a necessary stage for the sensitising process.

Recommendation - Aromatherapy.

The Atlantic Institute of Aromatherapy (AIA) urges professional Aromatherapy Organisations to recommend to members that, where high linalool containing oils are to be purchased for use in aromatherapy massage, oils containing natural 0.1% a-tocopherol (Vitamin E) is pre-added by the manufacturer. High linalool- containing oils are taken to include:

Coriander seed oil (Coriandrum sativum)

Howood oils Cinnamomum camphora var. linaloolifera

& Cinnamomum camphora var. glavescens etc.

Kuromoji oil (Linda umbellata, L. membranacea etc.)

Linaloe oils, Indian & Mexican origins (Bursera aloexylon, B. simaruba & B.

delpechiana etc.)

Petitgrain oil terpeneless Citrus aurantium subsp. aurantium

*Rosewood oil (Aniba rosaeodora var. amazonica and other Aniba oils)

*Rosewood oil (Octoea caudata & other high linalool-containing Ocotea spp.)

**Rosewood leaf oils (Aniba rosaeodora var. amazonica)

*Not recommended for use in aromatherapy: endangered species.

**Some inferior-smelling cultivated Rosewood leaf oils are now in circulation.

Other moderately high linalool-containing oils such as Rosalina oil Melaleuca ericifolia, Basil oil linalool types (Ocimum basilicum & other Ocimum spp.) and linalool rich oils of Mentha citrata, may also be affected by a tendency to peroxide formation on storage, and aromatherapists should ask their suppliers to check the peroxide value is satisfactory according to the FMA method prior to acceptance of the oil for aromatherapy use. It is thought that peroxide formation might be capable of being reversed by certain procedures, and that certain oils contain components that might function natural anti-oxidants (e.g. methyl benzoate) and so it is possible that this is not a problem for every linalool-containing oil. However at this stage caution should be exercised until these facts can be properly elucidated.

Recommendation- Natural Perfumery

The above remarks apply, with the rider that where:

· natural linalool (dextro-, laevo- or racemic)

· high-linalool containing isolates (such as linalool ex lavandin oil, linalool ex coriander oil, linalool ex orange oil (Citrus sinensis) or laevo-linalool ex howood etc.)

· or high-linalool containing essential oils (see above list)

are to be used in perfumed products for the skin, it is recommended that only oils containing natural 0.1% a-tocopherol (Vitamin E) be used.

Disclaimer:

The information contained in this text was obtained from current & reliable sources. The data is supplied without warranty, expressed or implied, regarding its' correctness or accuracy. It is the oil user's responsibility to determine safe conditions for the use of these products described in the text, and to assume liability for loss, injury, damage or expense arising from improper use of these products.

For Martin Watt's article on similar issues, see "Old Lavender may be A Problem" see www.aromamedical.com/articles/oldlavender.htm

References:

Burfield T. (2000) Natural Aromatic Materials – Odours & Origins pub. AIA Tampa

Burfield T. (2004a) from forthcoming edn. 2 of Natural Aromatic Materials – Odours & Origins.

Burfield T. & Sheppard-Hanger S. (2003) "Substituting for Rosewood Oil Aniba rosaeodora var. amazonica Ducke" Aromatherapy Today Vol 26, June 2003 pp30-37.

Casiabanca H. et al. (1998) "Enantiomeric Distribution Studies of Linalool and Linalyl Acetate" J. High Res. Chromatog. 21, 107-112.

Peana AT, D'Aquila PS, Panin F, Serra G, Pippia P, Moretti MD (2002) "Anti-inflammatory activity of linalool and linalyl acetate constituents of essential oils." Phytomedicine 9(8), 721-6.

Peana AT, D'Aquila PS, Chessa ML, Moretti MD, Serra G, & Pippia P. (2003) 41 "(-)-Linalool produces antinociception in two experimental models of pain" Eur J Pharmacol 460(1), 37.

Skold M, Borje A, Matura M, & Karlberg AT (2002) "Studies on the autoxidation and sensitizing capacity of the fragrance chemical linalool, identifying a linalool hydroperoxide." Contact Dermatitis 46(5), 267-272.

Skold M, Borje A, Matura M, & Karlberg AT (2002) "Sensitisation studies on the fragrance chemical linalool, with respect to auto-oxidation" Contact Dermatitis 46 (Suppl. 4), 20.