PET PRODUCT OF THE MONTH!
Wooden Raised Feeders From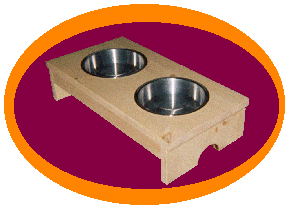 Raised feeders are recommended by Vets to help prevent digestive problems when feeding and drinking and to help improve posture.
Feedeezzee raised feeders are handcrafted, in the UK, in solid pine, with a Satin or Antique finish and come with two dishwasher safe, stainless steel pet dishes. At 4" high and 17.5" long, Feedeezzee raised feeders can cater for two cats, comfortably, at one time. Other sizes and styles, including our "table-for-one" and "table-for-three" ranges, will be available soon.
Available From:
M Grey Designs
Tel/Fax: 01923 332994
Email: feedeezzee@pawprintdirectory.co.uk
Website: http://welcome.to/feedeezzee