The
Ghosts & Scholars
M.R. James
Newsletter
Issue 2 (September 2002): Part Two.
---
Copyright © 2002 Rosemary Pardoe (e-mail). All rights retained by the contributors. All unassigned material by Rosemary Pardoe. Not to be reproduced without the permission of the authors/artists.
---
Contents
Go to Part One for:
"Editorial" by Rosemary Pardoe
"Homosexual Panic and the English Ghost Story: M.R. James and others" by Mike Pincombe
"'The Fenstanton Witch': Story Notes"
Artwork: Alan Hunter ("Rats")
Part Two:
"Jamesian Notes & Queries":
"A Source for 'Martin's Close'?" by Muriel Smith

"The Mystery Of It All" by Rosemary Pardoe

"The Spanish Translations of M.R. James's Ghost Stories" by Jorge Abraham Zepeda Cordero

"The Night-Raven" by Rosemary Pardoe, with comments by Jacqueline Simpson and F.E. Mackie
"MRJ at Auction" by Donald Tumasonis
Artwork: F.E. Mackie (picture caption)
---
Jamesian Notes & Queries
Notes, queries, theories and short articles concerning M.R. James and his circle of ghost story writing friends and associates are welcome for this section. Please keep them to under 1500 words if possible.
******
A Source for "Martin's Close"?
by Muriel Smith
John Galt may, for all I know, be the subject of a literary industry in his native place, Irvine, in Ayrshire, where he was born on May 2, 1779, the son of the captain of a West Indiaman. And he may be remembered in Canada as the founder of the town of Guelph. But he is certainly not a famous name in early nineteenth-century literature.
Annals of the Parish is the account, year by year, by Mr Balwhidder of his fifty years as minister, 1760-1820. Galt had it practically complete in 1813 but, being assured there was no market for Scottish novels, laid it aside. However, Waverley, published in July 1814, and its string of successors, disproved that idea. Annals of the Parish came out in 1821, following the serialisation of Galt's The Ayrshire Legatees in Blackwood. The firm of J.M. Dent reckoned it would be worth their while to bring out Galt's pair of novels in one volume, Everyman's Library No.427, in 1908.
"Martin's Close, in the 1911 More Ghost Stories of an Antiquary, is the last of the six Christmas tales therein, and was presumably read by M.R. James to his audience at Christmas 1910 ("My stories have been produced [with one exception] at successive Christmas seasons": MRJ, "Preface" to More Ghost Stories). In her Introduction to Letters to a Friend (Arnold 1956), Gwendolen McBryde records that "Annals of a [sic] Parish by Galt, took its turn one winter" among MRJ's reading matter (p.16). He would certainly not have studied Annals with any idea of getting material for a ghost story set in Scotland, but he might, as a matter of curiosity, have read it to compare the Livermere of his childhood with a Presbyterian parish a century before. However, the fact is that the plot of "Martin's Close" has a distinct resemblance to an episode in the Annals, and the very differences are significant. I suspect MRJ, enraged by the lack of decent feeling all round, of recasting the episode and giving George Martin what he felt that Henry Melcomb had fairly earned.
I think this is a better match than Spencer Cowper's case, discussed by Nicholas Connell in Ghosts & Scholars 33 (2001, pp.55-56).
****
Annals of the Parish: Excerpted from Chapter XXXVIII - Year 1797
In the course of the summer, Mr Henry Melcomb, who was a nephew to Mr Cayenne, came down from England to see his uncle. He had just completed his education at the college of Christ Church, in Oxford, and was the most perfect young gentleman that had ever been seen in this part of the country.
In his appearance he was a very paragon, with a fine manly countenance, frank-hearted, blithe, and... he had a great turn at ready wit, and could joke and banter in a most agreeable manner... Among others that shared in his attention, was daft Meg Gaffaw, whom he had forgathered with one day in coming to see me; and after conversing with her for some time, he handed her, as she told me herself, over the kirk-stile like a lady of high degree, and came with her to the manse door linking by the arm.
From the ill-timed daffin of that hour, poor Meg fell deep in love with Mr Melcomb; and it was just a playacting to see the arts and antics she put in practice to win his attention. In her garb, she had never any sense of a proper propriety, but went about the country asking for shapings of silk and satins, with which she patched her duds, calling them by the divers names of robes and negligées. All hitherto, however, had been moderation, compared to the daffadile of vanity which she was now seen... I cannot take it upon me to describe her; but she kythed in such a variety of cuffs and ruffles, feathers, old gumflowers, painted paper knots, ribbons, and furs, and laces, and went about gecking and simpering with an old fan in her hand, that it was not in the power of nature to look at her with sobriety.
Her first appearance in this masquerading was at the kirk on the Sunday following her adventure with Mr Melcomb... and when the kirk skailed, she walked before him, spreading all her grandeur to catch his eye...
Any other but Mr Melcomb would have been provoked by the fool's folly; but he humoured her wit, and, to the amazement of the whole people, presented her his hand, and allemanded her along in a manner that should not have been seen in any street out of a king's court, and far less on the Lord's day. But, alas! this sport did not last long. Mr Melcomb had come from England to be married to his cousin, Miss Virginia Cayenne, and poor daft Meg never heard of it till the banns for their purpose of marriage was read out by Mr Lorimore on the Sabbath after. The words were scarcely out of his mouth, when the simple and innocent natural gave a loud shriek, that terrified the whole congregation, and ran out of the kirk demented. There was no more finery for poor Meg; but she went and sat opposite to the windows of Mr Cayenne's house, where Mr Melcomb was, with clasped hands and beseeching eyes, like a monumental statue in alabaster, and no entreaty could drive her away...
In the evening it began to rain, and they thought that and the coming darkness would drive her away; but when the servants looked out before barring the doors, there she was in the same posture. I was to perform the marriage ceremony at seven o'clock in the morning... and when I went, there was Meg sitting looking at the windows with her hands clasped. When she saw me she gave a shrill cry, and took me by the hand, and wised me to go back, crying out in a heart-breaking voice, "O, Sir! No yet - no yet! He'll maybe draw back, and think of a far truer bride." I was wae for her and very angry with the servants for laughing at the fond folly of the ill-less thing.
When the marriage was over, and the carriage at the door, the bridegroom handed in the bride. Poor Meg saw this, and jumping up from where she sat, was at his side like a spirit, as he was stepping in, and, taking him by the hand, she looked in his face so piteously, that every heart was sorrowful, for she could say nothing. When he pulled away his hand, and the door was shut, she stood as if she had been charmed to the spot, and saw the chaise drive away... At last she gave a deep sigh, and the water coming into her eye, she said, "The worm - the worm is my bonny bridegroom, and Jenny with the many-feet my bridal maid. The mill-dam water's the wine o' the wedding, and the clay and the clod shall be my bedding. A lang night is meet for a bridal, but none shall be langer than mine." In saying which words, she fled from among us, with heels like the wind. The servants pursued; but long before they could stop her, she was past redemption in the deepest plumb of the cotton-mill dam.
Few deaths had for many a day happened in the parish to cause so much sorrow as that of this poor silly creature.
******
The Mystery Of It All
by Rosemary Pardoe
In my review of Ash-Tree Press's A Pleasing Terror: The Complete Supernatural Writings of M.R. James (G&S 33, pp.57-58) I wrote, concerning "Auditor and Impresario" (MRJ's parody of Christopher Marlowe's Dr Faustus): "I recommend reading this in parallel with Dr Faustus to see just how clever the spoof is, but it's still hilarious even if read on its own (and in complete ignorance of the original)". This is true, except in a very few places, particularly a couple of untranslated Latin quotes. The editors of A Pleasing Terror helpfully supplied new footnotes containing (correct) translations, but any peruser of these notes is bound to be left wondering just exactly how helpful they really are. Even in English, the quotes appear to make no sense whatsoever in their respective contexts. What is going on here?
"Auditor and Impresario" was written to be performed at a Smoking Concert of the Cambridge Amateur Dramatic Club in 1907, in response to two performances of Dr Faustus given by the A.D.C. late the previous year (in which, incidentally, Rupert Brooke appeared). It was not published until 1927 in the Cambridge Review, and A Pleasing Terror marked its first reprint. The initial Latin quote comes in Act II:
F. (Faustus): ...What is the best thing to commence upon? [in his study for the Necromancy paper]
Shall we - excuse me - you were going to speak?
M. (Mephistopheles): Quem ardorem studii censetis fuisse in Archimede
qui dum in pulvere figuras describit attentius
ne patriam quidem captam esse senserit.
A. (Auditor): I beg pardon - I didn't quite catch the bearings of that.
I. (Impresario): Really not? Why it means of course that just as Archimedes (pauses) - or, rather -
A.: Don't trouble - I daresay we shall see the point of it in a minute.
I.: (relieved) Yes, I expect we shall. But anyhow, I think the Latin adds so much to the mystery of it all. Don't you feel that?
The Latin translates as: "What an intensity of interest you realise was in Archimedes, who, while he was writing down figures in the dust too attentively, did not even realise that his homeland had been captured". The Auditor has every reason to be deeply puzzled!
There is no parallel text to this in Dr Faustus itself, but it would seem that MRJ was parodying Marlowe's possibly rather excessive use of untranslated Latin in several scenes, peaking in Act I, Scene II, where Faustus recites a fifty-eight word spell ("Sint mihi dei Acherontis propitii! etc." - "May the gods of Acheron smile on me!...").[1]
MRJ's second Latin quote comes a few lines later:
F.: ...I see that one among the subjects set
Is the discovery of buried treasures.
Now with that object how should one proceed?
M.: Cibus eorum lacte caseo carne constat.
F.: (after a short interval of reflection) Well, I am answered. I suppose one would.
A.: Did he say Kronstadt?
I. : Yes, I rather think he did. Very much to the point, I thought.[2]
The translation of Mephistopheles' words is: "Their food consists of milk, cheese, and meat".
Here, there is a direct parallel in Dr Faustus, and it is one which, unlike MRJ's, does make sense (or, at least, has relevance!) in its context (Act II, Scene III):
F.: Well, resolve me in this question: why have we
not conjunctions, oppositions, aspects, eclipses all at one
time, but in some years we have more, in some less?
M.: Per inaequalem motum respectu totius.
F.: Well, I am answered. Tell me who made the world.
The line translates as: "through unequal motion in relation to the whole". Notice the use of the same "Well, I am answered" response.
I've been able to track down the two "Auditor and Impresario" quotes by means of an Internet search. The longer is from Cicero's De Finibus Bonorum et Malorum, Book V, Chapter XIX, where the precise wording is: "Quem enim ardorem studii censetis fuisse in Archimede, qui dum in pulvere quaedam describit attentius, ne patriam captam esse senserit?" The event depicted happened during the fall of Syracuse in 212BC, in the Second Punic War (Archimedes was killed in the ensuing massacre). Cicero's work is one that anyone in MRJ's era would most probably have encountered during his school Latin lessons. A slightly different version of the same lines, for instance, appeared in a 1779 primer: De Viris Illustribus Urbis Romae a Romulo ad Augustum, by Abbot Lhomond, which paraphrased many great works of the past.
The shorter quote is a version of a line in Book VI, Chapter XXII of Caesar's Gallic Wars ("...maiorque pars eorum victus in lacte, caseo, carne consistit"), and refers to the Germani tribe. Again, the Gallic Wars would have been required reading for Latin lessons in MRJ's day (as, indeed, it still was when I took Latin 'O' level in the late-sixties).
So both texts should have been known - at some time in their pre-University years - to most of the attendees at MRJ's parody. Whether, as adults, they would still have been familiar with them is, of course, an entirely different question. MRJ was not one for underestimating his audience, but surely even he would not necessarily have assumed this. More likely he expected them to share at least some of the puzzlement of the Auditor. One of his intentions was doubtless to spoof Marlowe's (arguable) over-use of Latin (MRJ was not averse to including untranslated Latin in his own stories - "Oh, Whistle", for instance - but it was generally in small doses that he was confident his readers and listeners would understand). Also, however, in the reaction of the Impresario, he was making fun of the tendency of the poseur section of theatre audiences (now as then) to nod knowingly even when they understand nothing of what is happening on stage!
Notes:
[1] Dr Faustus translations are from the Glossary of the Drama Classics edition (Nick Hern Books, 1996).
[2] I keep being reminded of a scene in the magnificent "Fool for Love" episode of Buffy the Vampire Slayer (Season Five). During a flashback set in 1880, the four vampires - Spike, Angel, Drusilla and Darla - are holed up in a Yorkshire mine-shaft. Spike gets in a violent tussle with his grandsire, Angel, while Angel's "women" look on. Gleefully, the insane Drusilla claps her hands and cries: "The King of Cups expects a picnic, but this is not his birthday"; to which Darla, with an expression which is equal parts bemusement and resignation, replies: "Good point". MRJ's style of humour is as modern now as ever.
******
The Spanish Translations of
M.R. James's Ghost Stories
by Jorge Abraham Zepeda Cordero
M.R. James is known in the Hispanic world through a number of stories in anthologies of the horror genre, and through several translated collections. Jamesian fiction has had a good reception in Spain particularly, where at least nine volumes of selections from his ghost stories have been published.
The 1940s and 1950s
The first Spanish translation of MRJ's works to appear seems to have been the Libro de fantasmas (Book of Ghosts, Barcelona: Hesperos Press [Biblioteca Oberón Series 1], c.1947), which contained "Count Magnus", "Canon Alberic's Scrap-book", "Lost Hearts", "Number 13", "The Mezzotint", "Oh, Whistle, and I'll Come to You, My Lad", "The Treasure of Abbot Thomas", "A School Story", "The Tractate Middoth", "The Haunted Dolls' House", "A Warning to the Curious", and "Rats" - all of them translated by Rosa S. de Naveira. Eleven years later, Juan José López Ibor edited a huge Antología de cuentos de misterio y terror (Tales of Mystery and Terror: An Anthology, Barcelona: Labor Press, 1958, two vols.), whose first volume included "Casting the Runes".
The 1960s
In the early sixties, Acervo Press (Barcelona) published an anthology series entitled Narraciones terroríficas: antología de cuentos de misterio (Terrifying Stories: An Anthology of Mystery Tales). "Lost Hearts" was in volume three (1963); volume four (1964) contained "The Ash-Tree", "The Tractate Middoth", "Martin's Close", and "The Diary of Mr Poynter"; and volume five (1964) included "Count Magnus". José A. Llorens was responsible for the content of all these.
Another large anthology, Cuentos de terror (Terror Tales, Madrid: Taurus Press) appeared in 1963. For this, Rafael Llopis, translator and commentator to the volume, selected "There Was a Man Dwelt by a Churchyard", "An Episode of Cathedral History", and "The Diary of Mr Poynter". Mr Llopis, an enthusiast of Gothic Literature and the like, produced a new edition in 1982 (Madrid: Alianza Press, three vols.). The MRJ stories were in the second volume, between J. Sheridan Le Fanu's "Madam Crowl's Ghost", "Strange Event in the Life of Schalken the Painter" and "The Watcher", and Bram Stoker's "The Judge's House".
The 1970s
In Latin America, Monte Ávila Press published the anthology Breviario del estremecimiento (A Compendium of Fright, Caracas: [Prisma Series], 1970), which included "The Mezzotint", "Number 13", and "Oh, Whistle, and I'll Come to You, My Lad", translated by María Esther Vázquez.
In Spain, the second collection of MRJ's ghost stories appeared in 1973: Trece historias de fantasmas (Thirteen Ghost Stories, Madrid: Alianza Press), with a preface by Rafael Llopis and translations by Francisco Torres Oliver. Mr Llopis rewrote an article on M.R. James which he had published years before, and provided a historical and social context - as well as brief commentaries - to the works of the author. In the pages of this pocket edition were almost the rest of James's ghost stories that were published during his lifetime: "Canon Alberic's Scrap-book", "The Mezzotint", "Oh, Whistle and I'll Come to you My Lad", "A School Story", "The Rose Garden", "The Stalls of Barchester Cathedral", "Mr Humphreys and His Inheritance", "The Residence at Whitminster", "The Story of a Disappearance and an Appearance", "The Uncommon Prayer-Book", "A View from a Hill", "Martin's Close", "After Dark in the Playing Fields", and the essay "Stories I Have Tried to Write". Mr Llopis argued his predilection for the compiled stories, and having taken into account the ones he had already translated in 1963 and those available in previous volumes, he considered the rest to be of limited interest to Hispanic readers - a debatable issue, since "Two Doctors" was one of them (Llopis, 30).
Argentina showed its literary taste in 1977 with El enigma de las runas y otros cuentos de fantasmas (The Enigma of the Runes and Other Ghost Stories, Buenos Aires: Librerías Fausto Press), which contained an introductory note by Mirta Meyer and Carlos Gardini, translators of the volume, and a brief article by Jaime Rest entitled "El Dr James y sus placenteros fantasmas" ("Dr James and his Pleasing Ghosts"). This was an excellent aid to the reading of MRJ's fiction. The contents of El enigma..., selected by Roberto Dulce, were: "Casting the Runes", "The Tractate Middoth", "Rats", "A Warning to the Curious", "Two Doctors", "The Treasure of Abbot Thomas", "The Haunted Dolls' House", "Count Magnus", "The Diary of Mr Poynter", "The Ash-Tree", "Number 13", and "Lost Hearts". This particular edition was important because it offered an equivalent to early translations published in Spain.
The 1980s
There was a long gap until 1985, when Colección de fantasmas (A Collection of Ghosts, Barcelona: Forum Press [Biblioteca del Terror Series 90]) was published. The translation was by Alberico Cortón; no details are available about its content. Three years later, Cuentos de fantasmas (Ghost Stories, Madrid: Siruela Press [El Ojo sin Párpado Series 10]) appeared. Presented by Juan Antonio Molina Foix, it contained the Spanish translations by Mirta Meyer and Carlos Gardini taken from their previous volume (except for "Count Magnus", which was not included in this selection), Ana Poljak ("Wailing Well", "Martin's Close", "An Evening's Entertainment", and "A Neighbour's Landmark"), and José Luis López Muñoz ("The Mezzotint"). This anthology was later reprinted in the Pocket Series of the same publishing house. Also in '88, Juan Antonio Molina Foix produced his splendid anthology El horror según H. P. Lovecraft (The Horror According to H. P. Lovecraft, Madrid: Siruela Press [El Ojo sin Párpado Series 13, 14], two vols.). Based on the famous Lovecraft essay Supernatural Horror in Literature, Mr Molina selected a good number of masterpieces for it, amongst which "Count Magnus" was the one that represented James's work (volume two). In 1990, Tomás Doreste compiled a four-volume Antología del horror y del misterio (Anthology of Horror and Mystery, Mexico: Grijalbo Press). "Lost Hearts" and "The Ash-Tree" were in volume two, and "Count Magnus" appeared in volume four.
The 1990s
There were four new editions of James's stories in 1991. The first was Historias de fantasmas (Ghost Stories, Madrid [Biblioteca de El Sol Series 80]), which contained "Mr Humphreys and His Inheritance", "A View from a Hill", and "Stories I Have Tried to Write". Cuando anochece en el parque (After Dark in the Playing Fields, Madrid [Biblioteca de El Sol Series 86]), reunited "The Stalls of Barchester Cathedral", "Story of a Disappearance and an Appearance", "The Uncommon Prayer-Book", and "After Dark in the Playing Fields". Next was Silba y acudiré! (Oh, Whistle, and I'll Come to You, My Lad, Madrid [Biblioteca de El Sol Series 111]), with three tales besides the title one: "Canon Alberic's Scrap-book", "The Mezzotint", and "A School Story". These three volumes were translated by Francisco Torres Oliver, and published by the Compañía Europea de Comunicación e Información. The fourth 1991 selection was Historias sobrenaturales (Supernatural Stories, Madrid, Mirach Press [Cara Oculta Series]) whose translators were Rosemary Solly and Inés García González. Their choices were: "Number 13", "The Ash-Tree", "Count Magnus", "Oh, Whistle, and I'll Come to You, My Lad", "The Treasure of Abbot Thomas", "A School Story", "The Rose Garden", "The Tractate Middoth", "Casting the Runes", "The Stalls of Barchester Cathedral", and "Martin's Close".
Once more, a long period of time went by before Corazones perdidos [Cuentos completos de fantasmas] (Lost Hearts [Complete <sic> Ghost Stories], Madrid: Valdemar Press [Gothic Series 25]) appeared in 1997. This was the long-awaited Spanish version of The Collected Ghost Stories of M.R. James, with its preface that brought to the Hispanic reader, for the first time, the author's own views concerning his work. Francisco Torres Oliver was responsible for this important task.
1997 was also the year when MRJ reappeared in anthologies: C.E. Feiling included "Oh, Whistle and I'll Come to You, My Lad" in Los mejores cuentos de terror (Best Terror Tales, Rosario [Argentina]: Ameghino Press). Another South American contribution to Jamesian Spanish translations was the volume edited by Natalia Roa Vial, Relatos de misterio (Mystery Tales, Santiago de Chile: Andrés Bello Press, 1998), which featured "The Mezzotint" translated by E. A. B.
The absence of a more ambitious anthology for the Hispanic public - with MRJ's prefaces to the original volumes, the remaining tales not in the Collected Ghost Stories, etc. - is evident. Maybe this gap will be filled in the not-too-distant future.
Works Cited:
Llopis, Rafael, "M. R. James o el apogeo del fantasma" ["M.R. James or the Ghost at its Height"], in M.R. James, Trece historias de fantasmas, Madrid: Alianza Press, 1973 (El Libro de Bolsillo 486), pp.7-30.
Editor's Note:
"The Demon in the Cathedral", an article by Robert Freeman Bound and Ramon A. Pantoja Lopez in Fate magazine, September 1977 (pp.74-78), was supposedly an account of a real event in the history of Mexico Cathedral, but actually relied for most of its details on "An Episode of Cathedral History". When readers of the magazine wrote in to point this out, the response of Bound and Lopez (Fate, February 1978, p.113) was to assert that they had "absolutely no knowledge of anything written by M.R. James and to date... have not been able to locate any of his works, in Spanish or English, here in Mexico City". This always seemed unlikely, but Jorge Cordero's researches have now shown not only that many of MRJ's tales were reasonably accessible in the Spanish-speaking world by the late 1970s, but also that "Episode" itself had been available in a Spanish translation since 1963. (See my article "The Demon in the Cathedral: A Jamesian Hoax" in All Hallows 1 [Ghost Story Society, 1989], which can also be read in the "Other Stuff" section of the on-line Ghosts & Scholars Archive.)
******
The Night-Raven
by Rosemary Pardoe
In her Ghosts & Scholars article "Ghosts & Posts", Jacqueline Simpson discussed MRJ's "The Rose Garden", mentioning that in Danish tradition a vicious ghost, when released, sometimes "manifests itself as a sinister bird, a 'night-raven', which makes uncanny noises by night" (G&S 22, 1996, p.47; reprinted as a footnote on p.127 of A Pleasing Terror, 2001). She also noted the possible connection between the night-raven and "The Rose Garden" in "'The Rules of Folklore' in the Ghost Stories of M.R. James", her 1996 presidential address to the Folklore Society (published in Folklore 108, 1997): "In Danish belief, if the ghost is released by uprooting its stake, it may manifest itself as a sinister 'night-raven' (a night-jar?); hence, possibly, the owl in James's story" (p.13).
Could MRJ have been implying that the bird which Mrs Anstruther assumed to be an owl in "The Rose Garden" was something of a less strigine, but even more inauspicious, nature? The relevant quotes do seem to leave the door open to this interpretation. After the post in the garden has been uprooted, Mrs Anstruther has a disturbed night and says to her husband:
"...you must tell him [Collins, the gardener] to do something about the owls. I never heard anything like them, and I'm positive one came and perched somewhere just outside our window. If it had come in I should have been out of my wits: it must have been a very large bird, from its voice."
Then, just before the final manifestation of the "Vignette"-like face, "a bird (perhaps) rustled in the box bush"; and following the Anstruthers' departure something "like owls" still bothers the nearby residents, although tending to die out after a while. With most other authors it would be sufficient to explain these references by citing the traditional role of the owl as a bird of ill-omen, but MRJ was fond of owls and they are almost invariably shown in a favourable light in his other tales (there are, admittedly, exceptions: notably the owl - again perching in a window - in "The Story of a Disappearance and an Appearance").
I think it's very possible that MRJ did have the night-raven in mind in "The Rose Garden", for he was not only familiar with the tradition (especially via his enthusiasm for the works of E.T. Kristensen), but sufficiently interested in it to devote an entire page to the subject in his Preface to Hans Andersen: Forty Stories (1930, pp.23-24). Since he was commenting on no more than a couple of passing mentions of the night-raven in Andersen's story "The Elf Hill" (where the bird delivers the invitations to a ball in the Elfin Mound), his coverage would seem to be out of proportion in a Preface which, in total, is only twelve pages long. Here is what he says about this strange creature which so clearly piqued his imagination:
What is a night-raven? In natural history and real life one must suppose it is a nycticorax, but that appears to be a night-heron, which never caused anxiety to anybody, whereas the poet of the libretto of the Music in Macbeth says, "At the night-raven's dismal voice, When others tremble, we rejoice," and yet more convincingly Benedict in Much Ado observes, "I pray his bad voice bode no mischief. I had as lief have heard the night-raven, come what plague could have come after it." Whence we gather that the sound was preternatural and ominous. Had Shakespeare been asked, I think he would have told us that a night-raven was no ordinary bird. Certainly it is not in Denmark. This is what we learn of it from Kristensen.

A night-raven is a person that has been buried where three boundaries meet, and has done a wrong. There are certain veins or passages underground that they have to work along before they can get out. When they do come up they go faring all about. A girl had been out milking one evening and she heard the night-raven, and said (something rude) [was this coyness MRJ's or Kristensen's?] to it. But it came after her, and she had to hurry to get within doors and shut the door, and in the morning the door was all over blood.

Another man tells how when he was a boy, late one summer night he heard a strange bird flying from the westward overhead with a loud cry, and asked what it was. "Don't you meddle with that," said a man, "that's the night-raven." "I wasn't meddling with it, I only asked." Later on he heard the old people say that everyone that put an end to themselves had to be buried where three boundaries met, and they can dig themselves out at the rate of a grain of sand a year, and after many years have gone by they come up and take their flight towards the Holy Sepulchre; but they can only fly a certain distance a year. So perhaps it might be several hundred years before they could get there.
Michael Cox (Casting the Runes, 1987, pp.318-319; A Pleasing Terror, p.132) is doubtless correct in identifying the ghost in "The Rose Garden" as that of Sir William Scroggs (?1623-1683), Lord Chief Justice prior to Judge Jeffreys. If so, Scroggs' "brutal zeal" and disreputable practices ("one of the worst judges that ever disgraced the English bench", according to his entry in the Dictionary of National Biography) would surely qualify him as having "done a wrong". MRJ says that "Sir --- ---" in the story "is supposed to have died... of remorse", which does at least raise the possibility of suicide, although I can find no information on how William Scroggs met his end. A detail not noted by Cox is that Scroggs' estate was at South Weald, near Brentwood, in Essex. This is a little further south than the location of the Anstruthers' "Westfield Hall", which seems to be closer to the Rodings ("Roothings" in "The Rose Garden"), north-west of Chelmsford. South Weald is, in fact, approximately ten miles south of Abbess Roding ("Priors Roothing"?). Was it bothered by "a vicious ghost" after Scroggs' death (the DNB says that he died at his townhouse in London but was buried at South Weald - in the church, however, and not under a post in the grounds of his manor!)? One small piece of circumstantial evidence points temptingly in that direction: just two years later, in 1685, his family sold up the estate at South Weald and moved elsewhere!
This article was originally published in The Night-Raven, Everlasting Club mailing 54 (March 2002). The following two responses from TEC members are adapted from their contributions to the next mailing (May 2002):
Jacqueline Simpson: I've been trying to find properly documented replies to the queries raised in "The Night-Raven" about the links between evil ghosts in bird-form, the Danish "Night-Raven", the English ditto, Kristensen, Andersen, and M.R. James.
To my mind, the owl, or more-than-owl, in "The Rose Garden" has always seemed to be more than the conventional death omen of folk and literary tradition; I associate it with the mysterious and malevolent owl in the final section of Sheridan Le Fanu's "The Familiar", which I take to be actually the vengeful ghost pursuing Captain Barton, transformed into (or possessing) the girl's pet owl in order to gain entry to Barton's well protected house. It gets into the bedroom, where either it or the ghost causes the death of the unfortunate Barton, leaving indentations on the bed. Even if one does not agree that Le Fanu's owl is a transformation of the ghost, it is surely acting as its close and conscious ally. Similarly, there are oblique hints that the bird in "The Rose Garden" is rather more than a bird.
I tried to track down the stories in Evald Tang Kristensen which MRJ referred to in his preface to Andersen, as quoted in your article, but it proved frustrating. The problem is that Kristensen was a very, very prolific collector of folklore. He published five collections of "Jutland Folk Legends" and "Legends and Superstitions from Jutland" at various dates between 1876 and 1888 (two of which are in the British Library), and two series of "Danish Legends", with six volumes each (in University College, London). I do not know whether any British library has copies of the remaining three Jutland books, which include ones MRJ alludes to in the notes to his "Twelve Medieval Ghost-stories" of 1922. ETK also sometimes printed tales in a journal he edited. I couldn't find any stories about night-ravens at all in the two Kristensen collections I've examined so far.
However, I did find a useful summary of the belief in Benjamin Thorpe's Northern Mythology (p.375 in the recent paperback reprint), translated from J.M. Thiele's Danmarks Folkesagn, 1843. The bird is definitely identified with the "exorcised" ghost, i.e. one which has been driven to a remote spot and staked down in the ground. Thiele wrote:
Every exorcised spirit becomes, according to tradition, a night-raven. At the spot where a spirit has been exorcised, a sharp stake is driven into the earth, which passes through the left wing of the raven, causing a hole in it. It is only through the most frightful swamps and morasses that the night-raven ascends. It first begins under the earth with a cry of "Rok! Rok!" ["Shake! Shake!" or "Twist! Twist!"], then "Rok op! Rok op!" ["Twist up!"], and when it has thus come forth it flies away screaming "Hei! Hei! He-ii!" When it has flown up it resembles a cross, and at first hops on the ground like a magpie, and cries "Bav! Bav! Bav!" It afterwards flies towards the east, to approach the Holy Sepulchre, because if it can come thither it will get rest. When it flies overhead, care must be taken not to look up, for if anyone sees through the hole of its left wing, he himself becomes a night-raven, and the night-raven is released. In general the night-raven is harmless, and strives only to go farther and farther towards the east.
In reply to your specific question as to whether it would be ETK or MRJ who coyly referred to the girl saying "something rude" to the night-raven, I'm sure it must have been MRJ. ETK was emphatic that he wanted to preserve not just the bare bones of tales but the way the farmers used to tell them, including coarse terms and dialect words; this in fact offended the educated public in Copenhagen, and was one reason he found it hard to get published and often had to pay the printer himself. Danish peasant coarseness seems, from what I've read in ETK, to have been a matter of "arse" and "shit". There's a tale, for instance, about a girl who meets a ghost in a church or churchyard, which says "Look at my red eyes, how red they are!" Undaunted, she retorts "Look at my black arse, how black it is!" Exit ghost, appalled. So I imagine that that, or something similar, is what the girl said to the night-raven.
[MRJ could be a bit of an old lady at times. I came upon another example recently. In the MRJ/Jessopp translation of Thomas of Monmouth's Life and Miracles of St William of Norwich (1896), they leave untranslated one section, concerning a miracle associated with the saint's relics ("How William the Sacrist of Norwich was cured of headache, and deafness, and dimness of sight"), saying: "The reader is referred to the original for the minute particulars of this unsavoury case". Such being a red rag to a bull as far as I'm concerned, I had a quick look at the Latin to see how a case with apparently innocuous symptoms could be so "unsavoury". In fact, it seems that the Sacrist had other problems, involving a disease of the penis or urinary tract or both, with an unfortunate tendency to piss coagulated blood and other substances ("Interdum quoque per illud uirgule uirilis membrum sepissime liquidum et plerumque coagulatum emingebat sanguinem")!]
F.E. Mackie: On the night-raven in literature, the first thing that sprang to mind was Edgar Allan Poe, and then the Gespensterbuch of Johann Apel and Friedrich Laund (1810). One of the stories included is Der Freischutz, the original version of which provided the material for the libretto of the opera of the same name by Carl Maria von Weber. The hero, a young man who has to prove his hunting prowess in order to gain his bride, is seduced by the Fiend in a Faustian-type set up into making the Magic Balls. (Terrifying though this text is, it is hard to read without the occasional schoolgirl smirk.) To accomplish the task, he has to go to the crossroads at midnight and, having drawn a circle, must cast the balls (or shot). Whilst doing so he must speak to no one and not leave the circle. However, the Devil sends all manner of spectres to confront him, and also (at last I get to the point) several owls and night-ravens come and make horrid noises among the trees and the skulls and bones he has scattered about the magic circle.
...then the forest began to be in motion; the night ravens, owls, and bats, fluttered up and down, blinded by the glare of light. They fell from their boughs, and placed themselves among the bones around the circle, where, with hollow croakings and wild jabberings, they held an unintelligible conversation with the skulls. Momentarily their numbers increased, and among and above them hovered pale cloudy forms some shaped like animals, some like human beings. The gusts of wind sported frightfully with their dusky vapoury forms scattering and re-uniting them like the dews of the evening shades. One form alone stood motionless and unchanged near the circle, gazing with fixed and woeful looks at William; once it lifted up its pale hands in sorrow, and seemed to sigh. The fire burned gloomily at the moment; but a large gray owl flapped its wings, and fanned the dying embers into light. William turned shivering away; for the countenance of his dead mother gazed mournfully at him from the dark and dusky figure. The bell tolled eleven; the pale figure vanished with a groan; the owls and night ravens flew screeching up into the air, and the skulls and bones clattered beneath their wings (translation from Tales of Terror or Mysteries of Magic, 1833, compiled by Henry St Clair).
Grand stuff! The rest of the narrative only refers to owls.
[Membership of the Everlasting Club is open to everyone who is interested in discussing ghost stories and supernatural fiction in all - and I do mean all! - its shapes and forms. You don't need to be particularly knowledgeable, just keen enough to produce at least ten A4 pages or equivalent on the subject a year, in as scholarly or as chatty a format as you like. For more information, write to the current administrator: Katherine Haynes, 150 Elstree Park, Barnet Lane, Borehamwood, Herts, WD6 2RP, England.]
******
Queries
A question from Mark Nicholls: Is the owl in "After Dark in the Playing Fields" based on any identifiable Etonian character, or is it just another example of James taking the chance to play with accents and speech mannerisms? No doubt someone has worked on this odd little tale, and you will be able to tell me. Slight it might be, but "After Dark" is a creepy story, especially in the coda, where James really lets rip - another rather interesting example of how he can indeed, as has been documented once or twice recently and as you say on p.4 of Newsletter #1, handle the panic inherent in out-of-doors settings so very well.
[I agree about the effectiveness of this underrated story, but can't help over the owl. It had never occurred to me that it might be based on a specific (human) character, but it's worth considering. Perhaps someone with greater knowledge of Eton can offer their thoughts.]
---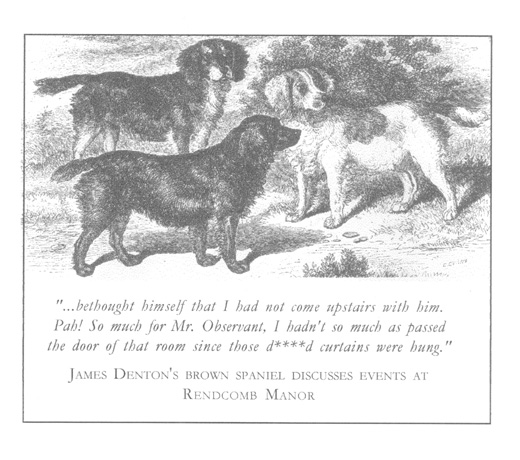 ---
MRJ at Auction
by Donald Tumasonis
The following notes are offered in the hope that, with enough input from others who may spot similar data in future, an ongoing M.R. James price records index can be established as a feature in these pages. Such a record will allow collectors of his work to track his prices in the secondary market, and give them some idea of the actual worth of their collection in monetary terms.
Auction prices are taken as the true criterion of the market value of a book. Dealer prices include a profit margin of anywhere from 100 to 300% or more these days, and, while useful for insurance valuation and replacement cost estimates, do not realistically represent the actual value of a printed item, which here is interpreted as being what the market, be it dealer or collector, is willing to pay for a given lot at auction.
The prices below are in each instance the hammer price or the price a lot is knocked down for in the salesroom; the buyer's and seller's 'premium' or commission are not included. These charges, varying with the individual auction house, will add perhaps 10 to 20% to the cost of buying or selling a book, over or below the hammer price realised. Thus a book bought at £200 hammer price may cost the purchaser up to £220 plus any shipping charges, once the commission charges are added. Conversely, a lot sold for the same price of £200 will dwindle to a lesser amount for the vendor, once the commission fee, insurance costs, and any additional fees - such as photographic reproduction of an item in a catalogue - are deducted.
It is useful to realise that because of a paucity of superior material, owners of noteworthy collections can significantly lower the commission charged through negotiation; buyers, particularly non-trade, seldom have this option.
Recent Prices:
Ghost Stories of an Antiquary 1st edition, 1904. Original cloth; illustrated. Missing front free endpaper. 16pp catalogue (Nov. 1904) in back. Light foxing, cracked inner hinges, somewhat rubbed and soiled, together with More Ghost Stories of an Antiquary 2nd printing, 1912, publisher's catalogue 22pp at rear. Original cloth. Some foxing, rubbing, with wear to top spine and spine itself.
Hammer price: £220. Lot 641, Dominic Winter, 30 January 2002.
The Five Jars 1922. Original cloth binding. Rubbed and somewhat soiled.
Hammer price: £90. Lot 642, Dominic Winter, 30 January 2002.
[Please send in auction prices for any MRJ-related items you encounter, for recording in future issues.]
---
Letters
David Rowlands (Iver, Bucks): I enjoyed Carl Jay Buchanan's piece on Mr Humphreys' maze, though not inclined to follow him or to agree his interpretations. But I think he does the ebullient Mr Cooper an injustice or two. Cooper isn't a gardener - he's the Bailiff/Agent, or what today would be called the Estate Manager. He's also good at his job: MRJ specifically informs us that Cooper "had the business of the estate at his fingers' ends". Clutterham is the (Head) Gardener, in fact. I was puzzled by CJB's insinuation from Cooper's "angels fearing to tread" remark, implying that either we (the readers) or Cooper must think Humphreys a fool. MRJ makes it clear (via Humphreys' impressions) that Cooper had no such thoughts in mind in making his quotation; nor is there any reason at this stage for us to think so. I was glad to see Lady Wardrop given her due - her expert knowledge contributes as much to the understanding as anyone does, and I only wish MRJ had made a bit more of her. (He had a habit of throwing away good characters.)
Despite the setting, and where the whistle was found, there's not really any reason to think the 'whistle' had any direct link to the Templars, is there? (Obviously Jonathan Miller didn't think so - if I can mention him without giving Rosemary apoplexy!)
***
David Longhorn (Gateshead): The stand-out item for me is Carl Jay Buchanan's essay. A very insightful piece, crystallising all the vague thoughts I'd had about the story down the years. "Mr Humphreys" is a great favourite of mine, if not my number one MRJ story. It's always nice to know that such opinions are not totally dotty.
I also found the Index very interesting - did I really write all those clerihews? [Oh yes!]
***
Chico Kidd (Ruislip Gardens, Middlesex): I found the "Mr Humphreys" article utterly fascinating. It always amazes me how much can be read into (and out of) any given piece of writing, and how that deconstruction can enhance one's enjoyment of same.
***
Mark Nicholls (Cambridge): Carl Jay Buchanan's article is deeply interesting - you'll almost have me liking the story if you and your fellow Humpreysites keep this up. Almost! It still strikes me that the best James tales work their magic from the first reading, and just get better and better. Mr H. gets better all right, but I fear he puts too many people off first time round to be right up there with the best. However, I like "Two Doctors", so what do I know?
You ask on p.13 ("The Man in King William Street") why James did not spot his error over Stewart/Wilson at the proofing of Eton & King's. Surely fifty years is long enough for anyone to develop mild confusions of this kind. Many of us manage them in a shorter space of time. Think of all those tales, polished in the retelling, that grandparents tell. Oral history interviewers run up against this again and again: Snooks, who was present at some event, says and believes one thing; Bloggs, also present, says and believes something flatly contradictory. It is all very human.
So too is the 'woolgathering' over south and north in "A Warning to the Curious", which you mention on p.16. But here, is it woolgathering? I believe that James on occasion throws up geographical inconsistencies and non-sequiturs. This is fiction, after all, and to those in the know it rather adds to the effect - the reader is stepping off the map, to a place (credible enough in rural Suffolk) where geographical rules do not apply. Don't you see this, for example, with the location of the grave in "A School Story"? Why should it be in Ireland, but, then again, why not? It is, as it should be, troubling! Actually, in my G&S 27 story "The Passing of Merchant Jan", I gave Finland an eastern coast, which I thought might concern more people than it did. Homage to MRJ!
You are surely right to insist on Dunwich as the site of the royal palace. Dunwich, of course, had two palaces - royal and episcopal. I recall one nineteenth-century Gazetteer - J. H. F. Brabner's I think - calling Dunwich the former 'metropolis of East Anglia', a nice thought when one wanders around the place nowadays. Certainly I don't think James could have meant Sutton Hoo, since excavations there only began in 1938, and the full significance of the place was not, I suspect, at all appreciated before that date. The new visitor centre at Sutton Hoo looks a good bet for a day out.
Re Steve Duffy's suggestion that 'The Whistle as trap' hardly seems fair. Why on earth should it be fair?! Surely the thing is indeed just that, a trial or test of fidelity and restraint. A sort of medieval version of dressing your newspaper reporter up as a sheikh loaded with used fifty pound notes and going looking for cabinet ministers or football managers. Is the 'extraordinary' wind anything more than the manifestation of the summonable spirit, without rest? Not being strong on the Knights Templar I cannot say!
***
Phil Attewell (Borehamwood, Herts): Roger Johnson's puzzlement over where exactly was MRJ's "Saxon royal palace" as quoted in "A Warning to the Curious" mirrored my own, the first few times I read the story. However, we must remember that it is a story, and one of Monty's strengths was his ability to mix and match fact and fiction into a thoroughly believable whole. I think this is exactly what he seems to have done in this case.
The first mention of a "Saxon" (to be precise, it should be Anglian) palace in the area is in Bede's 8thC Ecclesiastical History of the English People, where he refers to the East Anglian king's "country-seat at Rendlesham". Monty was well aware of this, as he refers to it on p.11 of his Suffolk and Norfolk guide book (1930). Rendlesham, as Monty points out, "isn't on the coast, but it isn't so very far inland" (about 6.5 miles), but, wherever exactly the historical palace was (and nobody knows at present - perhaps this would be a good assignment for a future Time Team!) it is not, and never has been, under the sea. Nearby Sutton Hoo, as Roger states, never had a palace, and the burial mounds did not yield up either their royal significance or their treasures, until after Monty's death. Nor, of course, is it under the sea. As Rosemary points out, the only well-known local site "now under the sea" is the medieval city of Dunwich, further north up the coast. There was no Saxon royal palace at Dunwich, but never mind: combine one real flooded city with one real royal palace, make a fictional inundated Saxon palace, and you add a bit of atmosphere and sensation to the yarn, intriguing enough to have readers discussing it nearly eighty years later!
To my mind, though, the real mystery in this particular paragraph from the story is the mention of the crown found in 1687, which was "alas! alas!" melted down. MRJ mentions this as a real incident in his Suffolk and Norfolk. There he laments its fate as being "painful to relate", as indeed it would be, as there is no other record of a genuine Anglo-Saxon crown ever having been found. Monty gives his source as Camden, or his editors, and says that they muddled Rendlesham with Mendlesham (also in Suffolk) and reported the crown, weighing 60oz and said to be that of King Raedwald, as being in both places! Raedwald, of course, is the favoured candidate for the king buried in the ship at Sutton Hoo, so for his crown to have been found at nearby Rendlesham wouldn't be so improbable. We'll never know now!
---
go to Newsletter Issue 1
back to Jamesian News Page
back to Ghosts & Scholars Home Page