---
The Watt cyclemotor
by Andrew Pattle
The Watt cyclemotor was built in 1952 by Mr Angus Watt of Westburn Road, Inverurie, Aberdeenshire. Mr Watt was a first-class engineer and was employed at the Great North of Scotland Railway Works in the days when they made their own steam locomotives and rolling stock.
The engine of his cyclemotor was mounted on the right-hand side of the bicycle frame, alongside the rear wheel. A normal bicycle chain was used for the primary drive to a clutch on a counter-shaft halfway along the seat stay. Thence the drive was transmitted by another chain to the Sturmey-Archer 3-speed hub in the rear wheel. Bore and stroke of the engine were 1.675×1.5 inches giving a capacity of 51cc. The carburettor was an Amal type 308 and ignition was supplied by a Wico-Pacy Bantamag. With the exception of the magneto and carburettor, all the engine parts were made by Mr Watt himself, or cast by a local foundry using his patterns.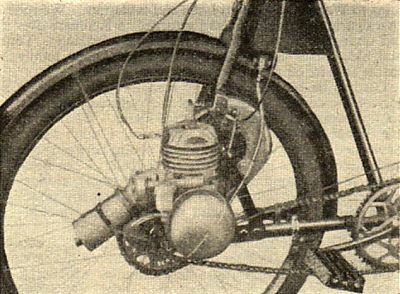 The Watt Cyclemotor
A triangular fuel tank was mounted above the rear wheel, between the seat stays and the seat tube. Separate controls for the throttle and decompressor were mounted on the handlebars and a locking clutch lever was situated on the top tube.
Two of the unusual components in this motor's construction were a knitting needle, from which the big end bearing rollers were made; and an aluminium kettle, the base of which provided the chain-guard for the counter-shaft.
The cyclemotor completed over 1,000 trouble-free miles in its first year of service.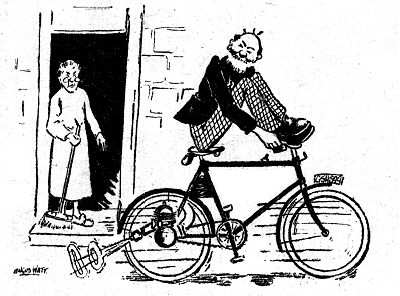 After Angus stopped using the cyclemotor, he mounted the engine on a wooden board and had it running as a stationary engine.
The engine still ran perfectly up until Angus's death on the 3rd July 1967 aged 64. The engine survive, owned by a member of the Watt family until 2014m when it was donated to the Grampian Transport Museum in Alford, Aberdeenshire.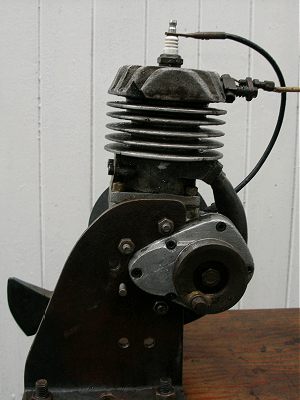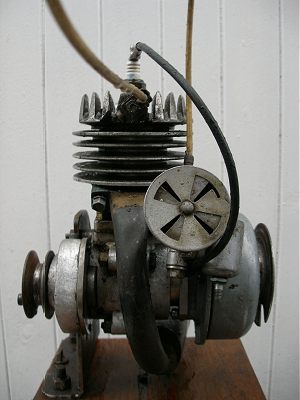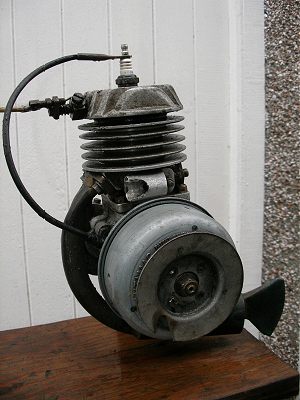 The Watt engine in January 2008
---
This article was first published in Buzzing, Volume 1, Number 1 in Spring 1982.
It was revised in January 2008 and again in April 2014.
---