Go to the Archive index
---
Dessin - Marcel Menesson 1940
Réalisation - Maurice Goudard 1946-1988
Documentation - Dominique Pascal, Jean Goyard, Franck Meneret
Avec: Jacques Tati, Huguette Hué, Janine Villa, Robert Redford, Phillipe Noiret et les autres.
Fear not, "Buzzing" isn't descending into an "art-mag", just a French filmic setting for the most filmed cyclemotor of all, Le Solex. Eat your hearts out, riders of Mini-Motors and Cyclemasters, but it remains a fact that the only cyclemonster to make a career in films was the Solex.
The first Solex to be ridden to effect on film in other than a background rôle was the 45cc model mistreated by French comic Jacques Tati in the 50's "Mon Oncle". For non-cinéastes, Tati was one of the few manifestations of a French sense of humour, a bumbling, gangling figure who played on the inability of humans to overcome the very real hazards posed by inanimate objects. The Solex was mistreated but continued to run, just, with Tati pedalling away in a mac, trilby hat and pipe, his visual trademarks.
Huguette Hué? Oublié, forgotten, as the French say, though pictures of this actress on her 330 exist.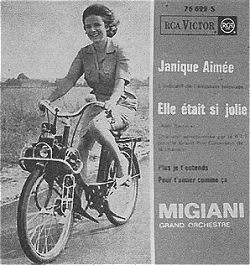 Naturally, the French have "soap" series just like us and a famously remembered one was "Janique Aimée", shot in black and white in the 1960s. The heroine was Janine Villa who successfully reconciled the twin objectives of appearing dressed in the height of fashion - fur coat and high heels in winter; low-cut blouses, short skirts and high heels in summer - and transportation by riding a 2200 most photogenically whilst on the way to meet her lover. Very French.
Over to New York and Robert Redford. He played the clean-cut hero of "Three Days of the Condor" (The book was "Six Days of the Condor" but that's Hollywood!) who rode his 3800 through the city traffic to his office, which he finds full of dead men, a machine-gun gang having just departed. Through the ensuing attempts by Redford to avoid the same fate as his workmates the Solex remains, chained to the railings at the front of the bureau. Max von Sydow is the villain; it's a good film, watch it if you can.
Better yet is "Les Ripoux", marketed in Britain as "Le Cop". Ripoux is back-slang for Pourri, which means "rotten" in French and "Les Ripoux" is about a couple of corrupt cops; the older, Phillipe Noiret, a great and under-rated French actor, systematically leading his new, young inspector Thierry L'Hermitte into crime, but in a cheerful way. The race to the betting shop is unmissable.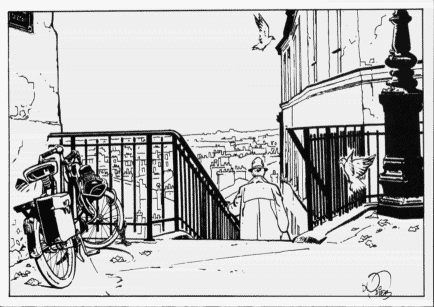 In this film, the Solex is only a silhouette shot against some railings in the background of a sequence where Boisrond (Noiret) shafts his former sidekick into jail. This illustration is almost mirror-image of that shot, taken from the top of the steps, not the bottom. It can be bought from the bouquinistes adjacent to the St Michel fountain on the left bank of the Seine in Paris. I must go again, I need another copy.
FIN
Mr Champ's wardrode: Oxfam
Assistant to Mr Champ: Keith Walker
Mr Champ's Solex by SINFAC, Courbevoie, France
Un Film de Robert Cordon Champ
First published - April 1994
---

Go to the Archive index
or A Book, A Film & A Play
Cyclemotors make forays into the arts very rarely; not many operas have a part for a Norman Nippy. Nevertheless, inspired by Bob Champ's list of screen rôles for the VéloSoleX, I have come up with these:
The Play
Habeas Corpus by Alan Bennett was staged at the Wolsey Theatre, Ipswich and the production saw one of the characters (Canon Throbbing, I think) riding onto the stage on a Honda - you know, the one with the engine in the back wheel, a P50 isn't it? First night was Wednesday 16th October, 1985.
The Film
Entertaining Mr Sloane. The 1970 film adaptation of Joe Orton's play featured a BSA Winged Wheel, and in a reasonably large part too. None of this leaning against the railings in the background nonsense.
The Book
The Beckoning Lady by Margery Allingham. Not strictly a cyclemotor, but a machine much-loved by NACC members so I feel justified in including it. Towards the end of the book there is a telephone conversation between Albert Campion and Magersfontein Lugg:
" ... Tell 'em I'm coming. I've got a lot to do down there, and if you're right on this lark there'll be a bit more."
"So there will." Mr Campion sounded non-committal. "It's important, though, because I've got an idea."
"Chalk it up." The flat voice was derisive. " 'Old on to it, Don't let it escape yer. That's what the bloke said 'oo 'ired me my transport."
"Good heavens, what is it? Equine?"
"No. One of them little motor-scooters you can drop by parachute. A Sealy'am."
"Corgi. My hat Lugg, are you all right? Be careful."
"That's what they all say." Lugg was heavily amused. "I got a percession o' motors be'ind me all follerin' to see me blow up. A very ignorant type of person in'abits these parts. Under-entertained. Every now and again I show 'em - look, no 'ands! Wot yer."
Mr Campion hung up and went into the dining-room.
A couple of chapters later, Lugg re-appears in the narrative:
Mr Lugg, despairing of any other method of attracting his employer's attention, edged his way through the cigar and brandy fumes in the barn, and touched him on the shoulder.
Mr Campion rose at once, leaving the civilised warmth, and came out into the meadow.
"What happened?" he demanded.
"Fell 'orf."
First published - October 1994
---

Go to the Archive index