Go to the Archive index
---
A True Story
Story by William Beggs, Cartoon by Tom Brown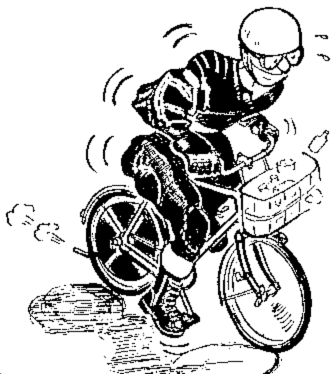 The following story was recounted to me by my good friend Donald. The subject of the story was Edgar, the son of a local chemist. Now, Edgar was a fair size, quite tall, well built and about 18 stone in weight. In the afternoons he used to deliver prescriptions for his father using the BSA Winged Wheel, with a basket hanging on the handlebars to hold the prescriptions.
Donald says it was quite a sight to see Edgar going up the hill by his house, pedalling furiously on this BSA Winged Wheel to maintain a speed of 8 - 10 mph, while dressed in pudding-basin helmet, goggles, scarf around the mouth, full racing leathers with BSA in gold lettering emblazoned on the back and leather motor cycle racing boots with the white socks folded down over the top! I dare say he had quite a sweat built up by the time he reached the top of the hill, about ¼ mile from the village!
Edgar eventually progressed from the BSA Winged Wheel and acquired a Noble 3-wheel bubble car, which was made in Northern Ireland by Short Bros and Harland. A unique featue of this wee car was the fact that to reverse, you stopped the engine, flicked a lever and then started the engine again. Only this time the engine went backwards, giving you the same number of gears and the same speed backwards as forwards. Edgar used to show off these qualities of the Noble by racing past people, flicking the lever and racing down by them again, only this time in reverse, until one day when he overdid it! He shot backwards through a hedge at about 40mph, showing another interesting fact about the Noble bubble car: that it could fly - backwards! Which was hardly surprising when you consider who made the car!
[Editor's Note: This story is an extract from an article in the Spring 1995 edition of 'Irish Vintage and Classics'. My thanks to Kevin McGuire who sent the article to me.]
---

Go to the Archive index