Go to the Archive index
---
Komar
by Andrew Pattle
Recently, I received an e-mail from Finland asking if I had any information on a Polish moped called the Komar. I hadn't heard of it but a couple of evenings' research turned up this advertisement in a 1964 issue of The Motor Cycle: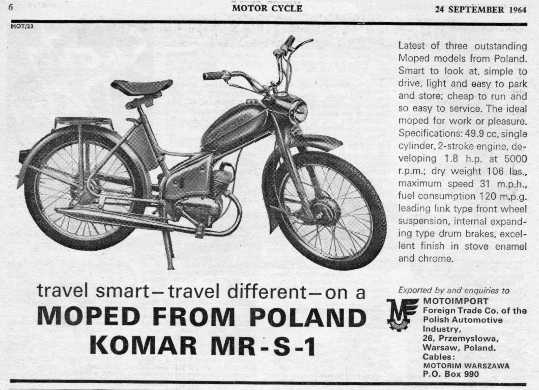 ...but that's all. Does anyone know any more about this machine?
First published - February 1998
---
by Sören Volkenborn
Founded in 1957 the United Bicycle Factories Bydgoszsc (ZZR = Zejednoczone Zakłady Rowerowe Bydgoszsc) manufactured the Komar (Polish for mosquito ) since 1960. The Komar soon became one of the most popular mopeds in the Peoples' Republic of Poland. Beginning in about 1965, the moped was exported to other states of the Eastern Bloc and also to Western Europe. As far as I know there have been exports of the Komar to Sweden, the Netherlands, the United Kingdom and the Federal Republic of Germany (amongst others). In the Federal Republic of Germany the Neckermann Versand (back then the market leading mail-order firm in West Germany) was the sole importer of the Komar. There the Komar MR-232 and Komar MR-2320 have been sold as Neckermann CONDOR Record 25 (1966) and Neckermann CONDOR Record 50 (1968).
Equipped as standard with a 50ccm (49.8ccm) two-stroke engine the Komar was produced until 1983. There have been only a few technical changes but quite a lot of modifications to the frame and the attachment parts. The most important changes were the implementation of kick starters, frame and fork suspension in 1969 (Komar MR-2330).
There is no official information available about specific quantities of the production and the export of the Komar. Also I haven't succeeded in finding information about other still existing and running Komars as well as manuals (except in Polish). Even nowadays the acquisition of original spare parts in Poland and re-mafuctured spare parts in Hungary is still possible, though becoming more difficult lately.
History of the ZZR Komar:
Model
Years of Manufacture
Colours
Komar MR 230 S02
1960-1962
cherry red
grey
Komar MR 231 S38B
1962-1963
cherry red
Komar MR S1
? ( 1964 )
?
Komar MR 232
? ( 1966 )
dove blue
Komar MR 2320
1967 - 1969
white & red
dove blue
Komar MR 2330 S38B4
1969-1973
cherry red
cherry red & black
white & blue
Komar MR 2328 S38SH
1970-1974
black & blue
Komar MR 2338 S38SH
1970-1974
black
black & blue
Komar MR 2350 S38ZB4
1970-1978
cherry red
cherry red & black
white & blue
Komar MR 2351 S38ZB4
1975-1980
orange
red
green & black
Komar MR 2352
1978-1980
orange
blue
red
Komar MR 2360-2361 sports S38ZB4
1972-1975
cherry red
white
white & blue
black & white
Komar MR 2352W
1975-1983
?
All the information above is based on private internet sites, oral traditions and collected works like manuals, photos and vehicle documents and therefore may include inaccuracies and mistakes. The author just edited all this information and isn't responsible for any inaccuracies and mistakes.
Düsseldorf, Germany - October 25th, 2006
---
I am grateful to Sören Volkenborn for providing this translation of an article he wrote for his MC Volkenborn-Tower an Friends website.
---

Go to the Archive index