Go to the Archive index
---
Burkina Faso
Dave Smith
Several correspondents seem to recommend foreign travel with those delightful and reliable machines we all enjoy, so could I add one place that seems to be rarely mentioned to the serious enthusiasts itinerary? Ouagadougou in Burkina Faso could loosely be described as small-engined paradise. The pace of life is of course less frenetic than the UK, or France or the Netherlands, but there are many other features to recommend it.
Not having excessive wealth to throw around on cars, the population of Burkina travel almost exclusively on bicycles or Peugeot mopeds, so traffic is conducive to pleasant two-wheel travel as well as less destructive of the world's resources. In case of an unlikely breakdown, there are of course many repair stations and spare parts hang in most shops, or from trees in less populous areas. Wherever you stop, people seem to be extremely friendly and helpful, probably because Burkina is not much of a tourist destination and the residents have yet to get irritated by tourists.
For the thirstier machines, topping up stations litter the route and some would give the Formula 1 Williams mechanics a run for their money in speed of service: a litre or two of mélange from lemonade bottles into the tank and paid for, with the motorist back on the road within 10 seconds.
The best aspects are of course the climate and the terrain: no rain and warm dry weather between October and May, and there are perhaps two hills in the country. I never saw LPA used except when starting from rest.
Machines are worked quite hard and maintenance is sometimes a little ad hoc; three people to a machine is normal and if you see a friend on a bicycle it would be rude not to give both him and his bicycle a lift to the next town or village, even if you already have one passenger. Punctures are frequently repaired by stuffing the inner tube with a couple of others that have passed their prime and filling any gaps with newspaper.
Altogether, the place is thoroughly recommended as a change from those rain sodden Coast to Coast runs one hears of. There won't be any of those in Burkina as the nearest coast is 600 miles away on the other side of Ghana. If it does rain, the roads close to avoid damage, but this gives time for a little rest and everything dries in a couple of hours.
Enclosed is a photograph of one of the Burkina-made Mobylettes with the owner in control. The owner is a cook called Alfonse who does an excellent line in banana or pineapple fritters but I have no idea what model the machine is. In fact I have no information other than the fact that it was made in Bobo Diassolou.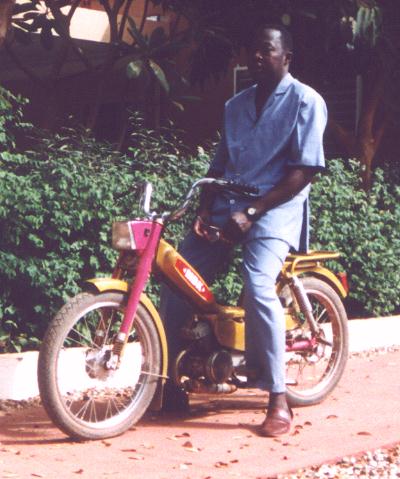 ---
First published - April 1998
---

Go to the Archive index